Review: Scarlet Ambrosia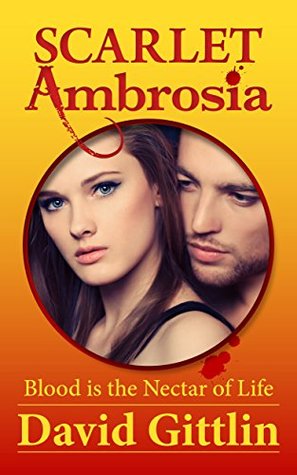 Devon Furst leads an ordinary life as an accountant when one day a mysterious and alluring woman approaches him in a bar and asks for a one night stand. Not being one to say no to a beautiful woman, Devon agrees, and one night of passion leads to an eternity as a vampire. Devon is thrust into a deadly underworld of vampires led by a centuries old vampire named Egon that is the head of a criminal empire. Egon kills Devon's family members and leaves him a lone fledgling vampire. To rescue the woman he loves Devon must learn to harness his new powers, find new allies, and take Egon head on.
Devon is a smart guy, he gets into Columbia Law School, but flunks out three semesters in. He's restless, his two competing drives, security and adventure, keep him from finding the right woman. Until one day Mathilde walks into his life. She's an old and powerful vampire that's seeking an escape from her tortured life and finds it in Devon. What is supposed to be one quick fling turns into love and the choice is made for Devon to turn him into a vampire. Devon finds that Mathilde is involved with a powerful vampire named Egon that she loved decades ago, but now is stuck as his prisoner. Meanwhile, Devon struggles with being a vampire and turns to his friend Nadine who has a cure for vampirism. Through the novel Devon struggles with the pros and cons of immortality and it's an interesting mental battle he has with himself that examines what it means to be human and what one cherishes about it. Devon is trying to save Mathilde from Egon who is devoid of any moral responsibility and is constantly seeking, but failing, to win Mathilde's affection. These are the more interesting aspects of the novel, but the book often swerves between building an in depth contemporary vampire novel and Devon's meandering attempts at building a holistic spa business with his friend. This detracts from the quick pacing and development of the story and leaves me wanting more of the superb world building that is often hinted at. At the heart of the story is a great concept that adds new layers to the vampire mythology, but it often extensively explores side issues and is side tracked by large blocks of scene description and character backstory that diminishes the tension that was built organically by telling Devon's story of loss and transformation. In this story, like many other vampire novels, it builds its own vampire lore. The vampires are young, beautiful, and sexually active along with other selective powers they choose to cultivate. All vampires have super strength, speed, and can heal quickly which all serve to deliver hard hitting action scenes, but leaves the vampires unbelievably powerful. A distinctive use of dialogue and diction is what separates Devon and Mathilde or really; Devon from the rest of the vampires, but it's inconsistent and jarring at times. Scarlet Ambrosia is a great fit for readers looking for the next vampire novel, not a bad entry into the genre. An interesting take on vampires and an action packed ending provides for some entertaining reading.
Pages: 231
ASIN: B00PBCA0HU