Many Bizarre Mysteries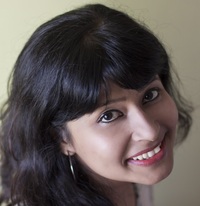 The Secret Angels follows a woman who moves to a home where a serial killer stalks the streets and she becomes the next target. What was the inspiration for the setup to this thrilling story?
I wanted to write a potboiler mingling elements of Mumbai and our daily lives living here. I stay next to a very interesting place in Bandra, Mumbai, called Chapel Road. It is a mind-boggling place, gorgeous in its decrepitude, unique in its miscellany, with a tremendous amount of personality. I cross it daily to go to work or shop for groceries. So I thought: why not make this the setting for my accidental detective Darya Nandkarni. Chapel Road could make an ordinary story extraordinary. It would be 'atmospheric' in the true sense. Darya could land up here and solve a crime no one else could, just as she always does. Hmm… now what kind of a crime would that be?
A few years ago, there had been a case of a missing woman in Bandra, who it was later found had run away to join a cult. Lo presto, the idea formed in my head and got written into a book.
Darya is an intriguing and well-developed character. What were some driving ideals behind her character development?
Not too long ago, I came to the realization there were not many books with normal female leads in them. The women in the books I read were usually tragic, struggling, or simpering women waiting for a glance from a hard-hearted (but rich!) man. I wanted to create a normal female lead, like the kind I hung out with or imagined myself to be, who did not have to have suffered tragically or waiting for a knight-in-clunky-armor; she could do fun things despite it. Hence, was born a series with a strong-willed, stumbling-through-life woman—Darya Nandkarni—who is imperfect and gutsy, and lives as she wants. She uses her cleverness and wit to navigate through life and solve the many bizarre mysteries that are thrown along her way. She is who I want to be.
I enjoyed the quaint lane Darya moves to. What were some sources that informed the communities development in the story?
I stay right next to Chapel Road where the story is set. Like I described in the book, it is as glorious as it is decrepit. Every time I move past it, I mildly wonder what new graffiti awaits, or which new vendor has popped up to sell me her delicious and eclectic home-cooked ware. But the lane is broken-down, dirty, and congested too. To quote from the book: "Feels like I'm inside a kaleidoscope."
This is book two in the Darya Nandkarni's Misadventures series. What can readers expect in book three?
The Secret Angels is preceded by 'Kiss of Salt' where Darya solves an intriguing ages-old family mystery in Goa. It is followed by 'Who Threw Draco Down the Chimney?' where Darya is in Sibiu, Romania. A backpacker is missing. Impressed by Darya's past exploits, the owner of the missing boy's hostel tasks Darya to look for him. After some digging, Darya leads the police to an old farmhouse. They find the backpacker's two-week-old dead body wedged inside the chimney. Along with two others.
The locals think it is the devil's work. Darya knows not to trust local superstitions, of which there are many. But the crime is so diabolical, so unique, it begs the question: who could be doing this?
Darya needs to find out urgently before she is forced to leave Sibiu. And as she races to solve the mystery, she has to make sure she doesn't let new friendships or the town's insidious secrets get in her way.
Author Links: GoodReads | Twitter | Facebook | Website
About Literary Titan
The Literary Titan is an organization of professional editors, writers, and professors that have a passion for the written word. We review fiction and non-fiction books in many different genres, as well as conduct author interviews, and recognize talented authors with our Literary Book Award. We are privileged to work with so many creative authors around the globe.
Posted on November 7, 2020, in Interviews and tagged author, author interview, book, book review, bookblogger, crime fiction, ebook, fantasy, fiction, goodreads, indian author, kindle, kobo, literature, murder mystery, mystery, nook, novel, read, reader, reading, Smita Bhattacharya, story, suspense, The Secret Angels, thriller, writer, writing. Bookmark the permalink. Leave a comment.