Blog Archives
Stuart Dyson of the Laredo ATF is missing, and his girlfriend, Tracy, an officer with the Laredo police department, just may know more than she is willing to share with the men and women dedicated to finding Stuart. When the FBI Trackers are assigned Stuart's case, Tracy cooperates while running her own investigation on the side. The Trackers are a specialized unit within in the FBI and have a stunning track record of successes. They are Stuart's best hope, but they can barely do their job for keeping Tracy in check. When the entire investigation hinges on determining the significance of a note scrap reading "27.43 pounds", the Trackers find themselves fighting against the clock to rescue not only Stuart but Tracy as well.
Anita Dickason's A u 7 9 is a unique brand of thriller. The FBI Trackers embody all of the mind-blowing aspects of the FBI, and Nicki Allison stands out among the members of the team. Her dedication to each investigation knows no boundaries, including sleep. Dickason paints a vivid picture of Nicki as she manipulates her way through staggering amounts of data to pinpoint needed evidence. She is a character to be admired.
Eddie Owens, the young reporter receiving anonymous tips as to Stuart's possible involvement in his own disappearance, plays a key role throughout the book. Not one of the characters readers might put a lot of stock in at the outset of the book, Eddie becomes more and more colorful as the chapters pass. Eddie easily stands as my favorite character from A u 7 9.
I appreciate the way Dickason stretches out each discovery and keeps readers guessing regarding the meaning of the "27.43 pounds." As each character ponders the meaning and subsequent research is conducted by the Trackers, the reader becomes increasingly invested in finding out how something so seemingly insignificant could impact Stuart and the fight to find him before his time runs out.
I am not sure I can remember the last thriller I read that has such a satisfying way of slowly revealing the connection between the title and the book's plot. I kept trying to guess the significance of A u 7 9 to the sequence of events and was pleasantly surprised at the ultimate reveal. Dickason pulls together the plot and title in a unique and refreshing way.
Dickason's writing is engaging to say the least. Many times, books of this genre can be heavy on narrative. Dickason, however, provides the perfect blend of dialogue and narrative adding to the overall depth of her characters.
As far as crime thrillers go, Dickason has hit it out of the park. The team of Trackers who serve as her main characters do not disappoint, consistently provide suspense, drama, and humor. Any fan of crime dramas/mysteries will be drawn to both the writing style and the engaging plot of A u 7 9. Dickason's own background in law enforcement plays heavily into her writing and makes for a book no fan of crime thrillers will be able to forget.
Pages: 315 | ASIN: B07CWG4DD5
The Deaduction Agency follows a team of psychics, telepaths and remote viewers who investigate several cases of disappearances, murders, and missing persons. This is a thrilling paranormal mystery novel. What was the initial spark for this book and how did that develop as you were writing?
I empathize with psychics, whose skills gained credibility as I read about them in series such as Psychic Detectives. The willingness of the police and detectives to appear in the shows, often after retirement from the force, speaks volumes for their appreciation of the skills of the psychics they employed. What also emerged was the need of the program makers to pad out the stories of psychic detectives with endless repeats of the facts. This is because the crimes are resolved in such a straightforward manner that it makes regular policing look tedious – which it is.
The first case, of a complex divorce, took longer to resolve because it did not require psychic abilities. I used it to contrast the differences in time to describe regular, traditional policing and those cases that require the skills of a psychic.
To my regret, some reviewers failed to understand why this approach was taken.
The book covers several different cases which range from quick and easy to edge-of-your-seat thriller. My favorite was 'Case of the Prodigal Son'. What was your favorite case?
The same 'Prodigal Son', plus 'The Honey Trap', where Richard's possessive and devious nature is revealed to the full.
The psychics at this agency have skills and near-future technology that give them powers beyond what psychics can do now. What were the limitations you needed to keep them believable and what was something that you absolutely had to have for them to be interesting?
I accept psychic skills as they exist now, and have no patience with skeptics who try to fool around with their sensory perceptions, to prove they are frauds and have no special skills. However, in the book they had to be fully capable of reading minds, in order to be foolproof in their assessment of criminals. Even so, some reviewers failed to understand this, and judged the psychic teams to be behaving unacceptably in passing sentence on some criminals. Why, if they can read minds and know the vile nature of the people they are categorizing? It is hardly as if they are executing them! The aim is to re-incorporate them into society, with their souls purified.
This story is ripe with paranormal activity, remote viewing and the powers of the mind. Which power and character do you identify with?
Telepathy, having experimented with it in front of others, as a young teenager. I identify with Richard and Chuck and Joe, in different ways.
A final, general observation on the review itself. The opening scene is criticized for its excess of descriptive detail, That is almost a verbatim criticism made by another reviewer, Marta Cheng in 2015, who stated: In some places, such as near the beginning of the book, there is an inordinate amount of detailed explanation provided as to the set up of the agency's offices – details that detract from the momentum of the story. In response, I cut down the detail to a mere 360 words, which is hardly inordinate! It also became apparent that Marta (who got fond of changing her surname to put me off the scent) had not read the book in its entirety and was intent on having a dig at another reviewer from the same stable as herself.
To emphasize why it was done, I then suffixed the description with the following sentences:
Richard, the most senior partner in the agency, was busying himself constantly re-arranging brochures on a side table in the waiting area in reception. It was a quirky habit of his that Honey found most annoying. It also reflected his fussy preoccupation with orderliness and exact measurements.
Naturally, he was the architect of the office layout, which Honey was often tempted to rearrange, solely to unsettle him.
Love scenes soon followed as well! Some of this preoccupation is revisited later, as part of Honey's tangled love life. What more can an author do?
Author Links: Twitter | Facebook | Website | Blogspot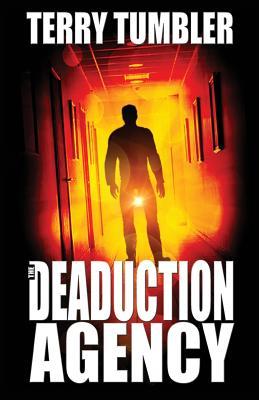 Witness at first-hand a group of specialist investigators, as they set up and run a new, innovative crime fighting agency. They are dedicated to the resolution of criminal cases using paranormal assistance. This will be a new, innovative and emerging brand of policing designed to protect the citizens of our country.

Read how they deal with the anti-social, disturbed behavior of a wayward, divorced husband, who is on the verge of destroying the lives of his ex-wife and their two young sons.

Read how they identify the members of a murderous ring of pedophiles from relatively few clues, and bring them to justice.

Read how they move from ineffectively resolving one case at a time, and onto tackling multiple cases with far more beneficial results to society.

Read thereafter how they clear the penitentiaries of criminals, starting with the most dangerous inmates, using novel means to cleanse their souls of sin, and equip them for new roles in life in special clearing centers. The objective is to reintegrate them into society, rendered capable of performing straightforward tasks and genuinely purified, via the novel process of atonement.

Read how they find one talented young man who was lost, presumed dead, and reunite him with his family. Thereafter, as agents of change, they help launch him on the path to stardom.

This is not a simple, gory, two dimensional book, but an exploration into the timely use of mediums in crime detection. It can pay dividends in assisting the fight against crime.

They use the latest techniques and technology in a future world that is not far removed from that which exists today.
Posted in Interviews
Tags: adventure, amazon, amazon books, author, author interview, blogspot, book, book review, books, crime, detective, detective fantasy, detective novel, disappearance, ebook, ebooks, facebook, fantasy, fantasy book review, fiction, goodreads, interview, investigation, kindle, literature, missing, murder, mystery, novel, psychic, Psychic Detective, publishing, reading, review, reviews, sci fi, science ficiton, science fiction, science fiction book review, stories, telepath, telepathy, terry tumbler, The Deaduction Agency, thriller, twitter, urban fantasy, writing