Nad of Nadide'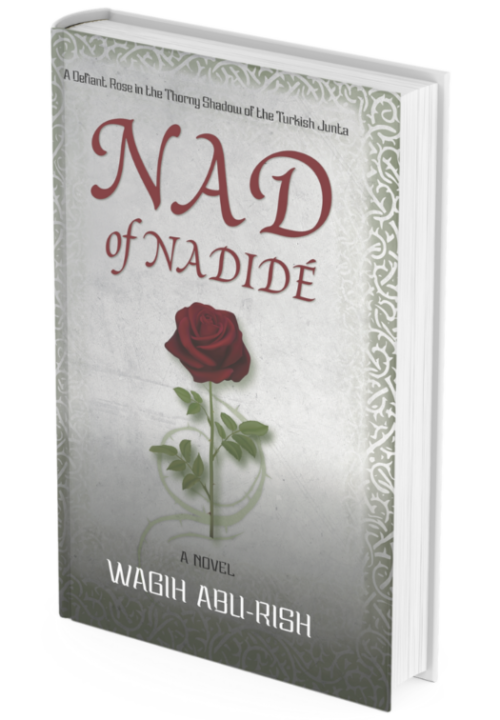 Fareed is an engineering student at the American University in Beirut. After breaking off from a toxic relationship, Fareed decides to leave for Bogazici University in Istanbul to escape from his stalker ex-girlfriend. On the plane to Turkey, Fareed meets Nadide, a fellow engineering student who happens to be the daughter of a powerful player in the Turkish government. It's love at first sight. Friends and family have tried warning Fareed to stay away from Nadide. Rumors have spread that Nadide's last "male friend" was brutally beaten by the order of Nadide's father. However, this does not deter Fareed as he persuades Nadide, fully knowing that this may be one of the most dangerous relationships he's ever been in.
Wagih Abu-Rish uses his new book, Nad of Nadide, to shed light on the culture, politics, and religion surrounding a few middle eastern countries. This book is a classic retelling of Romeo and Juliet, the troupe of forbidden love and political turmoil. Nad of Nadide is exceptionally unique in the retelling of this classic story. After reading the book and comparing the similarities between the original and the author's version, the author recreates many major milestones/events that transpire in Shakespeare's play. The biggest difference between Abu-Rish's version and the classic is the lack of a longstanding feud between two families and more of a religious/cultural feud, with a discriminating, politically motivated marriage for General Hikmet's daughter. This book is as enticing as the Shakespearian classic, maybe more.
The text throughout the book is kind of halting. Each sentence within the book forms its own idea but does not always correlate with the paragraph that it's in. I would even say that this book reads more like a textbook or an article. The author states every sentence like a fact rather than creating an emotional, descriptive context. I know very little about middle eastern cultures and practices, so there were times when I felt baffled by the characters' behaviors and feelings toward relationships outside their religion/culture. I know there are some religions where women can not do anything without their patriarch's permission, but it was still a little bit of a shock to see how Hikmet treated his daughter.
Nad of Nadide is a riveting story about love, social constraints, and obstacles surrounding religion and politics. Can two young adults find a way to be together, or will their backgrounds and social standings forever keep them apart?
Pages: 214