The Diary of Hakim Jones: Trials, Tribulation, Triumph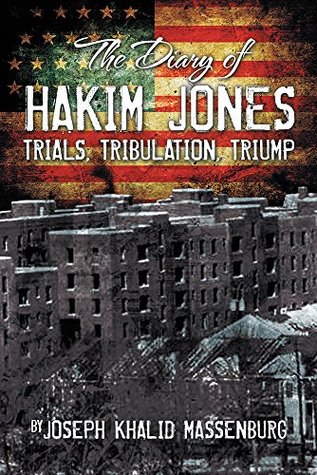 The Diary of Hakim Jones by Joseph Khalid Massenburg is a fictional tale of a young man's childhood in one of America's most violent neighborhoods, Newark, NJ. Through trial and error he discovers that with determination and dedication, he can turn life around and successfully achieve a dream he never thought possible.
This is a story of hardship and struggle. It is an interesting tale of transcending one's hardships. The main character experiences the flaws in human nature throughout his life. It is told through a diary like set up, as if the main character was reflecting on his past life, where he had been and where he is going. The entries spanned different times in the narrator's life from childhood/teenage years, his career as a cop, and his career as a journalist. The tone and style is set as a conversation, as if the reader is sitting with the narrator listening to him daze off thinking about the past.
There are several grammatical errors throughout the story ranging from capitalization, missing or wrong words, spelling errors, to verb tense and spacing. I'm unsure if this was done intentionally, but the magnitude of these errors made it difficult to understand what was being said. There didn't seem to be an organized sequence of time; each entry jumps around rather than focusing on specific things. While the random feel of the entries make it a little harder to read, it feels more realistic. Not many people reflect on their past in a specific timeline.
Some entries seemed to tell the same story but with different word choices, but this could be because different stories overlap one another. Some things in the story were shocking, such as an entry where the narrator describes a time when he realized a woman he had relations with turned out to be his niece from a half sister he never knew about. It felt unrealistic, even though things like that occasionally do happen. The narrator speaks at length about learning lessons from life experiences, and even learning from other people's life experiences like family members making the wrong choices.
The book has some downfalls but at it's core is an inspirational tale that gives hope to those facing the same struggles. It provides wisdom and sage knowledge gained through experience. In The Diary of Hakim Jones the main character looks back on his life and adds reflective commentary and helpful insights such as "in order to move forward successfully a positive attitude and mind set is vital." Statements like these stick with a reader more than a writer describing how they overcame their hardships. Throughout the story I enjoyed the narrators commentary on regrets he had in life and wishing he could do something different.
If the grammatical errors were corrected I would recommend this book to anyone, not just those residing in an inner city. It has something that everyone could benefit from.
Pages: 188 | ASIN: B00ZW4JIQ6
About Literary Titan
The Literary Titan is an organization of professional editors, writers, and professors that have a passion for the written word. We review fiction and non-fiction books in many different genres, as well as conduct author interviews, and recognize talented authors with our Literary Book Award. We are privileged to work with so many creative authors around the globe.
Posted on January 20, 2016, in Book Reviews, Three Stars and tagged amazon books, america, author, book, book review, books, city, diary, ebooks, Hakim Jones, Joseph Khalid Massenburg, narrator, new jersey, newark, publishing, reading, review, reviews, stories, the diary of Hakim Jones, usa, writing. Bookmark the permalink. 1 Comment.