Blog Archives
Angie Brown, A Jim Crow Romance was originally written by Lillian Jones Horace 68 years ago. What inspiration did you find in this book that made you want to publish an annotated scholarly edition?
I am certain that most of my admiration stems from my appreciation for Horace, the African American southern woman writer, who remained true to her commitment to write "creatively but constructively." Before I began conducting research on Horace and her writings, she and the archival material treating her life and works were largely overlooked by scholars.
The protagonists she created all exemplify the kind of determination that Horace herself demonstrated throughout her life.
I wanted to create an annotated scholarly edition to help Angie Brown find its way into the literary canon, where students and scholars of African American literature could weigh in on its value.
Angie Brown is a strong women that is finding her path through troubled times. What are some things you admire about her character?
I admire Angie's determination, practicality, openness to learning, friendly nature, and commitment to progress.
What kind of research did you do for this novel and Lillian Jones Horace?
I conducted extensive archival research to better understand Horace and the characters she created. A comprehensive list of the repositories I visited appears in my first book-length publication on Horace titled, Recovering Five Generations Hence: The Life and Writing of Lillian Jones Horace (2013). I have been researching and writing about Horace since 2003. Her papers are held in the Fort Worth Public Library, Fort Worth, TX.
I understand you contacted some of the Horace family for this book. What were their reactions to you pursuing this 100 year old story?
I contacted her niece and two of her great nieces. Her great niece, who remembered her well, knew that Lillian Horace was a respected educator, but she had no idea that Horace had written two historic novels. Most of what I shared with her and other family members about Lillian Horace was new to them.
Do you have any other books in the works?
Yes. I am working on an edited version of Lillian Horace's diary, and a book project comparing and contracting the trajectory of Horace's life and works to those of her younger and more popular southern African American contemporary, Zora Neale Hurston.
Author Links: GoodReads | Facebook | Twitter
"Angie Brown is a romance migration novel set in the Jim Crow era. Angie, the protagonist, determines to embrace all life has to offer despite the social restrictions facing young black southern women like her. Angie holds fast to her desire to find financial success, personal fulfillment, and true love, but she does not achieve her dreams alone, nor do they unfold in the same place. From Belle, her confidant; to Betty Yates, the teacher; to Chester, the pool hall owner; women and men from various social stations in life and different places share nuggets of wisdom with Angie. With their love and support, she overcomes tragedy, welcomes fresh possibilities, climbs the social ladder, and opens her heart to love. Angie's progressive journey reflects the migratory trek of many African American Southerners of the Jim Crow era, who left the South for greater educational and economic opportunity. Her quest leads her from a small segregated community to Hot Springs, Arkansas, and eventually to the Midwest, including St. Louis, Missouri, Chicago, and Southern Illinois. As Angie travels from place to place, she gradually comes into her own and learns key life lessons. Angie learns that struggle is universal. While doing domestic work, she discovers that whites, who live on "The Other Side," also experience pain, suffering, and grave disappointment. Love eludes white women, too, and they, too, face gender discrimination. Having overcome her fair share of personal losses, Angie reaches across racial lines to console Gloria, a member of the Parker family, for whom Angie does domestic work. Her experience with the Parker's is juxtaposed to her dealings with the Mungers, a rich, Northern white family she meets. Although the Mungers are kind to Angie, she learns that life beyond the South is not perfect. Yes, she and other blacks face less virulent forms of racism outside the South, but economic stability and educational opportunity are not easily achieved."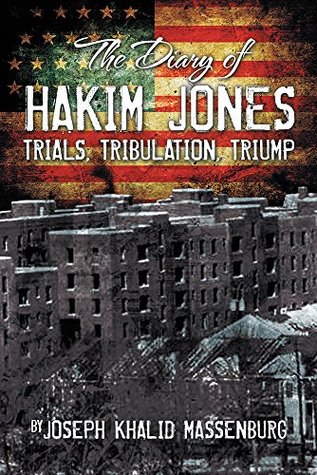 The Diary of Hakim Jones by Joseph Khalid Massenburg is a fictional tale of a young man's childhood in one of America's most violent neighborhoods, Newark, NJ. Through trial and error he discovers that with determination and dedication, he can turn life around and successfully achieve a dream he never thought possible.
This is a story of hardship and struggle. It is an interesting tale of transcending one's hardships. The main character experiences the flaws in human nature throughout his life. It is told through a diary like set up, as if the main character was reflecting on his past life, where he had been and where he is going. The entries spanned different times in the narrator's life from childhood/teenage years, his career as a cop, and his career as a journalist. The tone and style is set as a conversation, as if the reader is sitting with the narrator listening to him daze off thinking about the past.
There are several grammatical errors throughout the story ranging from capitalization, missing or wrong words, spelling errors, to verb tense and spacing. I'm unsure if this was done intentionally, but the magnitude of these errors made it difficult to understand what was being said. There didn't seem to be an organized sequence of time; each entry jumps around rather than focusing on specific things. While the random feel of the entries make it a little harder to read, it feels more realistic. Not many people reflect on their past in a specific timeline.
Some entries seemed to tell the same story but with different word choices, but this could be because different stories overlap one another. Some things in the story were shocking, such as an entry where the narrator describes a time when he realized a woman he had relations with turned out to be his niece from a half sister he never knew about. It felt unrealistic, even though things like that occasionally do happen. The narrator speaks at length about learning lessons from life experiences, and even learning from other people's life experiences like family members making the wrong choices.
The book has some downfalls but at it's core is an inspirational tale that gives hope to those facing the same struggles. It provides wisdom and sage knowledge gained through experience. In The Diary of Hakim Jones the main character looks back on his life and adds reflective commentary and helpful insights such as "in order to move forward successfully a positive attitude and mind set is vital." Statements like these stick with a reader more than a writer describing how they overcame their hardships. Throughout the story I enjoyed the narrators commentary on regrets he had in life and wishing he could do something different.
If the grammatical errors were corrected I would recommend this book to anyone, not just those residing in an inner city. It has something that everyone could benefit from.
Pages: 188 | ASIN: B00ZW4JIQ6
Posted in Book Reviews, Three Stars
Tags: amazon books, america, author, book, book review, books, city, diary, ebooks, Hakim Jones, Joseph Khalid Massenburg, narrator, new jersey, newark, publishing, reading, review, reviews, stories, the diary of Hakim Jones, usa, writing