The Child Who Listened to Alice Cooper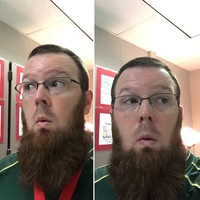 Metal Like Me follows Vinny as he faces bullying while trying to make friends. What was the inspiration for the setup to this heartening children's story?
Metal Like Me stems from my experience as a teacher and wanting to create a more realistic or, at the very least, a more relatable story for students.
Vinny comes from a family of metalheads. This was artfully relayed through the images in the book. Why did you choose this background for Vinny?
I chose metalheads in part because I am one. I was the child who listened to Alice Cooper going to bed and my dad is my concert buddy. We have seen the original Kiss, Iron Maiden, Alice Cooper, Amon Amarth and many others together so it was something easily relatable for me.
I also knew that metal music was the perfect genre for my characters. Metal has a variety of different sub-genres that make it as diverse as the people who listen to it.
The art in this book is lovely. What was the art collaboration like with Danielle Green?
Honestly, my fear with it all was that I was not specific enough as far as what I wanted to see. If I recall correctly, I was only specific as to the characters. Danielle took everything to a new level and without her the work would not have been the same.
Her experiences in the school system put touches into the illustrations that others would not have been able. The sign tapped to the teacher's desk regarding names and the extended schedule on the board were things a non-teacher would not have understood or included.
As she progressed with the illustrations and sent me pictures of them, I was thrilled. Her work was incredible.
What is the next book that you are working on and when will it be available?
My next book is a young adult fantasy novel titled Dark Days. It will be out late August or early September of this year.
Author Links: GoodReads | Twitter | Website
About Literary Titan
The Literary Titan is an organization of professional editors, writers, and professors that have a passion for the written word. We review fiction and non-fiction books in many different genres, as well as conduct author interviews, and recognize talented authors with our Literary Book Award. We are privileged to work with so many creative authors around the globe.
Posted on July 25, 2020, in Book Reviews and tagged author interview, children, childrens book, D.W. Saur, fantasy, kids book, Metal Like Me, parent, picture book, teacher. Bookmark the permalink. Leave a comment.