Blog Archives
Dark Days is a story about a girl named Maya. who is an outcast because she hasn't completed a traditional rite of passage known to her people as the Leighesan sect. While being born to the Leighesan sect, she belongs to the Dempsey clan and spends her days training to become the best she can be. Her goal is to achieve knowledge and skill that surpasses people of her age and the elders as well.
Maya must compete in the Cluiche which is an ancient set of games and competitions that, for years, has showcased the best of the best. Little does she know that by competing in the Cluiche, she will not only have the chance to change her future but the prospect of clans everywhere. Learning who she truly is and standing for what she believes is right, she begins her journey with her two friends Jeremias and Willum, and finds support and hardship in places she never thought she would. War is budding on the horizon and the appearance of a figure that for a time only she could see, she knows that time is running out, and her destiny might be coming sooner than she thought.
Dark Days was a compelling read that was consistently entertaining. The book's ending leaves the reader desiring more as well as wanting to see what happens next. One minor complaint I have is the ending of the book seemed a little rushed. Maya's strength is inspiring and I admired her ability to not care what others thought of her. It's a nice change of pace to see such a strong and intelligent female character in a book.
D.W. Saur does an excellent job of developing complex characters such as Maya's friends Willum and Jeremias. There were times when I wanted to yell at Willum because he wasn't serious when the stakes were high. This shows the level of attachment I had with the characters and how much I had invested into this epic story line. Maya made some decisions that were a little questionable, and I wish she had been a little more honest with her friends, but I understand where she thought she had no choice. I am still not completely sure who the villain is and am looking forward to finding out in the next book.
Dark Days plunges readers into the depths of a complex dark fantasy world that begs to be explored. D.W. Saur sets up intriguing characters that face some enormous challenges, but watching them overcome them is half the fun of this adventure novel. I look forward to reading the sequel when it comes to fruition.
Pages: 278 | ISBN-10: 1646630491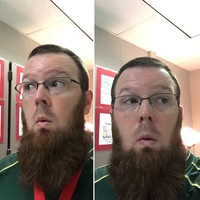 Metal Like Me follows Vinny as he faces bullying while trying to make friends. What was the inspiration for the setup to this heartening children's story?
Metal Like Me stems from my experience as a teacher and wanting to create a more realistic or, at the very least, a more relatable story for students.
Vinny comes from a family of metalheads. This was artfully relayed through the images in the book. Why did you choose this background for Vinny?
I chose metalheads in part because I am one. I was the child who listened to Alice Cooper going to bed and my dad is my concert buddy. We have seen the original Kiss, Iron Maiden, Alice Cooper, Amon Amarth and many others together so it was something easily relatable for me.
I also knew that metal music was the perfect genre for my characters. Metal has a variety of different sub-genres that make it as diverse as the people who listen to it.
The art in this book is lovely. What was the art collaboration like with Danielle Green?
Honestly, my fear with it all was that I was not specific enough as far as what I wanted to see. If I recall correctly, I was only specific as to the characters. Danielle took everything to a new level and without her the work would not have been the same.
Her experiences in the school system put touches into the illustrations that others would not have been able. The sign tapped to the teacher's desk regarding names and the extended schedule on the board were things a non-teacher would not have understood or included.
As she progressed with the illustrations and sent me pictures of them, I was thrilled. Her work was incredible.
What is the next book that you are working on and when will it be available?
My next book is a young adult fantasy novel titled Dark Days. It will be out late August or early September of this year.
Author Links: GoodReads | Twitter | Website
Metal Like Me by D. W. Saur is a sweet story about acceptance. The author has lovingly crafted an endearing story that will inspire children to learn about diversity and inclusion. Kids will learn that being unique is a gift and we must all embrace it. It does not matter if others are like us or not, as long as we are comfortable with ourselves and not afraid of showing the world who we are. There is no one thing that defines us and we all have different sides. Children will benefit from the life lesson presented in this story, that if others are not willing to make an effort to get to know us then we must step up and put the effort to know them. That's how we can celebrate true friendships and meaningful relationships. Metal Like Me approaches the topic of bullying in a unique way that makes it easy for parents and children to start a discussion. I definitely recommend this well written, short and easy to understand book as it will teach children a positive way to identify themselves. The illustrations by Danielle Green are beautifully simple with a rough sketch like illustration that will make it easy for kids to relate to. The fantastic artwork excellently captures the unique voice in this charismatic children's story.
Pages: 50 | ASIN: B0863JJ2WG
Posted in Book Reviews, Five Stars
Tags: art, author, book, book review, bookblogger, bullying, children, childrens book, D.W. Saur, ebook, fantasy, fiction, goodreads, illustration, kids, kindle, kobo, literature, Metal Like Me, nook, novel, picture book, read, reader, reading, story, writer, writing