Our Original Collaborative Dream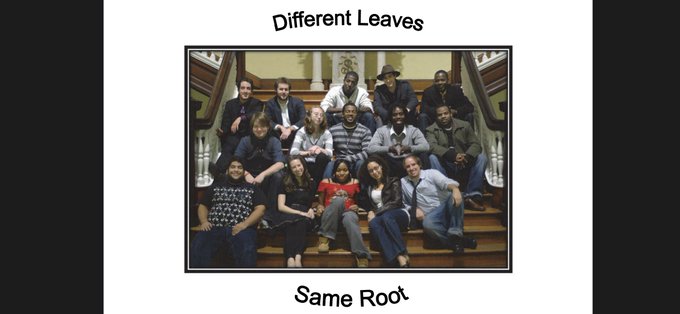 Perception is a collection of writing, drawing, and photography by various artists demonstrating the power of art to challenge a person's perceptions on different subjects. Why was this an important collection for you to put together? 
In my junior year of college many of the writers of "Perception" including myself published our poems within "The Grackle", Chestnut Hill College's literary magazine and were a part of the Poetry Club. In a small college everyone typically cross paths in one facet or another – mainly our paths all crossed at the open mic spoken word poetry events we held on Thursday, Friday, or Saturday nights. We would at times have up to a hundred people sitting in attendance to enjoy the ambiance or to read a piece they wrote.
When I returned from winter break of junior year I decided to gather a collection of my best poems at the time. While I was putting the collection together and editing them to be publication prepared I started to think it would be a wonderful idea to put together an anthology of some of my friends poetry collections who I've interacted with in the poetry club and open mic nights. I selected fourteen writers, including myself, altogether to participate in the anthology: J. A. McGovern, K. G. McLaughlin, Alex Garcia, Kairi Suswell, Nicholas Raspanti, Zachary Grubb, Marcus A. Hayes, R. S. Flores-Drennen, Yannick Wallace, Ashley Lynn Pavone, Christopher Dunn, Jr., Zander Donaldson Calomeni Tippett, Colleen Laura Tozer, and Ariama Long.
After I found my team of writers I realized this anthology could be truly special to not only represent writing: poetry, prose, song lyrics, and short stories – I found an illustrator, Christopher Lee, and photographer, Keaton Shane Nahan, to participate.
While I was handling the details of searching and finding a publisher and after finding one creating the book layouts and finding an editor to clean up the illustrations; I told my team to only focus on their work and gather the best collection of all their pieces they had or were creating for the anthology by the publisher deadline.
I selected the members of this team very carefully, I had a vision when describing what the message of the anthology would contain – there are no boundaries to art, only the ones created within our minds. Every artist within this collection, I had up to that point in putting together the team: many different conversations, listened to their work at open mic nights, read each other's work to provide feedback, and looked through all the illustrations and photography ahead of time. I was systematically building a diverse team coming from even further diverse backgrounds with each artist creating work differently from one another. I wanted to create a project which could lead not only to discussions from all the different themes presented within the anthology but at least one piece would speak to the reader: bring joy and laughter, sorrowful tears, help with an issue they may be experiencing, or possibly inspire them. Every artist I informed there wasn't a particular theme, each artist had their own creative space within the anthology and used their creative liberties to write, draw, and photograph whatever they desired. There wasn't a selection process, whatever they wanted to put in the book to express themself creatively I completely supported and through this method I believe we were able to express ourselves best and provide the audience our best work.
Along with the purpose of reaching a vast audience with the project, the most important purpose for creating "Perception" is every artist in this anthology was a friend to each other and I wanted to create a moment in time, after years pass and when each artist picks up this book they will smile and reflect to a special project they created. I'm honored and privileged to be published along side every artist within "Perception" – and to see the project finding an audience and receiving recognition is fulfilling to our original collaborative dream.
With so many different contributors to this project, what was the collaboration process like?
The collaboration process between the team of artists is similar to every collaboration process with a group of people. I knew working with the publisher would be very tedious and at times frustrating to achieve the project exactly how I envisioned it – it was. I probably edited through twenty different rounds of proofs through the two to three year process but overall I was able to keep intact the original creative vision and obtain exactly how I wanted the anthology to appear.
Also, at the time I understood how a long and arduous process such as this can be discouraging for people, even creatives, which is why I took that aspect on. Since this was a self-published anthology the issue of money can typically come into play. I was happy to see with an evenly distributed full cost, there were no issues, everyone paid their portion in a timely manner.
Team interactions with each individual artist I didn't see any serious issues, a couple meetings to keep us on track with deadlines but that was about it. I believe there weren't many issues in collaboration at the time because we were all working through school: classes, activities, and part-time jobs – while simultaneously working on all our individual collections of work for the project. There wasn't much time for difficulties between each other. It's refreshing when projects work out in the long run with minimal issues.
What were some ideas that were important for you to share in this book?
Since there were no specific ideas or themes for the anthology and all of the artists expressed creatively any theme they wanted I feel it was a wonderful way of not only expressing different points of views on shared themes between the different artists but touched on a variety of themes. I'm an advocator in reference to any artist creating they maintain their creative liberties and don't change anything for the sake of an audience, benefactor, or feedback with the only exception being if the artist takes the feedback to heart reflecting and decides to alter the work with purpose. In reference to themes within "Perception" when I had the first set of proofs all put together and it was my first time reading through each artist's section and I was happy to see universal themes: Love, Peace, Racism, War, Inspiration – what I most enjoyed was seeing the different depictions of the themes where they began to cross into intertwined themes which made very interesting reads. Also, I found another aspect I most enjoyed even flipping briefly through the pages to reflect on this particular moment in time – the styles of each piece, which was wonderfully noted within the review of the anthology, are not similar between any of the writers, photographer, or illustrator. I believe we all did a wonderful job, whether intentional or not, creating a completely original concept – I'm most proud of this accomplishment.
What do you hope is one thing readers take away from your book?
I hope readers will take away from "Perception" there are no boundaries to the concept of art, only the walls within our minds. Allow an artist to work and create to their desires and expectations and don't dictate what an artist is creating – the results and originality of the creation will always surpass if allowed to be created only through the artist(s) vision. I truly hope "Perception" inspires people to create for themselves and believe in their work strongly enough to find the inner courage within themselves to share with the world their personal endeavors and expression.
A group of sixteen artists, of various walks of life with even more different perspectives within the concept of art, came together overcoming struggles and defiance and published their first book, "Perception", together, not only as friends but as an artistic family. They will be remembered.
Author Links: Facebook | Twitter | IMBD
About Literary Titan
The Literary Titan is an organization of professional editors, writers, and professors that have a passion for the written word. We review fiction and non-fiction books in many different genres, as well as conduct author interviews, and recognize talented authors with our Literary Book Award. We are privileged to work with so many creative authors around the globe.
Posted on January 31, 2023, in Interviews and tagged art, author, author interview, book, book recommendations, book review, book reviews, book shelf, bookblogger, books, books to read, Different Leaves Same Root, ebook, goodreads, indie author, joseph mcgovern, kindle, kobo, literature, nook, novel, read, reader, reading, story, writer, writing. Bookmark the permalink. Leave a comment.