The Caribbean Sea Gods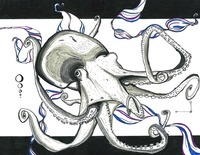 Something Found: A Coin follows a local artist who makes a discovery that sends him on an adventure with the potential to change the world. What was the inspiration for the setup to this thrilling story?
It was a combination of sadness and adventure in my life when my brother passed in 2008 and a return to visit family in the following months in Florida to reassure them of my good health, along with a short road trip to Miami and Key West, that stirred in me a knowing that I had to not only write about the Keys, but base a whole story there. It's amazing to me how some places can really do that to the right person, it's truly like turning on a switch. I had wanted to go to Key West my whole life, but time and circumstances just never allowed me to, even when I actually lived in Florida for two whole years of my life! But the loss of my brother, to me while in no way equal, did temper my sadness and was the positive trade off I needed to get through that heartbreaking time in my life. It was the gift the Writing Gods (presumably Hemingway's spirit rubbing off from my visit to his museum off of Duval St.) and the Caribbean Sea Gods blessed me with: a new story of my own to honor my brother and a magical place called Key West.
Todd is an intriguing and well developed character. What were some driving ideals behind his character development?
For most of my writing life I've been told character development is my strong suit in my stories, and I feel Todd is certainly one of my more fleshed out characters with flaws, despite his near postcard lifestyle, almost as if he himself still can't truly believe he lives his life. He blames himself for his son's fate, and probably always will, and had toyed with ending it all after the tragedy. But something Todd is finding in himself is the bravery to go on with his life after such an event, even with the weight still heavy in his heart, and in the healing he finds himself and part of him he lost to his years as a corporate manager in the defense industry: his art. There was a lot of emotion and heavy-heartedness in the formation of the story, with my brother's death, but there was also a hope that I could send my brother off to a better place myself. Not trying to play God, but authors retain a sense of creation and control over their characters and settings and to heal my own pain, which was obviously reflective in my own life with my return to writing with this story and with a character named after my brother, the similarities are balancing to me. I feel good about where it's going and how the coming books are going to change Todd with the evolution of the story.
What were some themes that were important for you to focus on in this book?
A word that continues to come to mind as this book is released and the rest of the story forms in my head and is put to page is transition, the transition Todd has in his past, along with the new one he is about to undertake in the coming continuation of the story. With everything he's already experienced just because of this little coin, he HAS to find out where this whole thing is taking him and who is responsible for all of the sudden destruction in his life and that is going to lead to some major changes in him he didn't expect. And of course, not to even mention the whole Atlantis element he's trying to understand and connect together. But a definite theme in the whole series is bravery, valor, and courage. The bravery to continue on after tragedy, to tackle whatever may come your way, and the courage to be a good, kind, and generous person even when life eats you alive just to spit you out. The valor to step up to the moment, even when it's completely chaotic and tearing your beliefs and understanding of the world to shreds. And the realization that such acts can be greatly rewarded.
This novel begins a brand new trilogy. What can readers expect in book two?
Magic. And lots of it. Both Book 2 and roughly 60% of Book 3 are plotted out as of this writing, and I'm shooting to up the ante on the action tremendously too. As well as delve more into the histories of these characters. And of course, answers! Book one raises a lot of questions and takes Todd to the edge of his nerves with dodging bullets and his life in shambles and being in car chases. Todd is ready to slam his fist down to know what the hell is actually going on and I'm sure the readers are too. It's fun to dive back into such an adventurous story in a place I've always found exciting and tropical and fun. My aim was to capture the spirit of the Keys in this first book, and I hope in the next book I can give Miami and a few other special places justice, even if they may only exist in my imagination.
Author Links: GoodReads | Twitter | Facebook | Website
About Literary Titan
The Literary Titan is an organization of professional editors, writers, and professors that have a passion for the written word. We review fiction and non-fiction books in many different genres, as well as conduct author interviews, and recognize talented authors with our Literary Book Award. We are privileged to work with so many creative authors around the globe.
Posted on December 22, 2020, in Interviews and tagged adventure, author, author interview, book, book recommendations, book review, book reviews, book shelf, bookblogger, books, books to read, dark fantasy, ebook, fantasy, goodreads, kindle, kobo, literature, nook, novel, read, reader, reading, something found a coin, story, Troy Aaron Ratliff, writer, writing. Bookmark the permalink. Leave a comment.