Bringing These Two Rich Cultures Together
Ramayana Through Ikebana uses a Japanese art form to tell India's Ramayan and explains how Ikebana has been used to depict various sequential scenes from Ramayana. Why was this an important book for you to create?
Our exposure to the Japanese culture during our stays in Tokyo along with pursuing multiple masters in the field of Ikebana and our own cultural Indian heritage as a part of our upbringing, always made us wonder whether there was an opportunity of bringing these two rich cultures together.
The calling of building a unique concept which intertwined the art of Ikebana with Indian roots sparked from a simple idea of attempting to make one ikebana arrangement symbolic of a scene of Ramayana that transcended into hosting an exhibition in one of the art galleries in India where we took hundreds of people through a live display of different ikebana arrangements demonstrating different scenes of Ramayana with Ikebana in 2019.
Seeing the response of the audience, we felt the impact of this powerful concept needed a wider audience and greater depth. This led to the creation of this book with the core focus of embarking every reader into a journey of the two oldest cultures in the world where one could appreciate the richness of the Japanese traditional flower arrangement art, while reading a brief narration of the oldest Indian epic.
What was the collaboration process like between the two of you to bring this book to life?
We decided to break up the design of the book into multiple phases. Our first phase was to ensure that we were fully aware of the entire tale of Ramayana. We read the entire Valmiki Ramayana, the original version of this tale, constituting of 24,000 verses to identify how do we want to break this story and which crucial scenes could be designed using an Ikebana arrangement.
The second phase was to identify all the various scenes we wanted to narrow down and ideate on what natural materials, design styles we could possibly use to represent each of the scenes. Over a span of a few weeks, we did multiple sessions of playing with different materials to arrive at each of the scenes. Quietly we browsed through our material, walked through different landscapes, browsed various styles to take inspirations. Little did we realize that our own arrangements were surprising us on what we were creating.
In the third phase, we deeply thought over the narration style of this book. After brainstorming on our target audience and different field experts, we decided to break the story into different chapters where we narrated Valmiki's Ramayana and then ended each chapter with one of our arrangements. We also decided to explain in detail the thought behind the design of the display and symbolism of each element. Our core objective being, the reader should cohesively understand and absorb the depth of the artistic displays.
With different iterations over a span of months, the final product brought a soft smile of sheer joy to see the story and the art come together.
What scene in the book did you have the most fun creating?
We had the most fun representing the scene of the burning Lanka where an angry Hanuman used his tail to burn down the entire city of Lanka, Ravan's kingdom. We were attempting to build a large arrangement where we wanted to show a city burnt down to ashes with rakshasas, the residents of Lanka, running for their lives and the fire scorching the city.
To build such a large arrangement, it was exciting and inspiring as we used various materials such as large palm sheaths, dried tulsi, branches of arjuna pods, red berry sticks and chrysanthemums.
It took us various iterations before we could bring a structured cohesive theme, visually impressive, and at the same time symbolic of the story.
What do you hope is one thing readers take away from your book?
We hope it leaves the readers with the awareness and appreciation of Ikebana coupled with visual appreciation of "Ramayana". They can even appreciate how there is tremendous untapped opportunity in fusion across different traditional artistic styles & cultures.
Author Links: Instagram | YouTube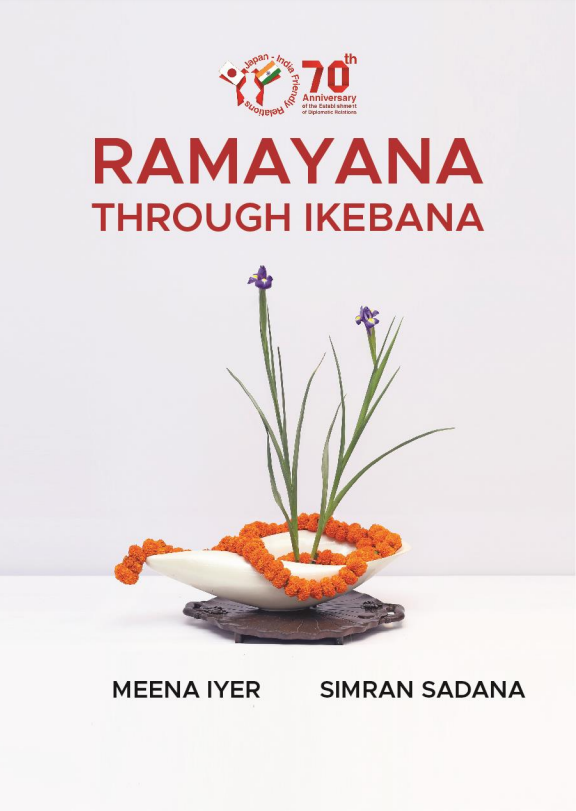 Ikebana, the ancient art of arranging flowers, is deeply rooted in Buddhism and Japanese traditions. Over the centuries, it has developed as an art form all its own, garnering popularity and leading to the development of schools dedicated to teaching this art form. A few things set Ikebana apart from traditional flower arranging. Those who practice this art know that it is based on minimalism, a focus on space, its unique materials, and asymmetry. Another amazing tradition is that of India's Ramayan, a tale describing both love and honor. When the art of Ikebana meets Ramayana, something truly beautiful emerges.
Ramayana Through Ikebana, by Meena Iyer and Simran Sadana, is a unique combination of mythology and explanations of how Ikebana has been used to depict various sequential scenes from Ramayana. With attention to color, shape, position, and texture, each arrangement in the book's photos tells the story in the most stunning fashion. The authors have taken great care to caption each photograph, listing the materials and the rationale for the arrangement for each as it relates to the storyline.
I found it amazing that I could actually picture the story's scenes when I looked at the arrangements. Iyer and Sadana have managed to pull together for readers two exceptional art forms and present them in a way they will both appreciate and at which they will marvel. Ramayana is beautifully told throughout the book and carries with it both amazing symbolism and life lessons that readers will enjoy.
I can see Iyer and Sadana's work as being beneficial in both literary arts and visual arts. The Indian story itself is a wonderful representation of both culture and tradition while the vivid descriptions of Ikebana throughout the book benefit those who are studying flower arranging. The authors have gifted readers with a true thing of beauty–on many levels.
I was pleasantly surprised at the way the two art forms meld seamlessly to convey a timeless tale. I highly recommend Ramayana Through Ikebana to anyone interested in exploring other cultures, those who are curious about the history and significance of Ikebana, and any fan of mythology. Iyer and Sadan's work is a lovely presentation of two cultures united in one work of literature.
About Literary Titan
The Literary Titan is an organization of professional editors, writers, and professors that have a passion for the written word. We review fiction and non-fiction books in many different genres, as well as conduct author interviews, and recognize talented authors with our Literary Book Award. We are privileged to work with so many creative authors around the globe.
Posted on November 27, 2022, in Interviews and tagged author, book, book recommendations, book review, book reviews, book shelf, bookblogger, books, books to read, culture, ebook, education, goodreads, indie author, kindle, kobo, literature, Meena Iyer, nonfiction, nook, novel, Ramayana Through Ikebana, read, reader, reading, Simran Sadana, story, writer, writing. Bookmark the permalink. 1 Comment.