So, what went wrong?
Christianity a Flawed Religion is an informative book analyzing the teachings of the church and comparing them to the teaching of Jesus and how they are different. Why was this an important book for you to write?
The importance of this book is to make life better for humanity; something needs to be done about all the suffering that is happening, especially to the children of the world. God put us in this beautiful world to enjoy it and gave us instructions how we must live to do so. So, what went wrong? We have not listened to God and obeyed him. Rather listened to and followed the dogma of men (the theologians). The solution is a better understanding of and compliance with the word of God as given to us through Jesus Christ. All of this explained in this book.
What is a common misconception you feel people have about Christianity?
The common misconception people have about Christianity depends on what people you are talking about. For the atheist it is somewhat delusional. For other religions it is simply wrong. It is neither of those, only faulty or imperfect. That's why I used the word flawed in the title instead of false. A common misconception among Christians is that God will send you to hell if you are not a Christian.
What is one piece of advice someone gave you that changed your life?
I can't think of any advice given me that has made a significant change in my life. It is time, experience and especially learning that have brought about change. As I noted in the book, Scripture tells us that seeking knowledge is very important.
What is the next book that you are working on and when will it be available?
I've about finished a book which I've entitled Politics Peace and Potatoes. It provides what I believe are reasonable and common-sense answers to major issues that plague America and the world, which, if we can summon the will and courage to carry out, will make our world better.
Author Links: Lulu | GoodReads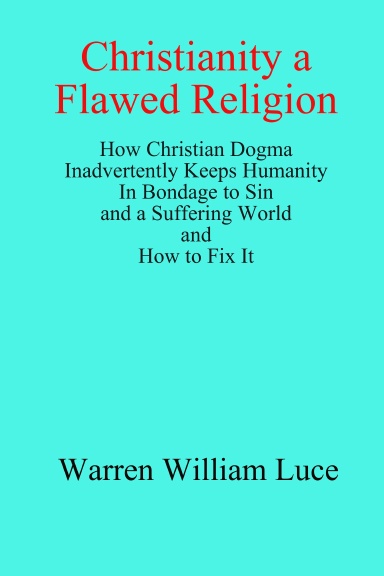 This book is about the difference between church dogma and the true story of Jesus Christ as told in the Bible. While much of the Bible is divinely inspired, much has also been added by man. This has created confusion and is often a distortion of the true message of Jesus Christ. This book goes into detail about the confusion and how it came about. It then describes a new understanding of faith based on the words and life of Jesus Christ which, when followed, will make our world a better place, perhaps even the Paradise that was intended for us.
About Literary Titan
The Literary Titan is an organization of professional editors, writers, and professors that have a passion for the written word. We review fiction and non-fiction books in many different genres, as well as conduct author interviews, and recognize talented authors with our Literary Book Award. We are privileged to work with so many creative authors around the globe.
Posted on February 12, 2022, in Interviews and tagged author, book, book recommendations, book review, book reviews, book shelf, bookblogger, books, books to read, Christianity A Flawed Religion, ebook, goodreads, kindle, kobo, literature, nook, novel, philosophy, read, reader, reading, religion, spirituality, story, Warren William Luce, writer, writing. Bookmark the permalink. Leave a comment.