The Story Took Off From There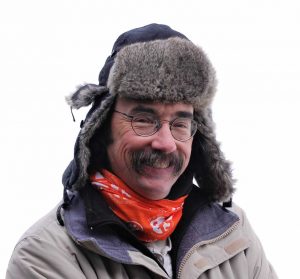 Powerless follows a man that must adapt to a post-apocalyptic world and keep his family alive and safe as resources become scarce. What was the inspiration for the setup to your story?
The first glimmer of an idea for Powerless struck when I was driving through a hurricane to pick up my daughter at her friend's house. The road crossed a small stream, and as I saw the water boiling through the culvert beneath the road, an image flashed in my head of the road flooded and impassable. I thought, "What if I couldn't pick up my daughter?" This thought was followed by two in rapid succession that will be familiar to anyone who writes. The first was, "Oh, that would be horrible!" The second was, "Oh, that would make a great story!"
So, for a while, the broad idea was 'Man moves heaven and earth to get his daughter back amidst a great natural disaster.' That interested me, but it didn't thrill me–it just looked like some sort of generic action movie in my head. One day I was mulling it over yet again, and I was thinking about this family that was one kid short in a crisis and picturing husband and wife at the dinner table with an empty chair where their daughter would be. And I sort of idly wondered, "What's it like in the other house? The one with the extra kid?" That was my "Ah, ha!" moment, and the story took off from there.
Kevin must learn to adapt to a new way of life that he was unprepared for. What were some driving ideals behind your character's development?
Kevin is a nice guy, and while he certainly hasn't finished last in life, he definitely gets walked on and over a bit. I was interested in exploring what would push him to finally say "no", what situation and circumstance would help him find the power within to stand up for himself, and to stand up for what is right.
He's also someone who is rather optimistic by nature, as well as resourceful and forward-thinking.
As the situation in Powerless unfolds he proves to be surprisingly good at doing things that he's never done before. But his optimism and basic faith in others leads to some blind spots where he is unable to see some of the threats to his family lie.
What were some themes that were important for you to explore in this book?
The biggest theme in Powerless is family, and how we define it. While the antagonist in the story is Eli Sobchuck, the real conflict is ultimately between Kevin and his wife, Monica, and it's over how to define family. Kevin wants to draw the family circle as wide as possible to include not only his daughter's friend, who has been stranded at their home during this event, but also neighbors and the people of the town. He sees the wider community as part of his responsibility. Monica, meanwhile, is trying to keep that circle as tight as possible, is trying to protect herself and the people closest to her. This resulting conflict is not only with her husband, but with herself.
The book also looks at the dynamics between people with power and those without, and the use of power for personal gain versus community good.
What is the next book that you are working on and when will it be available?
I have a completed manuscript of what I think of as 'economic fiction' about a woman who finds herself trying to work off debt in a compulsory, government sponsored volunteer program. It's pretty much good to go but it doesn't yet have a home. I'm hoping to rectify that. I'm also in the early stages of a project that is too new to really talk about right now. It has some characters and some situations that are interesting, but I haven't quite found the story just yet and I'm sort of trying to write my way into it.
Author Links: Twitter | Facebook | Website | GoodReads
About Literary Titan
The Literary Titan is an organization of professional editors, writers, and professors that have a passion for the written word. We review fiction and non-fiction books in many different genres, as well as conduct author interviews, and recognize talented authors with our Literary Book Award. We are privileged to work with so many creative authors around the globe.
Posted on June 5, 2022, in Interviews and tagged author, author interview, book, book recommendations, book review, book reviews, book shelf, bookblogger, books, books to read, contemporary fiction, ebook, fantasy, fiction, goodreads, Jeff ohandley, kindle, kobo, literary fiction, literature, nook, novel, post apocalyptic, read, reader, reading, science fiction, scifi, story, writer, writing. Bookmark the permalink. Leave a comment.