Trying to Capture the Moment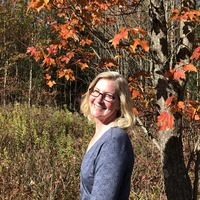 Sway is a collection of poetry that embraces the reader in nature and encourages them to be one with the Living World. What was the inspiration for this collection of poetry?
The drive behind my nature poetry comes from my lifelong fascination with nature. It is me sitting outside trying to capture the moment. Everything my senses take in and expressing it to paper. The simple pondering of the infinite unknown: What would it be to fly on the wind through the trees? To catch a bright maple leaf or have legs covered in thick yellow pollen? What does nature show, ask of us? and committing this to verse.
What were some themes that were important for you to explore in this book?
When I am writing I do not do so with theme in hand as a conscious thought. Themes erupt organically as I am writing in the exact day, time, season in my back yard. The intense seasons in the Northeastern United States naturally draw on change, transitions, beginnings and endings, so these themes are present in my poetry. The reflection of fall, introspection of winter, awakening of spring, glory of summer. In a way, nature chooses my themes.
What do you hope is one thing readers take away from your poetry collection?
I would like people to see the pure beauty of our living environment, to smell the sweet fallen leaf decay and soil laden spring rain. There is a healing energy to nature, a pausing to notice the interconnections of life. It is an energy, as I say in "Cells," a "Slow down take it in energy/ Invades every cell in I/ Listen, feel, succumb." I wish for readers to notice nature, find her hope, peace and ultimate joy.
What is the next book that you are working on and when will it be available?
What am I working on next? I am always writing. I try to write every day. My poetry encompasses everything about my life, shaped by the beautiful hills and valleys where I live. I imagine more poetry dealing with nature could be in store. As I compile and work on the poems I have written and will write, a new theme will emerge and urge me to a new book. As of now I am focused on Sway as it has just released.
Author Links: Amazon | GoodReads
About Literary Titan
The Literary Titan is an organization of professional editors, writers, and professors that have a passion for the written word. We review fiction and non-fiction books in many different genres, as well as conduct author interviews, and recognize talented authors with our Literary Book Award. We are privileged to work with so many creative authors around the globe.
Posted on October 6, 2022, in Interviews and tagged author, author interview, book, book recommendations, book review, book reviews, book shelf, bookblogger, books, books to read, ebook, goodreads, indie author, kindle, kobo, literature, nook, novel, poem, poet, poetry, read, reader, reading, story, Sway, Tricia Johnson, writer, writing. Bookmark the permalink. Leave a comment.