Rethink Your Financial Health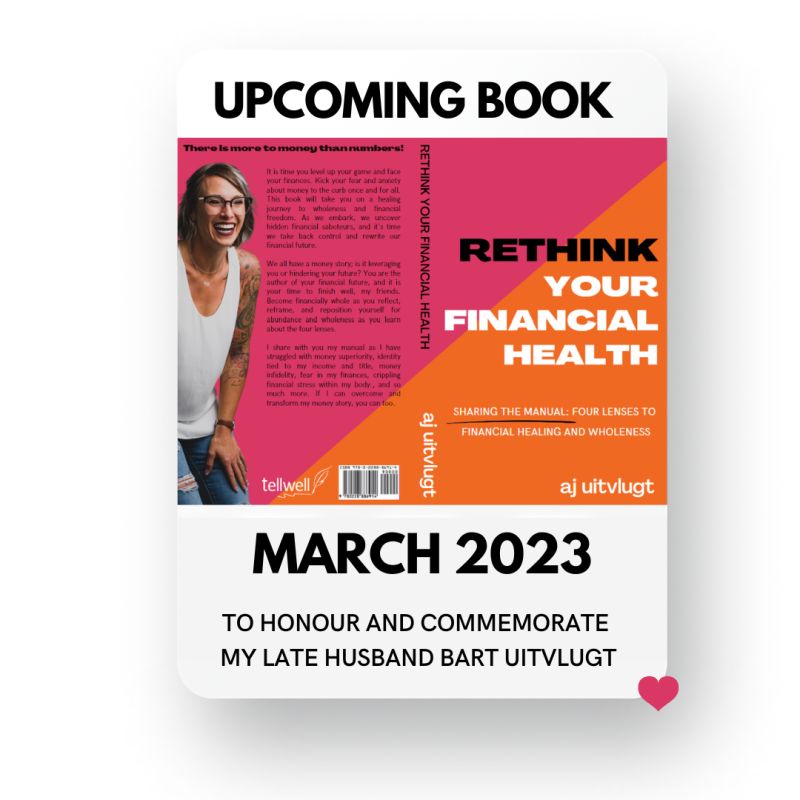 In Rethink Your Financial Health: Sharing the Manual – Four Lenses to Financial Healing & Wholeness, A. J. Uitvlugt uses absorbing stories to initiate conversations about money and finances. Everyone spends money, but not all know how to handle their finances effectively. Often, you will see people misusing or struggling to balance their earnings and spending. So how does one know how to form a healthy relationship with their finances? Do schools teach enough about finances? Do parents have conversations with their children about money? A.J. Uitvlugt is here to share with readers tips on dealing with money, whether a bit of money or huge finances and how to create a healthy financial journey for yourself and others.
Rethink Your Financial Health is an excellent read because of the stories and relatable experiences the author writes about. Each story told each expertise shared in the book, and every lesson the author gives is critical in every step. I found the distinct arrangement of this book helpful. A new chapter does not feel fresh but rather an extension of previous lessons. Every chapter starts with a quote from notable icons in history. And not just random quotes commonly used but quotes that help readers reflect on their financial habits and general approach to life. One of my favorite quotes in the book, 'Fear is a manipulative emotion that can trick us into living a boring life' by Donald Miller.
Readers can enjoy this book because everything is organized into easy-to-find and comprehended sections. The paragraphs are short and easy to complete, and the author highlighted the main points in bullet points for better visibility. I also enjoyed reading this book because the author had a section for exercises and the reader's reflection apart from the main discussion. The training gives one a chance to put into practice what is taught in the book. At the same time, the reflections are a vital part of the process so that readers will have a more insightful conversation with themself and a deeper understanding of their financial situation.
One of my favorite parts of the book was when the author addresses money myths. The author writes about myths like the work pays more myth, the must-buy myth peddled when buying versus renting debates are brought up, and the invincible myth examined during discussions on insurance. The author cordially educates readers on these myths, which is an excellent idea as many people tend to fall for some.
A. J. Uitvlugt's writing is relatable and engaging, and she uses real-life situations to convey her message. Rethink Your Financial Health: Sharing the Manual – Four Lenses to Financial Healing & Wholeness is an excellent book for financial literacy lessons and a great reference material for readers needing reminders about their relationship with money.
Pages: 183
About Literary Titan
The Literary Titan is an organization of professional editors, writers, and professors that have a passion for the written word. We review fiction and non-fiction books in many different genres, as well as conduct author interviews, and recognize talented authors with our Literary Book Award. We are privileged to work with so many creative authors around the globe.
Posted on February 26, 2023, in Book Reviews, Five Stars and tagged AJ Uitvlugt, author, book, book recommendations, book review, book reviews, book shelf, bookblogger, books, books to read, ebook, finance, goodreads, indie author, kindle, kobo, literature, nonfiction, nook, novel, personal development, personal finance, read, reader, reading, Rethink Your Financial Health, story, writer, writing. Bookmark the permalink. Leave a comment.