Behind the Grey Mist
Inside the Grey follows a grieving southern landowner who sets out to rescue his friend from Union raiders and finds love along the way. What was the inspiration for the setup to your story?
To be totally truthful, the entire story came to me at my barn when I snapped this picture.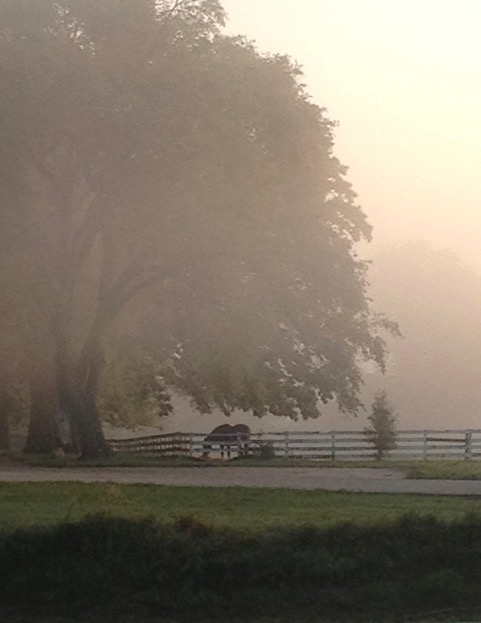 The original working title was, Into The Grey, as I saw fathers and sons from North and South marching into the grey uncertainty of war. I decided to tell the story from the perspective of one family. Searching the internet I found a picture that resembled what the hero looked like in my head. My mind actually saw him in that field with the horse. His story began to take shape. Brayden came to life but once he started talking to me during those late night writing sessions, he recounted what happened. I simply wrote it down. As the pages filled, I wanted to know more and more…what was in his journal, what was in his mind, what was behind the grey mist of the picture, what was… Inside The Grey?
Brayden was an intriguing and well developed character. What were some driving ideals behind your character's development?
The reader first meets Brayden as he sits alone in sadness. Yet as soon as his friend is in danger there is fierce loyalty, thinking of others before himself. In the course of the story, he exhibits chivalry, bravery & perseverance. As the plot deepens, the situation provides insight. Just because things are, doesn't mean they should be.
What were some themes that were important for you to explore in this book?
I set out to write a love story but being set in that time period and with today's tumultuous political climate, I needed to have my characters not just blindly follow 'the way things had always been.' I wanted them to think, grow and develop, to know what it was like to be on the other side…to rethink and change.
What is the next book that you are working on and when will it be available?
All of my novels can stand alone but while there is a new exciting hero and heroine in each story, the readers will recognize many of the original characters because they make appearances, often important ones. I'm currently working on a new romance taking place in the aftermath of war. My hero, Rafe Buchanan, returns home from California with voluminous wealth. But the coins fall from his hand when he finds his home in ashes, his wife buried in the ground, and his infant son in the custody of an unknown couple. For the next sixteen years, Rafe seals his heart, trusts no one…until she insinuates herself and alters his plans and his world.
No working title on this one yet and the story is still a work in progress. Rafe has yet to be as loquacious when I'm typing as Brayden was, but he'll get there!😊
Author Links: GoodReads | Website | Facebook
About Literary Titan
The Literary Titan is an organization of professional editors, writers, and professors that have a passion for the written word. We review fiction and non-fiction books in many different genres, as well as conduct author interviews, and recognize talented authors with our Literary Book Award. We are privileged to work with so many creative authors around the globe.
Posted on July 9, 2021, in Interviews and tagged author, author interview, Bobbi Groover, book, book recommendations, book review, book reviews, book shelf, bookblogger, books, books to read, ebook, fantasy, fiction, goodreads, historical fiction, historical romance, Inside the Grey, kindle, kobo, literature, nook, novel, read, reader, reading, romance, story, writer, writing. Bookmark the permalink. Leave a comment.