Blog Archives
Inside the Grey follows a grieving southern landowner who sets out to rescue his friend from Union raiders and finds love along the way. What was the inspiration for the setup to your story?
To be totally truthful, the entire story came to me at my barn when I snapped this picture.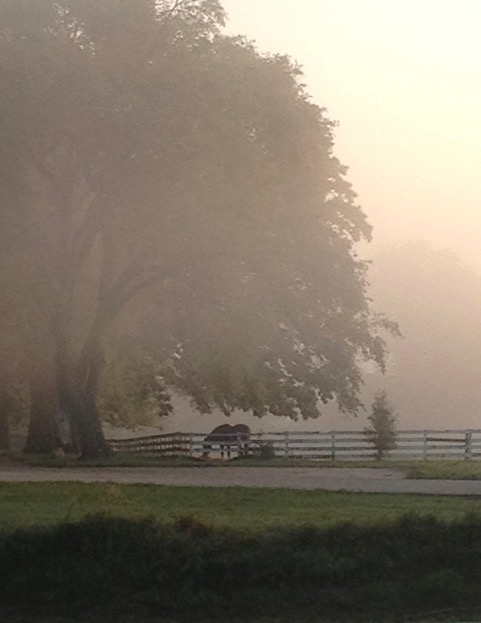 The original working title was, Into The Grey, as I saw fathers and sons from North and South marching into the grey uncertainty of war. I decided to tell the story from the perspective of one family. Searching the internet I found a picture that resembled what the hero looked like in my head. My mind actually saw him in that field with the horse. His story began to take shape. Brayden came to life but once he started talking to me during those late night writing sessions, he recounted what happened. I simply wrote it down. As the pages filled, I wanted to know more and more…what was in his journal, what was in his mind, what was behind the grey mist of the picture, what was… Inside The Grey?
Brayden was an intriguing and well developed character. What were some driving ideals behind your character's development?
The reader first meets Brayden as he sits alone in sadness. Yet as soon as his friend is in danger there is fierce loyalty, thinking of others before himself. In the course of the story, he exhibits chivalry, bravery & perseverance. As the plot deepens, the situation provides insight. Just because things are, doesn't mean they should be.
What were some themes that were important for you to explore in this book?
I set out to write a love story but being set in that time period and with today's tumultuous political climate, I needed to have my characters not just blindly follow 'the way things had always been.' I wanted them to think, grow and develop, to know what it was like to be on the other side…to rethink and change.
What is the next book that you are working on and when will it be available?
All of my novels can stand alone but while there is a new exciting hero and heroine in each story, the readers will recognize many of the original characters because they make appearances, often important ones. I'm currently working on a new romance taking place in the aftermath of war. My hero, Rafe Buchanan, returns home from California with voluminous wealth. But the coins fall from his hand when he finds his home in ashes, his wife buried in the ground, and his infant son in the custody of an unknown couple. For the next sixteen years, Rafe seals his heart, trusts no one…until she insinuates herself and alters his plans and his world.
No working title on this one yet and the story is still a work in progress. Rafe has yet to be as loquacious when I'm typing as Brayden was, but he'll get there!😊
Author Links: GoodReads | Website | Facebook
Inside the Grey by Bobbi Groover is a historical romance novel set at the beginning of the Civil War. Brayden Wakefield is a Southern landowner in Virginia. He's been grieving the loss of his wife for the past two years, but when he receives word that his neighbor, Caleb Jenkins has been taken by Union raiders, Brayden sets off with a group of other men to rescue their friend. Along the way, Brayden meets a women named Kawley Chatterton. Disguised as a man, she has been trailing to the same raiders, who have also captured her brother, Riley. Kawley is determined to save Riley–with or without the help of Brayden and the others. Can Brayden and Kawley succeed in rescuing the two men and returning home?
Author Bobbi Groover provides a riveting western novel that kept my interest through the entire book and I enjoyed reading it. It was filled with adventure and intrigue and history. At the beginning of the story, I felt as uncertain as Brayden about Kawley's true motives and her past, not knowing if what she said was the truth or lies. She had a feisty attitude and I wanted to like her, but didn't know if I should because of the possibility that she might end up betraying Brayden. As the story progressed, I liked the interactions between Kawley and Brayden as they rode together, and how they helped each other–not just in their aim to rescue Caleb and Riley, but also with the demons from their past. They shared several moments of dark humor to lighten the grimness of their task. I liked the link between the book's title and Brayden's journal (with a grey cover) that he always carried with him and wrote in often.
The ending was a Happy For Now, rather than Happily Ever After, which I much appreciated, but I would have liked to see what happened to Brayden and Kawley after the end of the war; maybe in a follow-up novel.
Inside the Grey is an emotionally charged historical romance novel that takes readers through a detailed world filled with intriguing characters and unexpected twists.
Pages: 352 | ASIN:  ‎B08NCSSB1H
Posted in Book Reviews, Four Stars
Tags: author, Bobbi Groover, book, book recommendations, book review, book reviews, book shelf, bookblogger, books, books to read, ebook, fantasy, fiction, goodreads, historical fiction, historical romance, Inside the Grey, kindle, kobo, literature, love story, nook, novel, read, reader, reading, romance, story, western, writer, writing