Blog Archives
Siggy the Soccer Dog follows a dachshund that dreams of winning the FA Cup Finals through teamwork and kindness. What was the inspiration for your story?
I have been a Manchester United fan since 1975. Where I'm from lots of people support the team because of several local players who made their name there – most notably the world-class player George Best who made headlines and was known in the British press as "the 5th beatle" in the late 60s. He has a good claim on being the first soccer superstar but when he went through the wringer of fame there was no support like there is for Messi or Ronaldo today, and his story has quite a tragic element to it as well, which all adds to the aura and romance and adds a "what if" element, even though he actually achieved so much before his downfall. As a 5 year old I became a supporter because of my Dad and George. I wanted to do a story for the Utd fans and for their kids and this is what happened.
What was your inspiration for becoming a children's book writer?
I have always enjoyed writing and won English prizes and things like that when I was younger. As I have grown older I have kept writing. I became a lawyer, which I'd say is being a "wordsmith" using legal language for money. But it never gave me the same satisfaction as writing stories. I wrote thrillers that almost made publication in my late 20s and then I was inspired by some local children during lockdown to write something for them. The books that exist now came out of that, and I have found to my surprise that I really enjoy writing for children and it gladdens my heart to see and hear their enthusiastic reactions to my stories.
Are there any memories from your own life that you put into your books?
Definitely. The series of "Siggy the Sausage Dog" stories – and the upcoming "Wee Moos" and "Phlower Phaeries" series are all based around kindness and seeking happiness. When I was a youngster my dad always told me: "Be a happy man!" and I've appreciated that simple advice more and more as I have become older myself. It took me a while, but now writing for children has made me a happy man. I want to share that philosophy and to help children hold on to their natural happiness if I can.
What is the next book that you are working on and when will it be available?
I think the next book after (Siggy the Soccer Dog) will either be "Hello Moo!" the first of the Wee Moos series or "Siggy and the Balloon Festival" the next Siggy story. I am continuing to write the first Phlower Phaeries children's novel but this is taking longer than the shorter stories are!
Author Links: GoodReads | Instagram | Twitter | Facebook | Website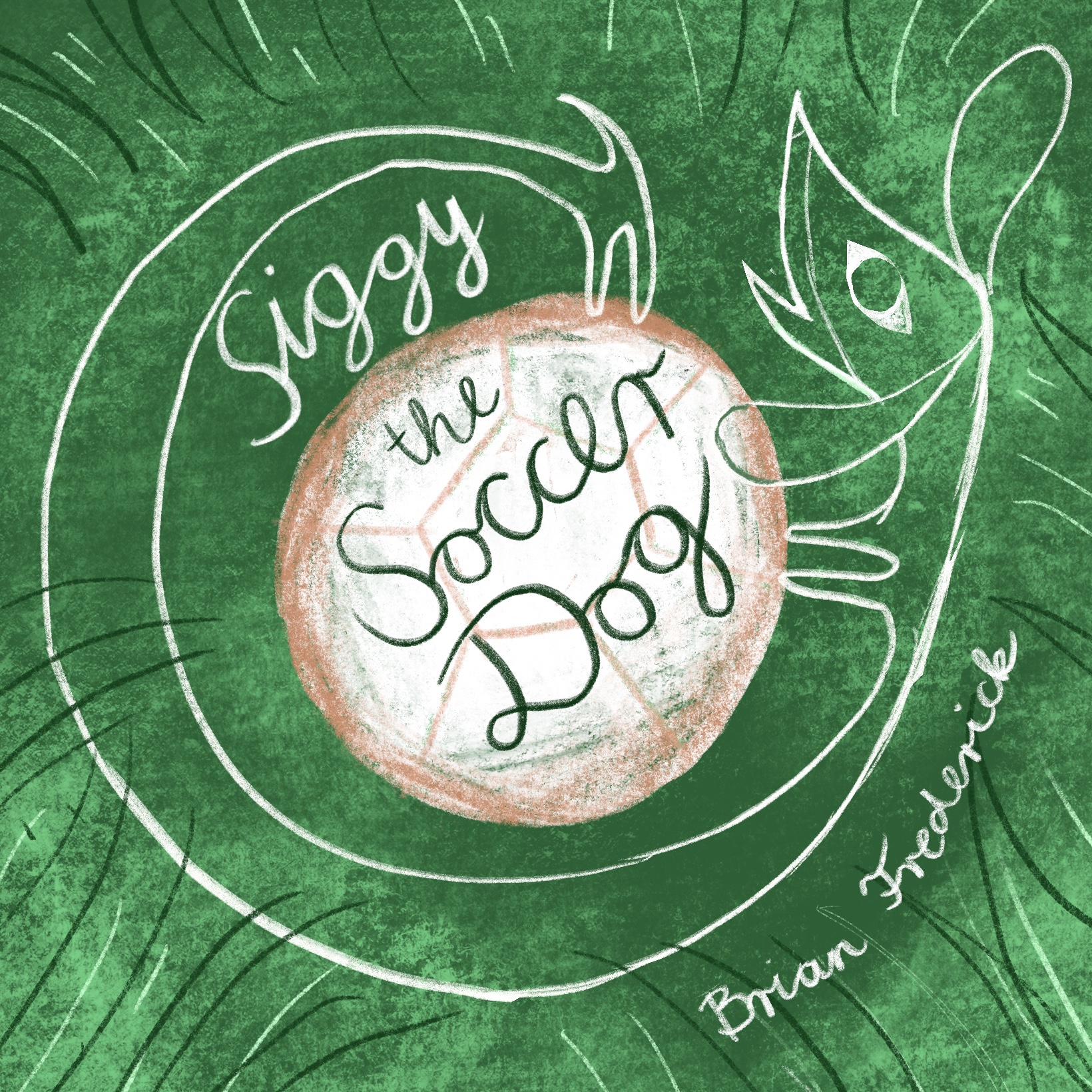 Sigmund, the dachshund, lives in Somerset with his family, the Barker's. Sigmund goes by the name Siggy. One morning he was sleeping and having an amazing dream that he was playing in the FA Cup Final. The crowd sings his praise, they cheer him on, and he makes his way out on the field. Siggy races down the field, ready to score the winning goal when he is hit from the side. The team must regroup and try again to win the game. Injured Siggy still plays and encourages his team and spreads his message of kindness to all.
Siggy the Soccer Dog by author Brian Frederick is a heartwarming picture book about Siggy the dachshund who looks for ways to share his message of kindness in everything he does. This imaginative book teaches children about soccer, going over some of the rules and explaining the gameplay. Siggy focuses on teamwork. There are a lot of mentions of the team working together to try and score a goal. While Siggy is the star of the game in his dream, he never lets that go to his head. He shares the success with his team.
My favorite parts in this entertaining children's book were the two chants that are sung for Siggy. Using the tune of Chim chim cher-ee and Happy, children can easily identify the rhythm and sing right along with the characters in the book.
When reading through this story, the illustrations by Vivien Sárkány jump off the page with the excitement of the characters playing on the field. The whimsical artwork integrates well with the words on the page. They are not separate entities; instead, they flow together, creating a well-composed image that will captivate and keep young readers engaged.
Siggy the Soccer Dog is a beautifully written picture book that shares the message of kindness with young children. This joyful book is perfect for preschool, kindergarten, and young elementary readers. I can easily see a teacher reading this in front of their class, entertaining and educating students.
Pages: 27 | ISBN : 978-1-7399064-9-8
Posted in Book Reviews, Five Stars
Tags: adventure, author, book, book recommendations, book review, book reviews, book shelf, bookblogger, books, books to read, Brian Frederick, childrens books, ebook, fantasy, fiction, goodreads, kids books, kindle, kobo, literature, nook, novel, picture books, read, reader, reading, Siggy the Soccer Dog, soccer, sports, story, writer, writing
Siggy loves being called a good boy, but most of all he loves treats. His favorite treats are Hortobagyi, and Fairy Cake but most of all Siggy loves sausages. As Siggy sets off on a quest to return a fancy bag back to its owner, he makes his way through a cute little village called Hope Hamlet, and is rewarded for his efforts with his favorite treat.
Through this beautifully illustrated children's book we get to meet the diverse village folk of Hope Hamlet as Siggy zips past them, hot on the trail of the fancy bag floating through the air. This charming adventure story takes a magical twist and we learn the reason why dogs sometimes seem interested in something that's not there.
This captivating picture book reminds me of the whimsy and adventure found in Roald Dahl books mixed with the magical antics found in the kids TV show Ben & Holly's Little Kingdom. Siggy the sausage dog is a cute and fun character to follow and children will love seeing the different ways his body gets twisted around on the page.
The art in the book is phenomenal and does a great job of matching the tone of the story. The illustrations are beautiful sketch art pieces that look like they are colored in with color pencil or crayon and is a perfect way for kids to relate to the art.
With a diverse cast of characters, a spunky little sausage protagonist and an enchanting adventure, Siggy Loves Sausages is a fun story that children will revel in.
Pages: 31 | ASIN: B099TRZTC4
Posted in Book Reviews, Five Stars
Tags: adventure, author, book, book recommendations, book review, book reviews, book shelf, bookblogger, books, books to read, Brian Frederick, childrens books, ebook, fantasy, fiction, goodreads, kids books, kindle, kobo, literature, nook, novel, picture books, read, reader, reading, Siggy Loves Sausages, story, writer, writing