Blog Archives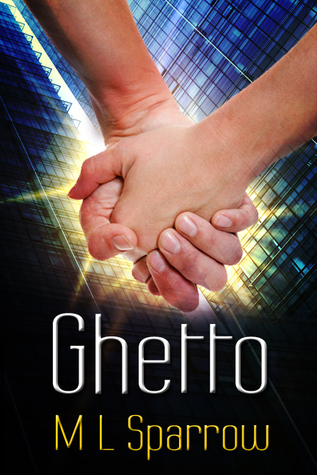 Sunny Beaumont is the protected, pampered teenaged daughter of President Peter Beaumont. It might seem like a charmed life, but Sunny is trapped in a class-based society where her only friends are her stylist and her robot. She's a budding computer genius and tinkerer, keeping herself busy with low-level hacking and rebuilding obsolete equipment for fun.
When Sunny needs a part for her project, she discovers it inside the Ghetto—the compound where criminals are confined for the good of society. When she ventures in to retrieve it, she's kidnapped by the resistance. Her experience helps her discover that the rigid class system is hurting innocent people. Can she use her position to change society? Or will she accept the status quo?
If you're a fan of the film District 9, you'll enjoy Ghetto by M.L. Sparrow. The book examines similar social issues including segregation, guilt by association, and injustice. Though it was a little slow to start, the author uses the first few chapters to provide a lot of detail about the world Sunny lives in. Every member of society carries a brand that's impossible to remove and mandatory for living in the city. The brand is so important that it's a capital offense no not have a brand. It's definitely written for a younger audience, but the fast-paced plot and rich descriptions make it a good read for any age. Told in the first person, Sunny shows us her world in her words and helps readers understand her actions and her motivations behind them.
When Sunny is kidnapped, she's initially terrified, but the longer she stays as a "guest" of the resistance, the more she realizes that things aren't right. She questions herself, even wondering if she's experiencing Stockholm Syndrome until it's clear to her that the system that was supposed to provide safety and security has gone terribly wrong.
She starts to make friends with other group members like Maya and Kit and develops a crush—and a tentative truce—with Sin, the leader. Of course, a romance slowly develops between Sin and Sunny. I really enjoyed that it wasn't sudden, or forced, and they butted heads and fought until they were friends, and the romance came naturally. She also makes real friends for the first time in her life, people who like her for who she is, not her social position.
One thing I really liked about the book is the action. The author is very good at pacing and tension and setting a mood so realistic that at times, I felt like I was part of the story. There are only a few instances of actual violence, and those are handled in a realistic manner. It was also refreshing when Sunny realized that violence wasn't the solution; the real fight was in the arena of public opinion.
The biggest problem with Ghetto wasn't the story, or characters, or plot. There are too many errors in the text. No book is perfect; I see typos in nearly every book I read. But there were enough punctuation problems and homonym errors that I got distracted and couldn't overlook them. A good proofreading pass would catch these, and would make this gem of a novel shine brighter. That said, it doesn't diminish my enjoyment of the story.
Overall, I recommend Ghetto for the great characters and the rich world that M.L. Sparrow builds. If you're a fan of dystopian fiction, science fiction, or you're just looking for a good romance, you won't be disappointed!
Pages: 382 | ISBN: 1516913744