Blog Archives
Dare to Be the Change, written by Annella Metoyer, tells the story of Annella's life and how she overcame adversities to be the change she wished to see in the world. Annella faces a world of segregation and judgement based on the color of her skin, but is determined to push through the racism and have people see her for who she truly is. This begins a world of firsts for Annella, from being the first colored cheerleader to the first woman of color to work in her local bank. Her life journey will inspire, and enlighten you as you learn what it takes to make a difference in the world.
Growing up in a small town of Louisiana, Annella lives in a time where racism was prevalent in the community. With society segregating everyone into two groups of "colored" and "white", Annella struggles with her identity. This segregation continues throughout all of her schooling years; however, it was several teachers and adults in her life that showed her that she didn't need to accept the injustice and inequality that society expected her to endure.
I admired the relationship Annella had with her parents and in particular the strength and support her father showed her throughout her life. Rather than allowing racism to control their lives, he would take a stance and voice his concerns about the unfairness of how children were treated due to the colour of their skin. He was also the instigator of her career as the first woman of color at a bank, forming the pathways of her strength and persistence for change.
Dare to Be the Change enlightens the reader with racial situations or expectations that show an unfair and unjust part of our history. Conditions such as separate school buses or being unable to enter a cafe through the front door if you were colored seem like a preposterous idea, but sadly they were the real-life situations that people had to endure every day.
Throughout the story, you can tell the author Annella Metoyer radiates a certain positivity and gratitude that I believe led her to achieve so many significant changes. There are times where she could have relished in the negativity, but instead, she talks about the positive people in her life that helped her grow and become more confident as a woman. Annella's endurance and strength to stand up for what is right is a trait to be admired and one that we don't often see in the world. Annella's hard work ethic and ability to prove herself in her career is just one way she initiates change as she begins to show others that there is more to a person than the color of their skin.
I would recommend this to anyone looking for an inspirational story that will motivate you to be the change you wish to see in the world.
Pages: 91 | ASIN: B079QM5MNC
Angie Brown, A Jim Crow Romance was originally written by Lillian Jones Horace 68 years ago. What inspiration did you find in this book that made you want to publish an annotated scholarly edition?
I am certain that most of my admiration stems from my appreciation for Horace, the African American southern woman writer, who remained true to her commitment to write "creatively but constructively." Before I began conducting research on Horace and her writings, she and the archival material treating her life and works were largely overlooked by scholars.
The protagonists she created all exemplify the kind of determination that Horace herself demonstrated throughout her life.
I wanted to create an annotated scholarly edition to help Angie Brown find its way into the literary canon, where students and scholars of African American literature could weigh in on its value.
Angie Brown is a strong women that is finding her path through troubled times. What are some things you admire about her character?
I admire Angie's determination, practicality, openness to learning, friendly nature, and commitment to progress.
What kind of research did you do for this novel and Lillian Jones Horace?
I conducted extensive archival research to better understand Horace and the characters she created. A comprehensive list of the repositories I visited appears in my first book-length publication on Horace titled, Recovering Five Generations Hence: The Life and Writing of Lillian Jones Horace (2013). I have been researching and writing about Horace since 2003. Her papers are held in the Fort Worth Public Library, Fort Worth, TX.
I understand you contacted some of the Horace family for this book. What were their reactions to you pursuing this 100 year old story?
I contacted her niece and two of her great nieces. Her great niece, who remembered her well, knew that Lillian Horace was a respected educator, but she had no idea that Horace had written two historic novels. Most of what I shared with her and other family members about Lillian Horace was new to them.
Do you have any other books in the works?
Yes. I am working on an edited version of Lillian Horace's diary, and a book project comparing and contracting the trajectory of Horace's life and works to those of her younger and more popular southern African American contemporary, Zora Neale Hurston.
Author Links: GoodReads | Facebook | Twitter
"Angie Brown is a romance migration novel set in the Jim Crow era. Angie, the protagonist, determines to embrace all life has to offer despite the social restrictions facing young black southern women like her. Angie holds fast to her desire to find financial success, personal fulfillment, and true love, but she does not achieve her dreams alone, nor do they unfold in the same place. From Belle, her confidant; to Betty Yates, the teacher; to Chester, the pool hall owner; women and men from various social stations in life and different places share nuggets of wisdom with Angie. With their love and support, she overcomes tragedy, welcomes fresh possibilities, climbs the social ladder, and opens her heart to love. Angie's progressive journey reflects the migratory trek of many African American Southerners of the Jim Crow era, who left the South for greater educational and economic opportunity. Her quest leads her from a small segregated community to Hot Springs, Arkansas, and eventually to the Midwest, including St. Louis, Missouri, Chicago, and Southern Illinois. As Angie travels from place to place, she gradually comes into her own and learns key life lessons. Angie learns that struggle is universal. While doing domestic work, she discovers that whites, who live on "The Other Side," also experience pain, suffering, and grave disappointment. Love eludes white women, too, and they, too, face gender discrimination. Having overcome her fair share of personal losses, Angie reaches across racial lines to console Gloria, a member of the Parker family, for whom Angie does domestic work. Her experience with the Parker's is juxtaposed to her dealings with the Mungers, a rich, Northern white family she meets. Although the Mungers are kind to Angie, she learns that life beyond the South is not perfect. Yes, she and other blacks face less virulent forms of racism outside the South, but economic stability and educational opportunity are not easily achieved."
Posted in Interviews
Tags: african american, amazon, amazon books, amazon ebook, angie brown, author, author interview, black history, book, book review, books, diary, ebook, ebooks, facebook, fantasy, fantasy book review, fiction, fort worth, goodreads, historical fantasy, historical fiction, historical romance, history, interview, jim crow romance, Karen Kossie Chernyshev, kindle, kindle book, kindle ebook, lillian jones horace, literature, love, non fiction, nonfiction, novel, publishing, reading, review, reviews, romance, romance novel, scholar, segregation, southern history, southern woman, stories, texas, twitter, urban fantasy, women, womens fiction, writing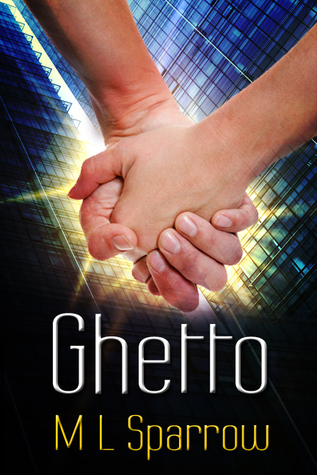 Sunny Beaumont is the protected, pampered teenaged daughter of President Peter Beaumont. It might seem like a charmed life, but Sunny is trapped in a class-based society where her only friends are her stylist and her robot. She's a budding computer genius and tinkerer, keeping herself busy with low-level hacking and rebuilding obsolete equipment for fun.
When Sunny needs a part for her project, she discovers it inside the Ghetto—the compound where criminals are confined for the good of society. When she ventures in to retrieve it, she's kidnapped by the resistance. Her experience helps her discover that the rigid class system is hurting innocent people. Can she use her position to change society? Or will she accept the status quo?
If you're a fan of the film District 9, you'll enjoy Ghetto by M.L. Sparrow. The book examines similar social issues including segregation, guilt by association, and injustice. Though it was a little slow to start, the author uses the first few chapters to provide a lot of detail about the world Sunny lives in. Every member of society carries a brand that's impossible to remove and mandatory for living in the city. The brand is so important that it's a capital offense no not have a brand. It's definitely written for a younger audience, but the fast-paced plot and rich descriptions make it a good read for any age. Told in the first person, Sunny shows us her world in her words and helps readers understand her actions and her motivations behind them.
When Sunny is kidnapped, she's initially terrified, but the longer she stays as a "guest" of the resistance, the more she realizes that things aren't right. She questions herself, even wondering if she's experiencing Stockholm Syndrome until it's clear to her that the system that was supposed to provide safety and security has gone terribly wrong.
She starts to make friends with other group members like Maya and Kit and develops a crush—and a tentative truce—with Sin, the leader. Of course, a romance slowly develops between Sin and Sunny. I really enjoyed that it wasn't sudden, or forced, and they butted heads and fought until they were friends, and the romance came naturally. She also makes real friends for the first time in her life, people who like her for who she is, not her social position.
One thing I really liked about the book is the action. The author is very good at pacing and tension and setting a mood so realistic that at times, I felt like I was part of the story. There are only a few instances of actual violence, and those are handled in a realistic manner. It was also refreshing when Sunny realized that violence wasn't the solution; the real fight was in the arena of public opinion.
The biggest problem with Ghetto wasn't the story, or characters, or plot. There are too many errors in the text. No book is perfect; I see typos in nearly every book I read. But there were enough punctuation problems and homonym errors that I got distracted and couldn't overlook them. A good proofreading pass would catch these, and would make this gem of a novel shine brighter. That said, it doesn't diminish my enjoyment of the story.
Overall, I recommend Ghetto for the great characters and the rich world that M.L. Sparrow builds. If you're a fan of dystopian fiction, science fiction, or you're just looking for a good romance, you won't be disappointed!
Pages: 382 | ISBN: 1516913744
Posted in Book Reviews, Four Stars
Tags: action, adventure, amazon books, author, book, book review, books, district 9, ebook, ebooks, fantasy, fiction, fighting, ghetto, literature, ML Sparrow, mystery, post-apocalyptic, publishing, reading, review, reviews, romance, sci fi, science ficiton, science fiction, segregation, social issues, stories, urban fantasy, writing, YA, young adult