Blog Archives
The Nosferatu Chronicles: Origins is a science fiction novel detailing the origins of vampires with a mix of aliens and Vlad the Impaler. What was the initial idea behind this story and how did that transform as you were writing the novel?
As a kid, I loved science fiction movies about alien invaders and the Dracula films that starred Christopher Lee and Jack Palance. I kept waiting for a film to come out that would combine my two favorite genres, but it never happened. I finally decided to write down my own story that had been in my head for decades.
The alien VAMBIR were fascinating and I felt like you spent a lot of time thinking about these creatures to truly bring them to life. How do you capture the thoughts and emotions of an alien species?
I loved the movie ENEMY MINE and Louis Gossett Jr's portrayal of the Drac alien was incredibly moving. In the beginning, it was easy to think of him as evil because of the hideous exterior, but you quickly see that the Drac had a parallel code of ethics to humans. I thought of the Vambir in the same way — a humanoid species that evolved separately with the same hopes and dreams and everyday struggles.
The story takes place on Earth during the 15th century. Why did you choose this as the backdrop to your story?
The character of Prince Vlad Dracula was essential to the story, and he lived in the 15th Century. Since the vampire legend began with Vlad the Impaler, it was a good place to start with an alien crash-landing that 'explained' just how the legend began.
I find a problem in well written stories, in that I always want there to be another book to keep the story going. Where does book two, The Aztec God, take readers?
The Aztec God will take readers from where Origins left off in the 15th Century to the present day. Kevak and his network of transformed humans have been secretly protecting mankind from the Vambir, but just when they think the threat has been obliterated, historical clues point to a Vambir presence among the Aztecs that is linked to a present day cult.
Author Links: GoodReads | Twitter | Facebook | Website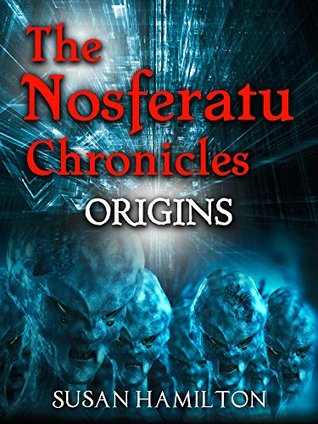 Book 1 of the series reveals how the vampire legend is the result of a secret alien invasion that began with a crash landing in Transylvania in the 15th Century.
The Vambir discover human blood is a nutrient, but it is also highly addictive. Ingesting blood brings about a physical transformation that enables them to pass as humans.
Impressed with their superior strength and vicious fighting skills, Prince Vlad Dracula welcomes them into his inner circle, where they attain power through him.