Blog Archives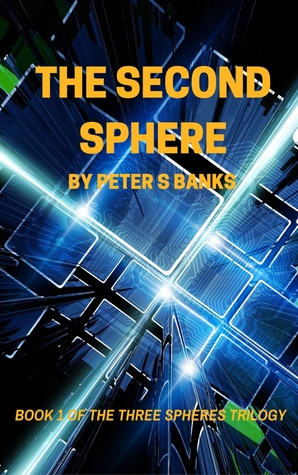 What if you could live forever? Alternatively, would living forever truly make you happy? These are questions asked and answered in Peter S. Banks' The Second Sphere. The first in a trilogy we find ourselves in a world where living for four hundred years is simple and human bodies are reduced to synthetic versions of what we have today. In our story we meet Orion; a man who has lived far longer than perhaps is acceptable for humankind. He's got family but he hasn't actually touched them in quite some time. He's like a washed up business man or detective whiling away the years of his life at a job he doesn't seem to care for. While he spends his free time caught up with illicit drugs and companions Orion is about to find out what it's like when that seemingly peaceful life is ripped apart and thrust to hell.
No matter the genre, people are looking for ways to identify with it and make it more real. The fact that Banks tells his story in the first person allows readers to feel more connected to the protagonist. The technology in The Second Sphere is obviously advanced from our present lives but the time between now and then and the sort of technology written about isn't too unrealistic. Just enough is explained and just enough is left for readers to accept as being normal.
Due to a spike in the population, since no one dies anymore, humanity has branched out to colonize both the moon and Mars. It is while attempting to live on the moon that Orion finds himself wrapped up in a battle against the terrorist organization known as the Green Revolution. There are bombs and there are conspiracies. As an agent working for the Laslow Corporation it's Orion's job to connect with his informants and find out exactly what is going on. The story picks up from here as the readers are left trying to unravel all the mysteries with Orion. When it comes down to it, however, will Orion be able to make one of the most agonizing choices humanity faces? Will he be able to partake of the plot to sacrifice the many to save the few? If that wasn't bad enough, the plot twist that comes screaming through after Orion makes his choice is bound to leave some bitterness in the reader's mouths.
As a first installment in a trilogy The Second Sphere is quite able to stand on it's own. While the ending does leave readers asking questions, it would still be able to function alone with a retrospective demand on readers at the end. Peter S. Banks definitely delivers on exciting action and an uncannily accurate description of what life would be like if we were able to live forever. There must be an end for there to be a new beginning. If the human race never ends, how can anything new begin?
Pages: 248 | ASIN: B01DM9VH5W