Blog Archives
In The Second Sphere humans live longer, but terrorists aim to remove all life from the moon and Mars and return humans to Earth. This is a genre-crossing novel with elements of a science fiction, thriller, and mystery as well. Did you start writing with this in mind, or did this happen organically as you were writing?
I try to tap the things that I love to read. People like George Pelecanos, Walter Moseley, and Michael Connelly are huge influences. I've always appreciated their characters; those who have their own unique ways of viewing and interacting with the world. I've always loved sci-fi, particularly dystopian futures, think Blade Runner. And I've always been fascinated with and a bit scared of conspiracies, particularly when it comes to government involvement with extraterrestrial life. All of it just came together when I sat down to write.
In this story human bodies are reduced to synthetic versions and the main character Orion has lived for a very long time. Where did this idea originate from and how did it develop as you were writing?
A good friend of mine introduced me to Ray Kurzweil's vision of the singularity, I don't know, maybe five or six years ago. The more I thought about it, the more the singularity kind of horrified me. Certainly there are some practical and humane possibilities when it comes to the intersection of technology and health. But at what point do we consider what we lose by literally giving up our bodies in the search for ever-lasting life? Part of this book is about processing the dark underbelly of technological advancement and scientific discovery.
It's not easy to envision this type of a future. I ended up rewriting the details over and over because I felt that I was projecting my biases as a person living in the 21st century on a future that is barely on the horizon. Of course I couldn't escape those biases completely, but I tried to.
The science inserted in the fiction, I felt, was well balanced. How did you manage to keep it grounded while still providing the fantastic edge science fiction stories usually provide?
I tried to write what I enjoy reading. At one point in my rewriting process, I eliminated nearly all of the science in order to keep the story moving. A reader of mine really let me have it. He was right. My goal was to make the story as lean as possible, but I'd diluted the setting. So I re-inserted the portions that grounded the story a little bit more. I wanted to give the reader just enough without being burdened.
The Second Sphere is book one in the Three Spheres Trilogy. Can you give us an idea of what the next book will be about and when that will be available?
My goal is to have book two, tentatively titled Red Death, out by next Spring. This second book is going to be pretty dark. I wanted to have the book out this year, but it's taken me longer than I imagined to get the story itself in shape. I wanted to will it in a more optimistic direction, but that's not where it wants to go. So I have to listen to the story that's being told to me.
Author Links: GoodReads | Website | Twitter
Book Summary:
In the future, advanced technology allows everlasting life. But enemies remain, including the Green Revolution, a "terrorist" organization bent on returning all life from the moon and Mars back to Earth. After Orion Cox, Deputy Intelligence Chief for the Laslow Corporation begins an investigation into a devastating bombing in New Mumbai, Mars, supposedly undertaken by the Green Revolution, he witnesses a vicious attack caused by a virus that threatens life throughout the Three Spheres.
The Hungry Monster Book Awards are awarded to books that have astounded and amazed us with unique writing styles, vivid worlds, complex characters, and original ideas. These books deserve extraordinary praise and The Hungry Monster is proud to acknowledge the hard work, dedication, and imagination of these talented authors.
Gold Award Winner
Bean Takes a Walk by Ann Bevans & Matthew Ethan Gray
Silver Award Winners
Mother Athina by Danny Estes
Game Over by Derek Eddington
Beyond Cloud Nine by Greg Spry
The Second Sphere by Peter Banks
Seed of Treachery by C.A. MacLean
Wolves Among Sheep by Steven Pajak
Chaste: A Tale From Perilisc by Jesse Teller
The Six and the Gardeners of Ialana by Katlynn Brooke
"When I look at a book, I see the history of books, old tomes with sacred knowledge. The authorities that controlled the books controlled the people. Books brought the old world to order. My books are how I bring my life and my thoughts to order, the only lasting way I can see to impart wisdom and ask questions." – Jesse Teller author of Chaste
Visit the Hungry Monster Book Awards page to see award information and see all award winners.
Posted in Hungry Monster Book Award
Tags: action, adventure, alien, amazon, amazon books, author, author award, author interview, bean takes a walk, beyond cloud nine, book, book award, book review, books, chaste, children, crime, dark fantasy, ebook, ebooks, fantasy, fantasy book review, fiction, fighting, game, game over, genre fiction, goodreads, horror, interview, invasion, kids, kindle, literary award, literature, love, magic, mother athina, murder, mystery, novel, parents, post-apocalyptic, publishing, reading, review, reviews, romance, sci fi, science ficiton, science fiction, science fiction book review, seed of treachery, short stories, space, stories, teachers, the second sphere, the six and the gardeners of ialana, thriller, urban fantasy, video game, video games, war, wolves among sheep, women, writing, YA, young adult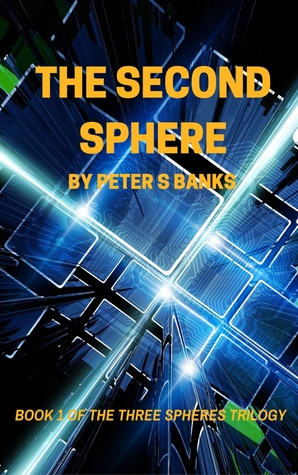 What if you could live forever? Alternatively, would living forever truly make you happy? These are questions asked and answered in Peter S. Banks' The Second Sphere. The first in a trilogy we find ourselves in a world where living for four hundred years is simple and human bodies are reduced to synthetic versions of what we have today. In our story we meet Orion; a man who has lived far longer than perhaps is acceptable for humankind. He's got family but he hasn't actually touched them in quite some time. He's like a washed up business man or detective whiling away the years of his life at a job he doesn't seem to care for. While he spends his free time caught up with illicit drugs and companions Orion is about to find out what it's like when that seemingly peaceful life is ripped apart and thrust to hell.
No matter the genre, people are looking for ways to identify with it and make it more real. The fact that Banks tells his story in the first person allows readers to feel more connected to the protagonist. The technology in The Second Sphere is obviously advanced from our present lives but the time between now and then and the sort of technology written about isn't too unrealistic. Just enough is explained and just enough is left for readers to accept as being normal.
Due to a spike in the population, since no one dies anymore, humanity has branched out to colonize both the moon and Mars. It is while attempting to live on the moon that Orion finds himself wrapped up in a battle against the terrorist organization known as the Green Revolution. There are bombs and there are conspiracies. As an agent working for the Laslow Corporation it's Orion's job to connect with his informants and find out exactly what is going on. The story picks up from here as the readers are left trying to unravel all the mysteries with Orion. When it comes down to it, however, will Orion be able to make one of the most agonizing choices humanity faces? Will he be able to partake of the plot to sacrifice the many to save the few? If that wasn't bad enough, the plot twist that comes screaming through after Orion makes his choice is bound to leave some bitterness in the reader's mouths.
As a first installment in a trilogy The Second Sphere is quite able to stand on it's own. While the ending does leave readers asking questions, it would still be able to function alone with a retrospective demand on readers at the end. Peter S. Banks definitely delivers on exciting action and an uncannily accurate description of what life would be like if we were able to live forever. There must be an end for there to be a new beginning. If the human race never ends, how can anything new begin?
Pages: 248 | ASIN: B01DM9VH5W
Posted in Book Reviews, Four Stars
Tags: action, amazon, amazon books, author, book, book review, ebook, fantasy, fantasy book review, fiction, fighting, first contact, forever, goodreads, humanity, kindle, life, literature, living, mars, moon, mystery, novel, peter banks, publishing, reading, review, reviews, sci fi, science ficiton, science fiction, science fiction book review, stories, terrorist, the second sphere, three spheres trilogy, thriller, writing