Blog Archives
The LGBTQ Meditation Journal offers contemplative spiritual adventures to enhance confidence and tranquility. Why was this an important book for you to write?
Your question necessitates a brief history of the Meditation Journal genesis.
Mary Sheldon originated The Meditation Journal concept, back in the mid-1990s. By the end of that decade, three highly successful books of guided meditations had been published, namely, The Meditation Journal, Meditations for the Twenty-first Century, and Meditations on Relationships.
Our first three volumes flew out of Costco and Target stores nationwide, as well as traditional bookstores. We were surprised by their immediate success. For a while, we considered a fourth volume, Meditations for Teenagers, but for various reasons, the book never happened.
Five years ago, Christopher signed on with Laura Baumbach's MLR Press, a publisher of primarily LGBTQ fiction, and he has subsequently written three novels and four short stories for the Press.
Ever since becoming an MLR Press author, I have thought about an LGBTQ Meditation Journal. In the summer of 2016, at Mary Sheldon's housewarming party, I asked my non-LGBTQ co-author, if she would write it with me. She said, "Yes!" and soon thereafter, I pitched the book to Laura Baumbach. The publisher greenlighted the project and then blessed us with her amazing Executive Editor, Kris Jacen, as our editor.
When trying to improve any area of our lives, Mary Sheldon and I turn to the real and eternal, namely the spiritual, rather than to the erroneous and temporal, to wit, the material. So, for the both of us, it is organic to improve all of the conditions of our lives with the metaphysical discipline of meditation.
So, it follows that it was important for us to help others help themselves by using the same spiritual approach that we use effectively in our own lives.
But even though the LGBTQ Community was our focus, we were determined to write guided meditation adventures that could benefit everyone, LGBTQ, or not.
I felt that there was a focus on self-love and acceptance in this book. What were some themes you tried to capture while writing?
Yes, self-acceptance and self-love are essentials for healthy, successful living. We both believe that everything made by the Creator originated spiritually and perfectly. And so, Christopher and I ask readers to employ a spiritual perspective when using our meditation adventures. We ask everyone to think of themselves as the perfect, spiritually-created, externalized ideas of the Creator's making, and not as the flawed material beings reflected in the mirror. Our point of view reflects Divine Science rather than Earth's limited material sciences.
And, regardless of the current conditions in their lives, we want everyone to know they have value and worth; quite simply, they matter.
After reading this book I felt that my open-mindedness of the world was reinforced. What do you hope readers take away from this book?
We hope readers will open their minds and hearts, and come to an understanding that self-acceptance, love, peace, pride, and dignity are essential. And we want them to know that if these qualities are now in short supply, our guided meditation adventures are one excellent method of enhancing them.
What is the next book that you are writing and when will it be available?
Christopher and I would like to write The Children's Meditation Journal.
Of course, winning a contract for such a book is largely contingent on the current book being successful.
Right now, Christopher is in edits with the second volume in his series of Minnow Saint James Metaphysical Adventures novels. It is named The Coming of Beth, and it will be MLR Press published in the first half of next year.
Author Links: Twitter | Christopher's Website | Mary's Website | Facebook
For the fourth in their highly successful series of guided meditations books, Christopher Stone and Mary Sheldon focus upon the LGBTQ Community, offering a month's worth of contemplative spiritual adventures to enhance confidence and tranquility while inspiring self-acceptance, love, peace, pride, and dignity. Edited by Kris Jacen, the book explains the process of focused attention known as meditation and it offers a simple relaxation technique to induce a meditative state of mind.
Editor's Note for eBook readers: For those that do look at page counts between print and ebook files, there is a big discrepancy between the print and ebook editions of this journal in PDF format. Don't worry, you are not missing any content. The difference is that the print version of the book contains space to note several months observations for each meditation.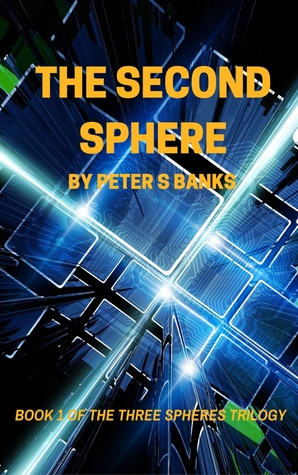 What if you could live forever? Alternatively, would living forever truly make you happy? These are questions asked and answered in Peter S. Banks' The Second Sphere. The first in a trilogy we find ourselves in a world where living for four hundred years is simple and human bodies are reduced to synthetic versions of what we have today. In our story we meet Orion; a man who has lived far longer than perhaps is acceptable for humankind. He's got family but he hasn't actually touched them in quite some time. He's like a washed up business man or detective whiling away the years of his life at a job he doesn't seem to care for. While he spends his free time caught up with illicit drugs and companions Orion is about to find out what it's like when that seemingly peaceful life is ripped apart and thrust to hell.
No matter the genre, people are looking for ways to identify with it and make it more real. The fact that Banks tells his story in the first person allows readers to feel more connected to the protagonist. The technology in The Second Sphere is obviously advanced from our present lives but the time between now and then and the sort of technology written about isn't too unrealistic. Just enough is explained and just enough is left for readers to accept as being normal.
Due to a spike in the population, since no one dies anymore, humanity has branched out to colonize both the moon and Mars. It is while attempting to live on the moon that Orion finds himself wrapped up in a battle against the terrorist organization known as the Green Revolution. There are bombs and there are conspiracies. As an agent working for the Laslow Corporation it's Orion's job to connect with his informants and find out exactly what is going on. The story picks up from here as the readers are left trying to unravel all the mysteries with Orion. When it comes down to it, however, will Orion be able to make one of the most agonizing choices humanity faces? Will he be able to partake of the plot to sacrifice the many to save the few? If that wasn't bad enough, the plot twist that comes screaming through after Orion makes his choice is bound to leave some bitterness in the reader's mouths.
As a first installment in a trilogy The Second Sphere is quite able to stand on it's own. While the ending does leave readers asking questions, it would still be able to function alone with a retrospective demand on readers at the end. Peter S. Banks definitely delivers on exciting action and an uncannily accurate description of what life would be like if we were able to live forever. There must be an end for there to be a new beginning. If the human race never ends, how can anything new begin?
Pages: 248 | ASIN: B01DM9VH5W
Posted in Book Reviews, Four Stars
Tags: action, amazon, amazon books, author, book, book review, ebook, fantasy, fantasy book review, fiction, fighting, first contact, forever, goodreads, humanity, kindle, life, literature, living, mars, moon, mystery, novel, peter banks, publishing, reading, review, reviews, sci fi, science ficiton, science fiction, science fiction book review, stories, terrorist, the second sphere, three spheres trilogy, thriller, writing