Blog Archives
Adam's Stepsons follows Dr. Heimann as he designs the perfect soldiers for the United America's in their war against the Martian colonies. What was your inspiration for the setup to this interesting science fiction story?
At the time I wrote the kernel of the story, I was working in a used bookstore and devouring all the short stories and novels by Phillip K Dick and Robert Heinlein that I could lay hands on. I was (and still am) fascinated by questions of "what is reality?" but I was (and still am) also intrigued by the question "who am I?" not only in terms of shared realities and perceptions but also ethnicities, religions, and personal relationships within the family. The sense of self is inextricably bound with community and history; my own family history, for example, is filled with generation after generation of soldier in nearly every major conflict since the 1680s. So I knew that I wanted the story of Dr. Heimann and his clones to take place during a military conflict of some sort. The US made it to the Moon first, so I figured any Moon Base would be set up by a future version of the US. But the rising powers of India and China would necessarily lead to competition and colonial expansion elsewhere in space. So I based the UAAF on the Moon, India on the ISS, and China (basically) on Mars. But something has gone wrong, as it usually does, and that sets off the conflict.
I should point out that, when I initially plotted the story and sketched out the characters, Dolly the Sheep hadn't been announced, Battlestar Galactica was a late '70s TV show starring Lorne Greene, and "The Clone Wars" still consisted of a single line spoken by Obi-Wan Kenobi. So as much as I'd love to say that I got the idea for soldier clones from the current zeitgeist, the underlying premise of Adam's Stepsons actually predates the trend. My high school library had beat-up copies of Nancy Freedman's Joshua, Son of None, and Ben Bova's The Multiple Man, so it's likely I internalized elements from those stories and subconsciously reproduced them in my own story.
Dr. Heimann and one of his cloned soldiers, Seth, have an intriguing relationship that becomes very deep. What were the driving ideals that drove the characters development throughout the story?
Dr. Heimann prides himself on his scientific bent of mind, but he struggles to cope to grips with the fact that he basically has no family left, and as Seth grows and begins to develop a real emotional attachment, the doctor desperately tries to push away the feelings he had for the person Seth is clone of. Meanwhile Seth has been trained ("brainwashed," as the doctor puts it) to be an efficient killing machine, and his need for order compels him to seek out and eliminate anything unknown or unreasonable. Yet he, himself, can't help feeling strong conflicting emotions, first toward the doctor and then toward his fellow clones. Both characters are driven to discover, deep down, who they really are as people, outside their rigid societal roles as scientist and soldier. Dr. Heimann knows that Seth is not his real son, but can't help treating his stepson's clone familiarly because it reminds him of what he has lost. Seth has been "programmed" not to think of anything other than army orders, but he can't shake the sense that there is more to who he is as a person. Finding out he is a clone, and who his "brothers" are, is the trigger for the final confrontation.
Science fiction has always asked the 'what if' questions, but I feel that your novel went a step further. What were some ideals you used in building your story?
My original intention was to investigate not just the "what if" of human cloning (i.e., how would this be done? how would the clones grow physically and mentally?) but also the "what is self?" to a cloned human being. The scientists argue that personality is partly inherited and partly environmental; so if you were to make several different clones of one person and then controlled the information input,  they would all become the same person. But personality also consists of emotional attachments made with other human beings on a deeper social level. Human beings are social animals; we need other humans to survive and thrive, and without others we have no clear sense of who we are and what our purpose is. So in order to examine this in a futuristic setting like a clone facility on the Moon, I needed to have a reason for making clones in the first place, plus other people who would provide the clones with that social environment. Once that was established, the real question became "Is what we're doing morally ethical?" The military paying for the clones display classic cognitive dissonance, by using people they claim are not really people but know they actually are, in order to win what they call a morally righteous war but actually is destroying their entire society. Yet the General clearly also feels a sense of internal conflict, feeling obligated to protect every member under his command, including the clones, and also knowing through his friendship with Dr. Heimann who the clone really is and how this might affect his friend. Ultimately, I was interested in making sure none of the characters were typical "scifi" stereotypes, that they had ideals but were deeply flawed people, and ultimately would find themselves trying to make the best of what basically could turn out to be a lose-lose situation in the end.
What is the next book that you're working on and when will it be available?
Right now I have a couple of projects I'm working on in various stages, but the one most closely related to Adam's Stepsons is a metaphysical science fiction series set mostly on Mars. The first book is called Bringer of Light; a crew of ethnically diverse and somewhat misfit asteroid hunters recovers an extra solar object from beyond the solar system, experiences physical and spiritual changes, and ultimately becomes the new leaders of the united Mars colonies as they break away from the old political chaos of Earth and form a new society. The story combines hard science with various mystical systems of belief, ethnic and religious sense of self and identity, and international/interspacial political intrigue. I'm about a third the way through the initial draft; the aim is to finish writing by the end of summer 2017, and have an edited, polished manuscript done by spring 2018. The next two books (Defenders of Aeropagus and Return to Omphales) have already been outlined and plotted.
Author Links: GoodReads | Twitter | Facebook | Website
Dr. Johann Heimann designed the perfect soldiers: superhuman in strength and intelligence, immune to sickness and disease, programmed to lead the United Americas to a quick victory in the Mars Colony War. But Heimann didn't anticipate the military's unrealistic demands, or his own emotional responses to his creations. And now Number Six is calling him "Father"! What exactly is going on during the clones' personality imprinting cycle? As Heimann starts his investigation, Number Six grows in confidence and self-awareness…and both discover the project hides a secret even Heimann, himself, doesn't suspect…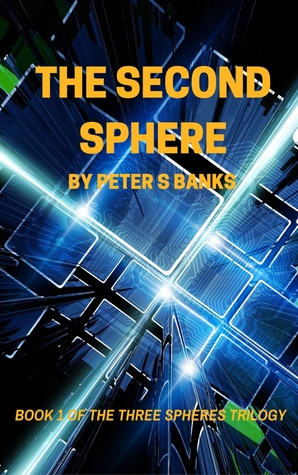 What if you could live forever? Alternatively, would living forever truly make you happy? These are questions asked and answered in Peter S. Banks' The Second Sphere. The first in a trilogy we find ourselves in a world where living for four hundred years is simple and human bodies are reduced to synthetic versions of what we have today. In our story we meet Orion; a man who has lived far longer than perhaps is acceptable for humankind. He's got family but he hasn't actually touched them in quite some time. He's like a washed up business man or detective whiling away the years of his life at a job he doesn't seem to care for. While he spends his free time caught up with illicit drugs and companions Orion is about to find out what it's like when that seemingly peaceful life is ripped apart and thrust to hell.
No matter the genre, people are looking for ways to identify with it and make it more real. The fact that Banks tells his story in the first person allows readers to feel more connected to the protagonist. The technology in The Second Sphere is obviously advanced from our present lives but the time between now and then and the sort of technology written about isn't too unrealistic. Just enough is explained and just enough is left for readers to accept as being normal.
Due to a spike in the population, since no one dies anymore, humanity has branched out to colonize both the moon and Mars. It is while attempting to live on the moon that Orion finds himself wrapped up in a battle against the terrorist organization known as the Green Revolution. There are bombs and there are conspiracies. As an agent working for the Laslow Corporation it's Orion's job to connect with his informants and find out exactly what is going on. The story picks up from here as the readers are left trying to unravel all the mysteries with Orion. When it comes down to it, however, will Orion be able to make one of the most agonizing choices humanity faces? Will he be able to partake of the plot to sacrifice the many to save the few? If that wasn't bad enough, the plot twist that comes screaming through after Orion makes his choice is bound to leave some bitterness in the reader's mouths.
As a first installment in a trilogy The Second Sphere is quite able to stand on it's own. While the ending does leave readers asking questions, it would still be able to function alone with a retrospective demand on readers at the end. Peter S. Banks definitely delivers on exciting action and an uncannily accurate description of what life would be like if we were able to live forever. There must be an end for there to be a new beginning. If the human race never ends, how can anything new begin?
Pages: 248 | ASIN: B01DM9VH5W
Posted in Book Reviews, Four Stars
Tags: action, amazon, amazon books, author, book, book review, ebook, fantasy, fantasy book review, fiction, fighting, first contact, forever, goodreads, humanity, kindle, life, literature, living, mars, moon, mystery, novel, peter banks, publishing, reading, review, reviews, sci fi, science ficiton, science fiction, science fiction book review, stories, terrorist, the second sphere, three spheres trilogy, thriller, writing