Blog Archives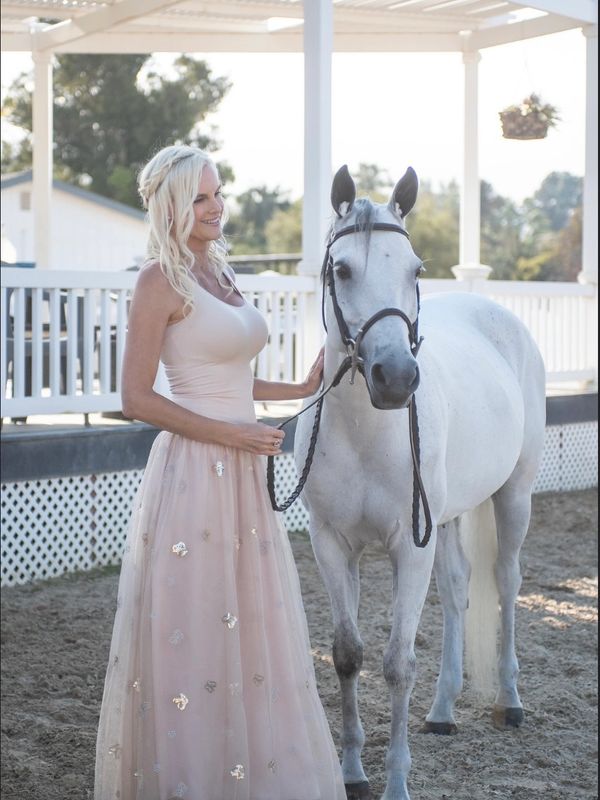 Butterfly Love from Above tells the heartwarming story of one girl's journey through grief and shows the healing power and joy animals can bring. Why was this an important book for you to write?
This book was based on my own true story that played out the last couple of years. My longtime dream of opening up my own Fitness Studio was shattered when, after a day of horseback riding, my back suddenly ruptured. That led to 2 years of multiple spinal surgeries and other complications that made it so I could not ride a horse or teach fitness classes anymore. I wanted to share my story to inspire others who may also feel stuck under a dark cloud like myself. I learned that the only way for me to find my sunshine again was to help others and give back through charities that had become close to my heart. I also found that watching my little girl ride horses and just sitting at the stable surrounded by horses, butterflies, and nature brought an unexplainable peace and joy to my life. Even though my plans and dream didn't play out as I thought, writing my story was so therapeutic for me, and becoming a published Author and inspiring others means so much to me.
I loved the beautiful artwork in this book. What was the art collaboration process like with illustrator Kate Solenova?
While describing my vision of what I wanted the artwork to look like, she quickly told me to get on Amazon and look at the books that Kate had previously worked on. My eyes lit up, and I knew without a doubt she was going to be the perfect fit! I sent Kate pictures of myself, my daughter, and pony Luna and she captured my little girl's face and my pony Luna so beautifully! She took my vision and brought it to life throughout each page, and I'm forever grateful to her.
Where did the book's motto "always look up" come from, and what were some key ways you wanted to show that in your story?
I remember exactly where I was when I came up with that motto for my story. I was still stuck under that dark cloud and feeling sorry for myself because I couldn't ride horses or do much of anything due to all my spinal surgeries. I was watching my daughter riding her pony, and a yellow butterfly flew above her, just as they sometimes did when I used to ride. I was looking up, enjoying that moment, and the words "Always look up" came to me. When I started writing this book, those words became my focal point, not just for my book but for my life. I wanted to share with my readers that there is always something beautiful to see when we take a moment to "Always look up". It can be life-changing!
Will you be working on writing more children's books?
I poured my heart and soul into this book, and it means the world to me to share my story, but I honestly don't know if I will write another one. If I've learned anything these last couple of years, it's that dreams and plans can change in an instant, so anything is possible!
Author Links: Facebook | Website
Star is a little girl with a very special friend. A butterfly named Twinkle plays with her every day. But one day when Twinkle doesn't show up Star learns a powerful lesson about loss. Star soon makes a new friend and shares her friendship with others so that they too may have joy in their life.
Butterfly Love From Above is a delightful children's book that shares a positive message that will help readers deal with loss and reiterates an encouraging message to 'always look up'. The art in this book is vibrant and sharp. Some of the faces and expressions are so life like, which really helps children see the emotion on the characters faces. Nearly every page in this book is an art piece unto itself. I loved how the color palette changes with the mood as well, ensuring that the emotional weight of the moment is felt.
With easy-to-understand language this would be a great book for early readers that are ready to take on books themselves. This would also be a fantastic book to read at bedtime as it's sure to inspire the imagination.
This is a beautiful picture book with a wonderfully diverse cast of characters and a heartfelt moment of friendship that will tug at the heart. I also greatly appreciated the true story that this book is based on that is shared at the end of the book. Both of these stories are inspiring and one that adults and children will enjoy.
Pages: 34 | ISBN: 1956914358
Posted in Book Reviews, Five Stars
Tags: author, book, book recommendations, book review, book reviews, book shelf, bookblogger, books, books to read, Butterfly Love From Above, childrens book, ebook, education, elementary, goodreads, kids books, kindergarten, kindle, kobo, literature, Melissa Stuart, nook, novel, parenting, picture book, read, reader, reading, story, writer, writing