The Empty One: The Fallen Conviction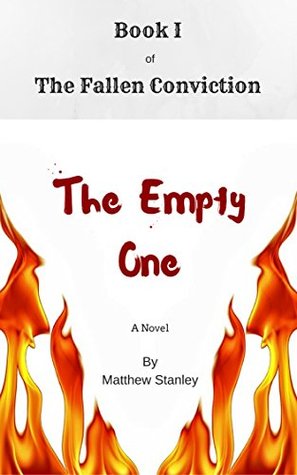 If there's one thing I can guarantee about this book, it's that you've absolutely never read anything like it before. And that's no small thing—fantasy as a genre has a bad habit of being predictable, and this book certainly is not that. If you're looking for new form, experimental writing, and a very unique voice, then this is the book for you.
The form is really intriguing: it's written like a cross between the Bible and Beowulf, with annotated lines and a very deliberate rhyme scheme (all the lines are end rhyme, which is certainly unique in the modern fantasy genre market). The book is biblical in the sense that a lot of the sentence structures seem to mirror the historical books of the Bible, i.e. "1.2.29 For whosoever believed in other than Lialthas was surely deviant, as was the plain truth as seen by his narration!" The text is also reminiscent of Beowulf in that it has a very tried-and-true formula of an "epic", with a lot of focus on character development throughout the story. Quite a few of the names have pseudo-Scandinavian roots and the focus is very much on masculine honor, value, etc.
The actual plot is a bit hard to follow, which is the only thing I wasn't crazy about in this book. Typically, fantasy novels are very plot-driven and follow a certain pattern, but this book completely breaks that pattern (which, don't get me wrong, can be very good sometimes, but I'm not sure if it works here). The central idea is that there are two groups of people who worship two different gods: the Alakans worship the goddess Akala (who are presumably the good guys), and the others worship Lialthas (definitely the bad guys), and they wage a centuries-long battle that, on the surface, looks like a religious war, but, as we continue to read, we learn the reasons for their fighting are much more complicated. The plot moves incredibly quickly, with at least one major plot event per five pages, so anything beyond that will be a spoiler alert. Suffice to say there is quite a bit of action—it is an epic, after all—and definitely not for the faint of heart, since there are definitely some violent and gory scenes. If you're a fan of old Norse mythology or Anglo-Saxon epic poetry, you'll feel very comfortable reading this.
That typical "pull" you get from regular fantasy books is still lurking here, but it's a bit more obscured than, say, Lord of the Rings or A Game of Thrones. I found myself staying up late because I was so engrossed in reading the book; however, not for the typical reasons I would with other novels… more because I appreciated the uniqueness of the structure and freshness of the author's voice than the fact that I was attached to the characters or really cared about the movement of the plot. Readers who feel bored with the current state of the fantasy genre: this is for you.
Overall, I'd absolutely recommend this book if you love fantasy but would like to move outside of the typical fantasy novel and into something more unique ("avant garde fiction", if you will). Even if it's not something you may personally enjoy, I can definitely see this being a great read for a reader who wants to learn more about using narrative poetry and other old-school fiction elements in modern fantasy.
ASIN: B0198UC43I
About Literary Titan
The Literary Titan is a book review website which consists of mostly fiction books, but we do enjoy non fiction works that we're excited about. All reviews are the reviewer's honest opinion. We love books and read constantly (seriously, it's an addiction). We're always open to book review requests and have aspirations of one day being sucked into the Twilight Zone episode with Burgess Meredith where all he wants to do is read, but can't until the world ends; you know what I mean? www.LiteraryTitan.com
Posted on February 10, 2016, in Book Reviews, Four Stars and tagged action, adventure, amazon books, author, avant garde, beowulf, bible, biblical, book, book review, books, ebook, ebooks, epic fantasy, epic poetry, fantasy, fiction, fighting, game of thrones, literature, lord of the rings, magic, matthew stanley, mystery, publishing, reading, review, reviews, Scandinavian, stories, the empty one, the fallen conviction, thriller, writing. Bookmark the permalink. 2 Comments.