Blog Archives
Apocalypsia details a post-apocalyptic Earth. Demons comb the land and what is left of humanity struggles to survive and trust one another. What was the inspiration that made you want to write such an immersive story?
I had a lot of time on my hands (haha). I was in my early twenties, worked two days a week, living in my parents' basement, and was addicted to video games. Writing was my way to keep my mind active and a way to escape my uneventful reality. It started out as some dark and depressing poetry (some of which appears in the book). I felt like the only way I could find meaning in this world is if it ended. That was the idea that sparked Apocalypsia. I wanted to go on an adventure, and if I couldn't live it, I could at least create it. I also drew inspiration from authors like Edgar Allen Poe, and Charles Dickens, and stories like Beowulf and Lord of the Rings.
This story is a fun blend of science fiction, fantasy and post-apocalyptic. Did you plan the novel before you wrote or did this happen organically?
I was told to always know the ending of your story before you begin. Apocalypsia was the exception. I had no idea where this story was going to go. At times I felt the story was telling itself and I was just the messenger. I never thought about what will come next only what was happening now.
In its infancy I wanted to make Apocalypsia a graphic novel. I wrote it into twenty-five separate books in a little over a year and a half. Since I cannot draw or know an artist that could take on this huge project I rewrote it to read more like a manga, but without the art; since I was into Japanese anime at that time. About a year later I developed a love of screenplays and the desire to write them. Apocalypsia was rewritten again into three different scripts due to its length and the 80-120 page constraint of a normal screenplay. When I discovered self-publishing the book that exists today got another overhaul. The book gained new content and became a little darker too. I was older so everyone in the story had to grow up also. Overall it took seven years and several rewrites before Apocalypsia appeared in our hands.
What is your writing experience and how has that helped you write Apocalypsia?
I actually wrote all of my books as screenplays first until I learned about self-publishing. I reformatted my screenplays into novelized script versions by taking away all the screenplay lingo, headers and directions, but kept the name of the speaker before my dialogue to cut down on "he said" "she said" throughout the entire story. Screenplays taught me about plot points and showing not telling. I learned to write a good ending and a good beginning and then finding out how to link the two. I learned how to write books by thinking about them as movies. Usually screenplays are the product of books. My books are products of screenplays.
What is the next book that you are working on and when will it be available?
I have started writing a steampunk story. I think that will be a cool genre to explore. I have the beginning written and several notes about the world, technology and devices that exist, and character backgrounds and personalities, but I'm still working on the plot so no release date in sight yet.
Author Interview: GoodReads | Twitter | Facebook | Website
Much of civilization lies in ruins after the mysterious happenings of a demonic uprising. In this post-apocalyptic world survivors must scavenge for supplies while taking up arms against demons, goblins, and even each other.
When an ally's fort is attacked; a small group of survivors take it upon themselves to unite and stand against the further spread of demons. Along the way new allies agree to stand with them. Encountering stronger demonic threats and the discovery of an ancient artifact, which could destroy the boundaries between Hell and Earth, causes a collision of the human resistance into an epic final battle with the demonic forces.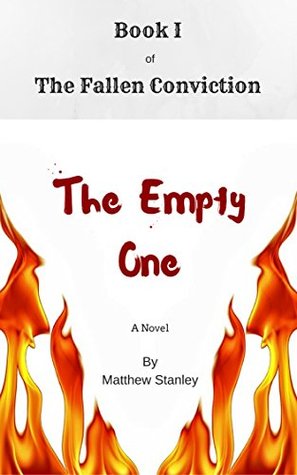 If there's one thing I can guarantee about this book, it's that you've absolutely never read anything like it before. And that's no small thing—fantasy as a genre has a bad habit of being predictable, and this book certainly is not that. If you're looking for new form, experimental writing, and a very unique voice, then this is the book for you.
The form is really intriguing: it's written like a cross between the Bible and Beowulf, with annotated lines and a very deliberate rhyme scheme (all the lines are end rhyme, which is certainly unique in the modern fantasy genre market). The book is biblical in the sense that a lot of the sentence structures seem to mirror the historical books of the Bible, i.e. "1.2.29 For whosoever believed in other than Lialthas was surely deviant, as was the plain truth as seen by his narration!" The text is also reminiscent of Beowulf in that it has a very tried-and-true formula of an "epic", with a lot of focus on character development throughout the story. Quite a few of the names have pseudo-Scandinavian roots and the focus is very much on masculine honor, value, etc.
The actual plot is a bit hard to follow, which is the only thing I wasn't crazy about in this book. Typically, fantasy novels are very plot-driven and follow a certain pattern, but this book completely breaks that pattern (which, don't get me wrong, can be very good sometimes, but I'm not sure if it works here). The central idea is that there are two groups of people who worship two different gods: the Alakans worship the goddess Akala (who are presumably the good guys), and the others worship Lialthas (definitely the bad guys), and they wage a centuries-long battle that, on the surface, looks like a religious war, but, as we continue to read, we learn the reasons for their fighting are much more complicated. The plot moves incredibly quickly, with at least one major plot event per five pages, so anything beyond that will be a spoiler alert. Suffice to say there is quite a bit of action—it is an epic, after all—and definitely not for the faint of heart, since there are definitely some violent and gory scenes. If you're a fan of old Norse mythology or Anglo-Saxon epic poetry, you'll feel very comfortable reading this.
That typical "pull" you get from regular fantasy books is still lurking here, but it's a bit more obscured than, say, Lord of the Rings or A Game of Thrones. I found myself staying up late because I was so engrossed in reading the book; however, not for the typical reasons I would with other novels… more because I appreciated the uniqueness of the structure and freshness of the author's voice than the fact that I was attached to the characters or really cared about the movement of the plot. Readers who feel bored with the current state of the fantasy genre: this is for you.
Overall, I'd absolutely recommend this book if you love fantasy but would like to move outside of the typical fantasy novel and into something more unique ("avant garde fiction", if you will). Even if it's not something you may personally enjoy, I can definitely see this being a great read for a reader who wants to learn more about using narrative poetry and other old-school fiction elements in modern fantasy.
ASIN: B0198UC43I
Posted in Book Reviews, Four Stars
Tags: action, adventure, amazon books, author, avant garde, beowulf, bible, biblical, book, book review, books, ebook, ebooks, epic fantasy, epic poetry, fantasy, fiction, fighting, game of thrones, literature, lord of the rings, magic, matthew stanley, mystery, publishing, reading, review, reviews, Scandinavian, stories, the empty one, the fallen conviction, thriller, writing