Blog Archives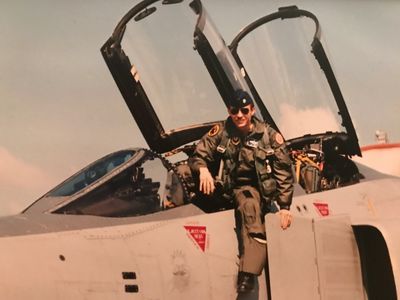 Betrayal in the Casbah follows a military attaché as he sets out on a rescue mission to save a downed pilot being held by terrorists. What was the inspiration for the setup to your story?
Most of my inspiration in writing the book came from my military background and experiences while serving for almost three decades. Being a fighter pilot experiencing combat, a base commander in NATO, leadership roles at the highest levels at the Pentagon, and the intrigue of being a military attaché in an extremely unstable country in North Africa. But actually, I combined events of my last two years as a military attaché in Algeria in writing the book. The attempt to rescue a downed American pilot was an actual mission and I used much of what happened while attempting to accomplish that mission in the fictionalized story.
What is your background and experience in writing and how did it help you write Betrayal in the Casbah?
I have always loved the written word and periodically would write little stories of experiences in my life, but nothing serious. Most of my previous writing was of a military nature. Briefings, reports, after action documents, evaluations, etc….. The only formal background would be my bachelor's degree in English and Political Science.
What were some themes that were important for you to explore in this book?
Terrorism in North Africa, Al-Qaeda, the Barbary Coast pirates, and ancient Roman cities in Algeria.
What is the next book that you are working on and when will it be available?
Escape from Algiers, which is the sequel to Betrayal in the Casbah. Hopefully it will answer many questions that persist after reading my first book. I anticipate the sequel being available at the end of this year or early 2023.
Author Links: Website | Instagram
Betrayal in the Casbah is a fascinating new action-thriller by a first-time author and real-life action hero, Ted Kissel. Betrayal in the Casbah revolves around the story of Colonel Mitch Ross. Ross is a former ace fighter pilot who now works as a military attached at the US embassy in Algiers. Set in the early 2000s with threats around every corner, this should be an exciting post for the Colonel. However, Ross struggles with the day-to-day doldrums of Embassy life and especially finds the niceties of professional diplomacy draining. However, Ross's life is turned upside down when he is attacked and nearly killed at an Embassy dinner. As he is brought back from the brink of death, he falls for the beautiful but mysterious nurse Abella. Once he has recovered, he is approached by the CIA to help rescue a downed fighter held by terrorists. Ross teams up with Abella and his enigmatic French counterpart, Yves, to track down and save the pilot in a race against time.
Not since Jack Reacher has there been a protagonist so clearly inspired by his author. Colonel Mitch Ross and Ted Kissel are clearly one and the same. This lends the book an air of authenticity and realism so often lacking in thrillers. The book deftly blends the lines between fact and fiction. For the most part, the book is exciting and well-paced, making this thrilling novel hard to put down.
As the first book from Kissel, I felt that the dialogue could use some work because it didn't always flow naturally. The characters are often found to be explaining technical terms to each other for the benefit of readers rather than the plot. The book's pacing is a slow burn style allowing the readers to immerse themselves in the story. The characters are likable and easy to root for because they feel familiar and what you would expect from high-ranking military.
Betrayal in the Casbah is an action-packed thriller novel. This riveting foreign suspense novel will excite readers from start to finish. I look forward to reading more of Mitch Ross's adventures.
Pages: 358 | ASIN : B09MZKTNCN
Posted in Book Reviews, Four Stars
Tags: action, adventure, author, Betrayal in the Casbah, book, book recommendations, book review, book reviews, book shelf, bookblogger, books, books to read, ebook, fiction, foreign location, goodreads, kindle, kobo, literature, military fiction, nook, novel, political thriller, read, reader, reading, story, suspense, Ted Kissel, thriller, travel, writer, writing