Blog Archives
The Spirit of Grace is a murder mystery story set in the 1940's against the backdrop of WWII-era California. I thought the detail in this story did a great job in capturing that era. What research did you do to understand the backdrop for your story?
My father fought in World War II, and he and my mother moved to the San Francisco Bay Area when he mustered out of the Navy. As a child, I was regaled with stories of my father's time in the war, and of their time as a newly married couple in San Francisco. Those stories inspired me set the series in this era and location. As for research, once I decide exactly when my story will take place (Grace takes place in October 1942), I read the newspapers from that time, along with magazines (such as Life and The New Yorker), I read novels on the best seller lists at that time, and have discovered a passion for old time radio shows, which I listen to as well. When I am writing a novel, I don't read anything that is not period appropriate. I really try to capture what it felt like to live during that time period. The beauty of setting a story in San Francisco is that it is easy for me to be in a certain place (Ocean Beach, the Legion of Honor, The Cliff House, to name a few) and really conjure up the past. I hope my readers will be transported to 1940s San Francisco, and love it there as much as I do.
Sarah is the only witness to her mother's murder and is under suspicion, but has amnesia. What was your inspiration for Sarah's character and the situation that she was in?
I knew when I wrote this book that Sarah needed to have some flaw that isolated her from her family, while at the same time casting suspicion on her. I wasn't sure how to capture that exact scenario, so I stepped away from the story for a few days, and viola, this situation presented itself. I am also seeding the backstory so the reader knows that Sarah has issues, and these issues become apparent to the reader as the story unfolds.
I enjoyed the romantic relationship between the handsome writing assistance Zeke and Sarah. How did their relationship develop while you were writing it? Did you have an idea of where you wanted to take it or was it organic?
A little bit of both, actually. I don't write romance per se, but Sarah needed someone to help her, a partner, if you will, who had his own issues. I especially wanted her to have a man around who was interested in her and who ignored her gorgeous mother in law. But Zeke and Sarah's relationship unfolded organically, and it is still unfolding now, as I write book three. Zeke is a man who is way ahead of his time. You have to remember that during this time period, women couldn't open a bank account, or rent an apartment (to name two examples) without the help of a man, be it a husband, father, or brother. Zeke—as the reader will discover—gives Sarah her freedom. He believes in her, and helps her grow by giving her freedom and honoring her as a person.
I think that the story has roots in the Gothic romance tradition. Do you read books from that genre? What were some books that you think influenced The Spirit of Grace?
Grace does have its roots in Gothic fiction. Most of the books I read are British, and are written before 1960. I love Dorothy Eden, Mary Stewart, Daphne Du Maurier, Patricia Wentworth, and—of course—Agatha Christie. I think that I pull from the vast reading I've done in this genre, especially because it is my intention to write in the style of these old-time Gothics. It's interesting because I know these books are not terribly popular right now, but I have connected with so many readers who remember these books, and love these stories. It's also a pleasure to write during a time when there wasn't Internet or cell phones. While I embrace our modern way of communicating, I do think technology disconnects us from each other. I like to remember what it was like before we were so connected, and I hope that my stories are able to help my readers remember that, too. I have a secret passion for Gothic mysteries from the 1940s through the early 1970s, such as those published by ACE Gothics. The covers are fabulous, and I find those stories to be so beautifully written, but often disregarded as women's pulp fiction. When I created the Sarah Bennett Series, I intended on paying homage to those old stories, and to that particular style of writing. Hopefully modern readers will relate to my heroine, who doesn't wait for someone (her romantic interest, for example) to save her. She saves herself, and becomes strong in the process.
Author Links: GoodReads | Facebook | Twitter | Website
Sarah Bennett doesn't remember the night her mother tumbled down the stairs at Bennett House, despite allegedly witnessing the fatal fall. There was talk of foul play, dark whispers, and sidelong glances, all aimed at Sarah, prompting her family to send her to The Laurels, an exclusive asylum in San Francisco, under a cloud of suspicion. Now, on the one-year anniversary of her mother's murder, Sarah has been summoned home. Convinced of her innocence, she returns to Bennett House, hoping to put the broken pieces of her life back together. But when another murder occurs shortly after her arrival, Sarah once again finds herself a suspect, as she is drawn into a web of suspicion and lies. In order to clear her name, Sarah must remember what happened the fateful night her mother died. But as she works to regain her memory, the real murderer watches, ready to kill again to protect a dark family secret.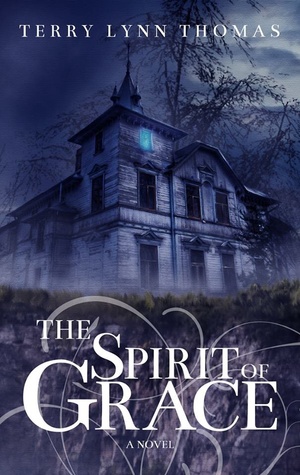 The Spirit of Grace by Terry Lynn Thomas is set in the 1940's against the backdrop of WWII-era California. Sarah Bennett has been living at The Laurels, an asylum, for the past year. When her mother fell to her death in the family home, Sarah was the only witness and prime suspect, but amnesia has erased her memory. Her father gets her released to come home on the one-year anniversary of his wife's death, hoping that her memory will return so the truth might come out.
But home doesn't seem to be a safe place. Her new stepmother, Grace, is threatened by Sarah's presence, the townspeople are still suspicious, and her small town is full of billeted soldiers and rumors of spies. Sarah just wants to clear her name, if only she could remember that night.
Sarah is a young woman, privately educated and raised in a wealthy household. Though she was sheltered, her free-spirited mother raised her with a sense of independence that helps her deal with the suspicious townspeople and invading reporters. Her father is distant, her stepmother is clearly up to no good, but the longtime family housekeeper, Anca is her ally. Her father's handsome writing assistant, Zeke, seems nice, but there's something suspicious about him. Despite her attraction to Zeke, she fears he may be a spy.
Zeke has a habit of conveniently popping up whenever Sarah needs him that's almost too often. He's also a delightful romantic interest, and the tension gives Sarah and Zeke's scenes together a lot of life. Both characters develop and grow throughout the story, fighting a battle between distrust and genuine attraction. The story has roots deep in the Gothic romance tradition, all the way down to the old family house that has its own secrets.
The author does a fine job of providing details that bring 1940's California to life. Little touches like the women wearing hats and gloves in public, blackout curtains at night to hide houses from Japanese bombing, and food rationing are all reminders that this isn't the modern era. Even the descriptions of the military structures built along the coast are spot on. Ms. Thomas has certainly done her research, and it shows in these important details. We don't get to spend a lot of time in San Francisco, but its proximity and military history is crucial to the story.
I was disappointed in the paranormal aspect of the story. Strange things do happen, but it's mentioned in an offhand manner that minimizes a plot point that turns out to be important. It's dropped in without very little backstory or support, other than a few characters speaking to Sarah about it, but they don't give her any further information. I feel the story would be just as mysterious and thrilling without it.
If you like classic Gothic romance, this is the book for you. Fans of mystery books and thrillers will also find something to like in this book. The plot is simple, but there are some interesting twists and mysterious encounters that will make you question your assumptions.
Pages: 272 | ISBN: 1626943966
Posted in Book Reviews, Four Stars
Tags: 1940, amazon books, asylum, author, book, book review, books, california, ebook, ebooks, fantasy, fiction, horror, literature, murder, murder mystery, mystery, mystery time, publishing, reading, review, reviews, stories, terry lynn thomas, the spirit of grace, world war 2, writing, wwII