Blog Archives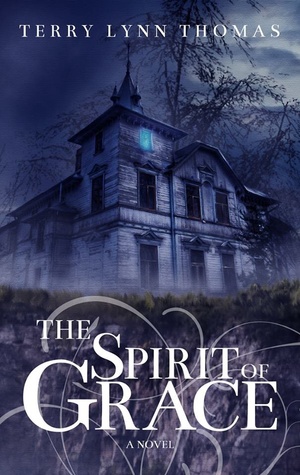 The Spirit of Grace by Terry Lynn Thomas is set in the 1940's against the backdrop of WWII-era California. Sarah Bennett has been living at The Laurels, an asylum, for the past year. When her mother fell to her death in the family home, Sarah was the only witness and prime suspect, but amnesia has erased her memory. Her father gets her released to come home on the one-year anniversary of his wife's death, hoping that her memory will return so the truth might come out.
But home doesn't seem to be a safe place. Her new stepmother, Grace, is threatened by Sarah's presence, the townspeople are still suspicious, and her small town is full of billeted soldiers and rumors of spies. Sarah just wants to clear her name, if only she could remember that night.
Sarah is a young woman, privately educated and raised in a wealthy household. Though she was sheltered, her free-spirited mother raised her with a sense of independence that helps her deal with the suspicious townspeople and invading reporters. Her father is distant, her stepmother is clearly up to no good, but the longtime family housekeeper, Anca is her ally. Her father's handsome writing assistant, Zeke, seems nice, but there's something suspicious about him. Despite her attraction to Zeke, she fears he may be a spy.
Zeke has a habit of conveniently popping up whenever Sarah needs him that's almost too often. He's also a delightful romantic interest, and the tension gives Sarah and Zeke's scenes together a lot of life. Both characters develop and grow throughout the story, fighting a battle between distrust and genuine attraction. The story has roots deep in the Gothic romance tradition, all the way down to the old family house that has its own secrets.
The author does a fine job of providing details that bring 1940's California to life. Little touches like the women wearing hats and gloves in public, blackout curtains at night to hide houses from Japanese bombing, and food rationing are all reminders that this isn't the modern era. Even the descriptions of the military structures built along the coast are spot on. Ms. Thomas has certainly done her research, and it shows in these important details. We don't get to spend a lot of time in San Francisco, but its proximity and military history is crucial to the story.
I was disappointed in the paranormal aspect of the story. Strange things do happen, but it's mentioned in an offhand manner that minimizes a plot point that turns out to be important. It's dropped in without very little backstory or support, other than a few characters speaking to Sarah about it, but they don't give her any further information. I feel the story would be just as mysterious and thrilling without it.
If you like classic Gothic romance, this is the book for you. Fans of mystery books and thrillers will also find something to like in this book. The plot is simple, but there are some interesting twists and mysterious encounters that will make you question your assumptions.
Pages: 272 | ISBN: 1626943966
Author Janet Hannah takes some time to have a quick discussion about her book, Mystery Time.
Mystery Time is set in the beautiful and history rich city of Prague. Why did you choose this city for the setting of your third book featuring microbiologist Alex Kertesz?
I chose Prague because it's a beautiful and intriguing city.  I read mysteries for entertainment, and my goal in writing them is to provide entertainment for other readers who enjoy the same things – interesting settings and  characters and entertaining dialogue.
There is an antique watch that is at the center of Mystery Time. But the watch is more than a simple time piece and even seemed to come with its own moral compass. Where did the idea for this magical watch come from? Did any of its effects develop organically in the story?
The mysterious watch is outwardly one of  the early watches created by Swiss watchmaker Abraham-Louis Breguet, but I brought it into the story as a link between modern times and the fascinating Louis-Joseph-Amour, Marquis de Bouille, on whom the character Julien-Christophe is based.  The marquis, who was a contemporary of Napoleon, wrote one of the most impressive memoirs I have ever read, bringing the events and personages of his era to vibrant life. As for the unusual qualities of the watch – people do "see" things that science hasn't yet been able to explain. This is something that has always interested me.
There was a mysterious bond between Alex and Hildegard that I found to be intriguing. How did their relationship develop while you were writing the story?
That developed as I tried to follow a relationship between two such people through its natural progression.
Will there be a fourth book featuring microbiologist Alex Kertesz? If so when can your fans expect it to come out?
There is a fourth book in the series, but it has only been published as a Kindle book.  It takes Alex and his son on a trip to Albania in search of a missing Gypsy.
Author Links: WordPress | Tumblr
Mystery Time An American microbiologist dies on stage as he is about to lecture at a scientific congress in Prague, an apparent victim of local criminals. Professor Hildegard Kraus from Heidelberg and her Hungarian born colleague Alex Kertész from Jerusalem, who hear his last words, are left wondering whether one the the assembled scientists might be the real killer. Whoever it was has also taken Hildegard's watch, a treasured family keepsake with an intriguing history.
Posted in Interviews
Tags: Abraham-Louis Breguet, adventure, amazon books, antique watch, author, author interview, book, book review, books, ebook, ebooks, fantasy, fiction, interview, janet hannah, Julien-Christophe, literature, Marquis de Bouille, mystery, mystery time, napoleon, Prague, publishing, reading, review, reviews, stories, swiss, urban fantasy, watchmaker, writing
Mystery Time by Janet Hannah will leave you lost in a bit of a mystery, but in a good way. Professor Alex Kertész and Hildegard Kraus found themselves in the shadow of trouble after the death of a colleague caused the loss of a timepiece that would reveal itself as more than a teller of time. As though instinctively determined to get it back, Kertész and Kraus', expeditions take them outside of their science convention in Prague, into the unknown. Escaping unwanted advances and skirting uncertain thoughts of desire, murder, lies, secrets and fate find their way into the lives of the two scientists. As if public speaking was not a daunting enough task, Professor Hildegard now has to contend with her colleague dying in her arms. After Bernard Green's almost lifeless body crashed into Hildegard, professor Alex Kertész, assisted her in taking Green into a room, where his dying confession would direct suspicions to his killer. A fellow colleague and longtime rival, Joe Klein, would be in the hotseat as authorities tried to identify Bernard's Killer. As casual as his death was expressed it guided the story onto a new focus, the loss of the watch. While the death of a colleague is traumatic, Hilgard had lost her own husband about a year earlier. Bernard, before his passing, had borrowed a watch that Hildegard's husband had given to her. The timepiece however, was not found on Bernard's body and she was intent on getting the watch back; no matter what it took. Alex, even endangered his own life in an attempt to retrieve the watch, although he had didn't understand it; other than it was important to professor Hildegard. There was a mysterious bond Alex held with Hilgard, that added intrigue and romance to the story in subtle bits, as the plot thickened. After retrieving the watch, whenever Hilgard touched it, she had unexplainable visions. Somehow she could see Alex in pain at some point in time, future or past, she could not tell. While the watch did not trigger visions in Alex, his pains seemed to trigger something in the watch. He had his own past and present demons to fight, some from his previous life in Hungary and one by the name of MaryAnn. MaryAnn was a giddy headed girl, who did not understand or seemingly respect that Alex was a married man. Even though, ironically, his own thoughts of Hilgard never seemed to conflict with his marital status, although his admiration, on some levels, mimicked MaryAnn's.
As their lives continued after the molecular biology congress, the death of Bernard Green remained unsolved and new information came to light about research Joe Klein argued with Green about, hours before his death. Hildegard and Alex worked in sync and found some shocking revelations that would help solve the mystery and motive of Bernard's death, and it questioned the integrity of a few. Integrity was also a matter in the history of the watch. Dating back to previous owners, it was a trait that all owners were confronted with, as though the watch had a moral clause. The book tells two stories, one progressing in time and the other going back in time. The parallels between the stories indicate that this cosmic occurrence could have been linked to previous owners. The watch may have been mechanised to somehow defy the laws of physics and not only capture time, but instead a moment, but this watch had only known moments of pain. Mystery Time is a very interesting and unique read that will leave you inspired.
Pages: 241 | ISBN: 1432788442
Posted in Book Reviews, Four Stars
Tags: action, adventure, amazon books, author, book, book review, books, death, ebook, ebooks, fantasy, fiction, janet hannah, literature, mystery, mystery time, publishing, reading, review, reviews, science ficiton, stories, thriller, travel, urban fantasy, writing