Blog Archives
Entrancement is a collection of essays from educated professionals with different viewpoints on the topics of dreaming, trancing and the collective unconscious. What inspired you to write this book and bring all these different fields together?
Two things I suppose.
First of all, my own extended experiences over several years of a kind of heightened consciousness in dreaming, 'musicking' and of, somehow, communicating with others both near and far away outside time and space. This is described in the first chapter (my own) of the book: 'There' (an essay which earned an award from New Millennium writing).
Second I was further inspired by following this up in wider reading and discovering that not only in anthropology (my own discipline) are such things starting to be seriously studied as something of here and now, not just of supposedly strange folk far away or long ago, but also in innovative, if as yet unconventional, scientific thinking. Remarkable. There are now huge numbers of best-selling books by hard-nosed scientists inspired by Einsteinian thinking and, for example, quark theory on, for example, telepathy, dreaming, the consciousness of the universe, life after death and communication – long known and accepted – between dead and living.
The book begins with your own experience on trancing. What is 'trancing' and how did that experience happen?
Too long to answer properly here – read the account in the first chapter.
'Trancing' is a good concept and nearest to what I and others have experienced. It does however give a somewhat too explicit and, as it were, contrived and deliberate impression. Better to say the experience of somehow being outside time and space and seeing more clearly than in ordinary life' (though it is there too, hidden).
One major problem indeed (discussed in the concluding chapter) is the absence of an accepted terminology to describe such things.
You bring together experts from many different fields in this book. Were they as enthusiastic about this book as you are?
YES. Both in taking up my initial invitation, in responding to it in their own terms, in the writing and, now, in receiving the finished volume.
What do you hope readers will take away from this book?
Look for the hidden in your own everyday life, find the extraordinary in the ordinary and vice versa: in music, in dreaming, in the miraculous workings of the great world around us. Open your mind – so easily closed by the undoubted but limited insights of the scientific revolution – to what is beyond.
Author Links: Facebook | GoodReads | Twitter | LinkedIn | GarnPress | OpenU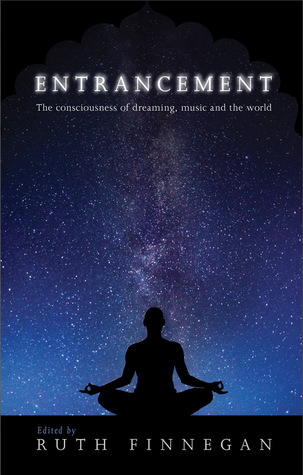 This powerful, ground-breaking study of dreaming, death, music, and shared consciousness brings together a staggering number of fields to explore what we know about dreaming and its interactions with other forms of consciousness. Setting a humanistic, evidence-based context, Ruth Finnegan engages with anthropology, ethnomusicology, sociology, psychology, parapsychology, cognitive science, and more, building a strikingly diverse base of evidence and analysis with which to treat a subject that is all too often taken lightly. Entrancement will quickly prove indispensable for anyone studying these altered states of consciousness and what we can know about how they work and what they do for our minds, bodies, and selves. 
If you've ever wondered where your mind goes in those moments when you're not quite awake or when you've been staring out the window for just a tad too long, you will find some clues to an answer in Ruth Finnegan's Entrancement. This collection of essays from educated professionals will expose you to different viewpoints on the topics of dreaming, trancing and the collective unconscious. Fashioned the same way a textbook might be, readers will gain insight into various hypotheses on what happens to our minds when we enter these states. Exploring the world from a slight occultist view, readers are privy to personal stories from professionals in the field of the social sciences who have backed up their personal experiences with data and sources. Investigate how music and dreaming contribute to artistic expression; identify your own personal cues and what might draw you into a trance.
Finnegan begins with her own personal experience with trancing. During her sections at the beginning and the end of the book she uses language that is friendly for non-academic readers. The same can be said for all of those who have contributed to this piece. By using common language, Finnegan has opened up the potentials for her audience. Anyone who is interested in this topic will find useful information within its pages.
There are some typos in the book which were distracting in such a highly educated piece. But the errors are few and can be easily forgotten. The presentation of the book leaves a little to be desired. The table of contents could use some formatting and the pages between essays could have been laid out better. These are all minor things, but they impact the reader experience.
It is interesting to read a collection of essays on a somewhat supernatural topic that is rife with research. For someone who is studying psychology or the other social sciences, Entrancement by Ruth Finnegan would be an excellent resource piece to read. The abilities of the mind have been studied for decades and we are no closer to unraveling the secrets now than we were in the beginning. If you're a beginner doing preliminary readings or research on this topic, you will find this book useful. The content is not only useful, but the suggested readings in the back open up a whole library of future readings. For those who hunger for more information, who want to explore this world and our place in it, this is a delightful bonus.
Pages: 288 | ASIN: B06XVD9WKM
Posted in Book Reviews, Four Stars
Tags: amazon, amazon books, amazon ebook, anthropology, art, artistic, author, book, book review, books, cognitive, college, computer studies, culture, daydream, death, dream, dreaming, ebook, ebooks, Entrancement, essay, ethnomusicology, expression, goodreads, humanistic, imagination, kindle, kindle book, kindle ebook, literature, music, musicology, neuroscience, nonfiction, occult, occultist, parapsychology, professional, psychology, publishing, reading, research, review, reviews, shared consciousness, sociology, textbook, trance, trancing, unconscious, university, writing