Blog Archives
Susan Joy Clark's Action Men with Silly Putty features two comrades in the toy business on the adventure of a lifetime. Clark's main characters are best friends who are attached at the hip and one another's voice of reason. Jack Donegal and the book's narrator, Andy Westin, set off on their journey to uncover the mystery of a mistaken identity and to find out what the heck is so important about the teddy bear from 1915 that Jack purchases at an estate sale in San Francisco. From their company, Out of the Box Toy Design, to breakdowns of Picasso's private escapades to the Salvador Dali special–it involves eggs and a toast–Action Men with Silly Putty is filled with eccentricities at every turn and brimming with mystery!
I have always been a mystery fan and jumped in headfirst wanting, wholeheartedly, to love Action Men. I wasn't disappointed. Jack Donegal, a character with every quirk imaginable, is as interesting a central character as I have seen. He appears as an amalgamation of whimsical leads from a handful of stories throughout the years. Incredibly well-read, dead set on having a plethora of alternatives to the traditional curse words, and a virtual fount of knowledge, Jack leads Andy on a wild ride with Andy doing little to challenge each subsequent request. Clark has given readers a vivid personality in Jack Donegal who is impossible to forget.
It's fairly clear from the beginning that Jack is the book's focus, but, for me, Andy sets the tone of the entire story. His obvious frustration juxtaposed with his allegiance to Jack is highly relatable. Readers will find common ground with Andy as he fights the urge to question his best friend while simultaneously appeasing him. I thoroughly enjoyed the repartee between the two and give full credit to Andy for the book's future success.
Clark is consistent with her depiction of Jack as the absent-minded professor type character. She bestows upon him the same qualities that make one Sheldon Cooper from the Big Bang Theory the lovable and appealing guy he is. Andy, faithful to Jack to the bitter end, has some truly fantastic lines. Clark brings laugh-out-loud moments via many of Andy's thoughts: "I thought of that famous photo of Albert Einstein, the one where he was sticking out his tongue and looking anything but genius, and felt reassured…slightly."–my favorite line in the book as Andy reveals his never-ending stress over Jack's idiosyncrasies.
I am giving Action Men with Silly Putty by Susan Joy Clark 5 out of 5 stars. Clark's success with the business partners-turned-private investigators team of Donegal and Westin is tied up neatly in her narrator. As the solution to the mystery of the teddy bear is pursued through colorful secondary characters and unique settings, Andy simply shines. Clark is eloquent, creates one scenario after another to engage readers in her comedy team's plight, and helps to define a new niche in the mystery novel. In addition, the path to the mystery's solution is peppered with pop culture references which will appeal to a broad range of readers.
Pages: 214 | ASIN: B00Y49AUXU
Entrancement is a collection of essays from educated professionals with different viewpoints on the topics of dreaming, trancing and the collective unconscious. What inspired you to write this book and bring all these different fields together?
Two things I suppose.
First of all, my own extended experiences over several years of a kind of heightened consciousness in dreaming, 'musicking' and of, somehow, communicating with others both near and far away outside time and space. This is described in the first chapter (my own) of the book: 'There' (an essay which earned an award from New Millennium writing).
Second I was further inspired by following this up in wider reading and discovering that not only in anthropology (my own discipline) are such things starting to be seriously studied as something of here and now, not just of supposedly strange folk far away or long ago, but also in innovative, if as yet unconventional, scientific thinking. Remarkable. There are now huge numbers of best-selling books by hard-nosed scientists inspired by Einsteinian thinking and, for example, quark theory on, for example, telepathy, dreaming, the consciousness of the universe, life after death and communication – long known and accepted – between dead and living.
The book begins with your own experience on trancing. What is 'trancing' and how did that experience happen?
Too long to answer properly here – read the account in the first chapter.
'Trancing' is a good concept and nearest to what I and others have experienced. It does however give a somewhat too explicit and, as it were, contrived and deliberate impression. Better to say the experience of somehow being outside time and space and seeing more clearly than in ordinary life' (though it is there too, hidden).
One major problem indeed (discussed in the concluding chapter) is the absence of an accepted terminology to describe such things.
You bring together experts from many different fields in this book. Were they as enthusiastic about this book as you are?
YES. Both in taking up my initial invitation, in responding to it in their own terms, in the writing and, now, in receiving the finished volume.
What do you hope readers will take away from this book?
Look for the hidden in your own everyday life, find the extraordinary in the ordinary and vice versa: in music, in dreaming, in the miraculous workings of the great world around us. Open your mind – so easily closed by the undoubted but limited insights of the scientific revolution – to what is beyond.
Author Links: Facebook | GoodReads | Twitter | LinkedIn | GarnPress | OpenU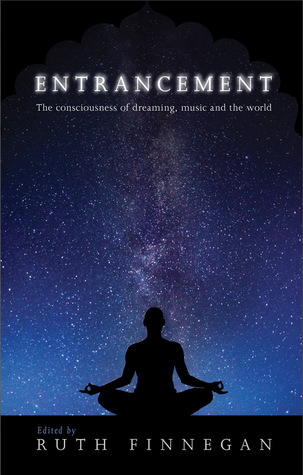 This powerful, ground-breaking study of dreaming, death, music, and shared consciousness brings together a staggering number of fields to explore what we know about dreaming and its interactions with other forms of consciousness. Setting a humanistic, evidence-based context, Ruth Finnegan engages with anthropology, ethnomusicology, sociology, psychology, parapsychology, cognitive science, and more, building a strikingly diverse base of evidence and analysis with which to treat a subject that is all too often taken lightly. Entrancement will quickly prove indispensable for anyone studying these altered states of consciousness and what we can know about how they work and what they do for our minds, bodies, and selves. 
Posted in Interviews
Tags: amazon, amazon books, anthropology, author, author interview, book, book review, books, communication, death, dream, dreaming, ebook, ebooks, einstein, Entrancement, goodreads, humanistic, interview, kindle, kindle book, kindle ebook, life, literature, muciking, parapsychology, psychology, publishing, reading, review, reviews, ruth finnegan, science, scientific, sociology, space, telepathy, time, trancing, unconcious, universe, writing
Einstein's Fiddle begins with a man by the name of Davy Calhoun doing the unthinkable act of abandoning his child on a doorstep of a stranger's home. You will then be transported to the past where you learn the events that have occurred to lead Davy to this very moment. Follow a journey of a lost and broken man that borders reality and dreams and flits between the past and present. Teenage romance, twisted events and a road trip will take you through the moments Davy Calhoun's entire world turned upside down. What could have possibly possessed a man to make such an extreme decision?
Einstein's Fiddle, written by W.A. Smith, will take you through the life of a man full of despair. Broken hearts, broken dreams and a broken future sets the tones of Davy Calhoun's life. Loyal friendships, complicated relationships and family secrets will take the reader on an epic journey of love, life and redemption.
The plot would sometimes take an emotional twist as you delve deeper into Davy's life. Throughout the novel, you meet various people of Davy's past, and the characters come with their own set of perks and lurks. The folk throughout the story range from your neighbours, to best friends and long lost lovers and each person will help shape Davy into the man that he is.
Puppy fondness, pure infatuation, sweaty lust and unrequited yearning are just some of the phrases W.A. Smith uses to lure the audience into an addictive trance where you will be unable to turn away until you are satisfied you know what happens next. Follow along as Davy stumbles from childhood to manhood and the emotional confrontation that shapes his personality and life choices.
Throughout Einstein's Fiddle, Smith flips between the past and the present and although the transition is sometimes confusing, it provides a deep understanding of Davy's character, his family life, friendships and first loves. With the first events feeling so shocking, I felt drawn to find out exactly why he could have made the terrible decisions that he does.
Smith's style of writing is classy and descriptive, providing a template for beautiful imagery that at times makes you feel as though you are watching a movie rather than reading a book. I almost felt like the novel could have had its own soundtrack and theme song! The reader will be pleasantly lost in the words and you will feel an instant attraction to Davy as his character's progression takes twists and turns throughout the timeline of his life. Davy's thoughts are often filled with twisted memories that are masked by the sting of liquor and unfortunate events will leave you feeling empathetic to his character.
If you are looking for a novel that will make you laugh, cry and feel deeply, then this is the novel for you. I would recommend this for those looking for a well-written novel with relatable and heartwarming characters. I wouldn't be surprised if we see W.A Smith up there with the big named authors of the future and look forward to reading his other works.
Pages: 463 | ASIN: B01MXM99FT
Posted in Book Reviews, Five Stars
Tags: abandon, amazon, amazon books, amazon ebook, author, beautiful, book, book review, books, choices, despair, ebook, ebooks, einstein, einsteins fiddle, emotional, epic journey, fantasy, fantasy book review, first love, friendship, goodreads, kindle, kindle book, kindle ebook, life, literature, love, love story, loyal, mystery, novel, publishing, reading, review, reviews, romance, romance novel, secret, stories, teen, teen fiction, urban fantasy, wa smith, writing, YA, young adult