Blog Archives
Player follows Chloe, a British student attending college in the United States where she falls in love with a star football player. What was the inspiration to write a story about a British girl living in the United States and the subsequent love story?
Well, I actually applied to study in America (Texas being my first choice!), however, due to various reasons I ended up not going. This story sprang from that and, of course, I had to make it a romance because the lovey-dovey stuff is my favourite thing to write!
I felt that the relationship between Chole and Parker was deep and always entertaining to read. What was the inspiration for the love that develops between Chloe and Parker?
To be honest, their love wasn't inspired by anything, it just grew and developed as I wrote the story. I'm so happy with the way that their relationship turned out; I liked the way Chloe and Parker were together, but I also thought that they were also strong characters apart.
What was one scene in the novel that you felt captured the morals and message you were trying to deliver to readers?
Probably the scene where Parker punches one of his team mates for being rude to Chloe, because the message that I was trying to get across in this book was that New Adult romances don't need to be jam-packed with unrealistic drama, with hero's that are ridiculously overprotective and get into fights at the smallest provocation. That's not real life. In real life you can't go around punching people that annoy you. In real life you have to talk to your partner otherwise there WILL be misunderstandings. In the scene that I'm talking about Chloe is not accepting of Parkers behaviour and makes it clear that she won't put up with it, instead of just accepting it or thinking its sexy.
Player is the first book in the What Happens on Campus series. Can you tell us a little about where the story goes in book two and when the novel will be available?
Book two will be Flirt, Riley and Cameron's book and it will explore Riley's broken dreams and the reasons behind her escalating drug abuse, among other issues. I haven't actually started writing it yet, though I plan to soon, and I'm hoping to have it ready for release in mid/late 2017.
Author Links: GoodReads | Twitter | Facebook | Website
Let the game begin…

After a tragic accident which leaves her tormented by guilt, Chloe Newman accepts a scholarship to study a St. Joseph's University. Traveling from England to Texas, the last thing she expects is to meet the schools charming quarterback on her first night. However, Parker Mitchell is a player both on and off the field.

Parker is immediately fascinated by Chloe and, after a rocky start, they manage to find a way to make their relationship work despite interference from others on campus, including Parkers jealous ex, and the ghosts that haunt Chloe's conscience. But, the real test comes when they visit Parker's family over Christmas break and he finds himself being pulled back into their lifestyle…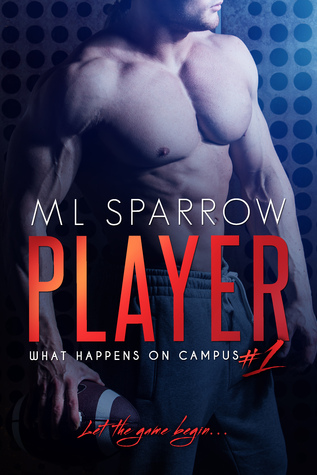 When twenty-year-old Chloe gets a scholarship to a university in South Texas, she's more than happy to leave behind memories of a horrendous car accident that occurred two years earlier in her homeland of England. A fish out of water in the small, Texan town, Chloe immediately finds a friend in her roommate. Parker is an All-American football star at St. Joseph's University in Texas. Known throughout campus as the ultimate ladies man, he's just as surprised as his friends when he meets Chloe and can't seem to shake her from his mind. While Parker's interest in Chloe grows, she makes it known that she is a relationship girl only. Will he be able to change his ways? And can she finally outrun the ghosts that chase after her?
M.L. Sparrow's Player: What Happens on Campus #1, appears to be a thoroughly entertaining attempt in kick-starting a series about these college students from a small university in Texas. Two worlds collide as British born Chloe and American raised Parker navigate separate sides of this story to bring it together as a whole.
The author does do a thorough job in keeping the story moving and keeping the reader on seat's edge. Sparrow does not skimp on the drama, throwing plot twists and new characters into the mix to keep the story moving along at a speedy pace. The many plot twists and heightened drama alone make this story a worthwhile read for anyone looking to enjoy some easy entertainment.
Pages: 235 | ASIN: B01HH8GEF2
Posted in Book Reviews, Three Stars
Tags: amazon, amazon books, american, author, book, book review, british, college, ebooks, fantasy, fantasy book review, fiction, football, kindle, literature, love, ML Sparrow, new adult, novel, player, publishing, reading, review, reviews, romance, stories, student, texas, university, urban fantasy, writing, YA, young adult