Blog Archives
Remember To Recycle explores a twisted state of dystopian society run rampant with political tension and censorship as experienced through the eyes of a sordid slew of characters. How did you decide on the starting point for this novel and how did that help create the rest of the story?
Thank you for asking. I based the novel on current reality based on in-depth study of foreign policy and traditional patterns of involvement by intelligence agencies who use propaganda to skew public opinion toward a military agenda.
I began the book inspired by the guys who go through my recycling bins to take what they can sell; I made a recycler character who has a clever scheme to take what he learns about the people in the neighborhood that way. The idea made me chuckle, and I wanted to see what kind of goofy brilliance he might display. I also had often joked around with a housemate about the empty buildings across the street which are owned by the church. We'd see people go in and never come out. I was also inspired by our jokes about the counter-intuitive business choices of the local ice-cream truck driver. The truck indeed broadcasts the recording of a scolding woman's voice, just like in the novel.
Though entertainment is the ultimate point of the book, my main serious goal with the book is to balance the propaganda about the White Helmets, though characters in the United States who had hear the stories about a group like them on the nightly news or watch the Hollywood movie about them.
This novel follows the introduction to Nancy and her relationship to the Agents of the Nevermind in book one, Glossolalia. Nancy has done sordid things in her past, but she was forced into it. In this book, she's again given the chance to be a hero and make amends for her role in political intrigue, even if it means using the dirty skills she was raised with. Some methods are so dirty, she hardly even lets herself know just how sordid she can be. But like all the other POV characters, she has a good heart.
I chose the beginning scene because it was cinematic, with the dramatic contrast arising from Nancy relaxing at her unusual dwelling, chuckling at the anomalous sound of the ice-cream truck that never seem to make any sales. That prepares us for dark humor in the book. She's being startled by the loud sound of a hard snowball smashing the glass of the window beside her head. She puts on her costume when she realizes someone outside might be looking at her, so we see how she's been living "underground," hoping no one recognizes her, in a somewhat primitive location, but someone mysteriously is communicating with her.
She finds a painted rock inside the snowball and the image reminds her of herself and her one friend, a lovely artist named Becky. Nancy has followed another such anonymous note to lead her to Becky in the past. So that beginning creates questions about the dynamics of some major characters, as it sets in motion Nancy's sleuthing, and involves the reader in the mystery.
I remember the excitement of thinking of the snowball, with ice-cream and a rock inside, at the beginning. Most of the book was already written, but that image created a colorful motif that I went back and inserted through the novel. It was gratifying the way it drew a lot of elements together.
You're able to weave together the intricate lives of a ragtag group of characters. What themes did you want to capture while creating your characters?
I focused on the theme of the heroism of examining and exposing social engineering, and the difficult choices, nobility and sacrifice that can entail.
I felt this story was very well written. What's your experience as a writer?
I appreciate that. I've been writing all my life, as well as studying the form, not only for my benefit but for my students, as I teach fiction writing and edit manuscripts. I've explored a variety of genres; psychological suspense, which is the overarching category all the diverse books in the series fall into, fascinates me because of human psychology making propaganda and other forms of deception easy and bewildering, creating the need for answers. I love the feeling of figuring out the answers to such mysteries, such a rush, a shudder. It's the perfect genre to dramatize the ability of intelligence agents working behind the scenes to gaslight the public. So, I read and watch movies and TV shows in that genre a lot, to understand what works best. I'm always studying more about fiction and screenwriting techniques. I learn as much from the screen as the page, and organize my books like movies.
This is book two in the Agents of Nevermind series. Where will book three take readers?
It continues the theme of the Agents who combine deception, mind control, blackmail, and occult practices. I've been including history about that intersection in the books, returning to certain historical figures such as John Dee and Edward Kelley, and their use of Enochian language as a spy code as well as an attempt at magick.
The novel is called Encore, and is Gothic. A highly-acclaimed performance troupe has a special requirement to make their shows work: the audience can't be aware if any of the actors are replaced by a standby (similar to an understudy.) Their resident hypnotist, Dune, who is rumored to be an Agent of the Nevermind, accomplishes that by hypnotizing the standbys to believe they're the actors they're mimicking, and even coat their own auras with the residuals of their actors.
His wife is the star, but must leave the troupe due to cancer. Her standby and Dune have strong chemistry. He kidnaps her while she's hypnotized to believe she's his wife, and takes her to an alchemist's castle. Underlying the story is the real history of a few powerful countries' competing mythologies meant to gain supporters for them in wartime.
I hope this book will move readers to appreciate themselves for who they are.
Author Links: GoodReads | Twitter | Facebook | Website
What if the homeless men going through your recycling know more about your life than you do? Like who is going to die. One of the recyclers, Dave, wearing disguises he keeps under a bridge, memorizes the information in people's bins. He, like many others, idolizes the Rescuers, a supposedly neutral, unarmed humanitarian aid group in a Balkanized country, as the possibility of WWIII looms. The Nevermind Agents lie on the evening news to garner support for proxy wars. They say the Rescuers are unarmed, neutral, and giving humanitarian aid to a Balkanized country. Their movie about them is a blockbuster. Rescuer costumes are the bit hit for Halloween. But it's time to unmask them. And that requires a plan so ingenious, even the planner can't know how it's done. Living not far away from Dave's bridge, Becky donates generously to the Rescuers, making her finances even more insecure. She doesn't know what to think when she finds things in her apartment moved slightly. The toothbrush is wet. There's a stain on the ironing board. The cat food is nearly gone. Is it her imagination? Is someone messing with her mind? Could it be Stan, breaking in because he loves her? He certainly loves putting her body into mysterious BDSM contortions for their videos. But what's that muffled moan she hears in the background when she calls him on the phone? Becky hires her friend to spy on Stan. The woman has gone underground since escaping from the Nevermind; she wears a wig, and a mask meant for burn victims. She has traveled across the country to befriend Becky, taking a chance on an anonymous message recommending she do so, though she doesn't yet know the reason.
A Thriller for Thinkers
Hegira is beautifully written and addresses a subject that is rarely discussed. Why did you want to write about subjects such as cloning and cryogenics?
I have always been a science geek so all aspects of science fascinates me. After I retired I started thinking about writing a science fiction story and the idea of time travel struck me as something fun to write about. To give a plausible reason for the time travel adventure, and a method for supposedly rescuing an entire planet's population, I came up with cloning and cryogenically freezing the embryos as the strategy for my main character to save everyone. From there, everything else fell into place and the story was born.
I felt this story was very well written. What's your experience as a writer?
Hegira is my debut novel. My only previous writing has been for education journals. I had no idea what I was getting into, or how difficult writing could be. I have learned a great deal along the way and am enjoying the new learning experience.
The characters in Hegira are very complex. What is your process for creating such in depth characters?
I have always enjoyed reading stories where the characters, not the technology, are center stage. I wanted my novel to do the same and present my universe with believable inhabitants. To do this, I try to put myself into each character's mind and experience what they see, feel and do. From there, I use my experience as a teacher who has worked with thousands of students over the years, to imagine how each individual would react to the circumstances they find themselves in. The weird part of this was that when I really got into the heads of my characters, they told me how they would react and what they would do. Any time I tried to force my own ideas, the writing stalled. When I gave myself over to the character, the words flowed smoothly.
What is the next book that you are working on and when can your fans expect it to be out?
I have just released book 2 of The Brin Archives: Recusant. It is now available on Amazon.com and is already earning great reviews. Currently, I am writing the final book of the series, tentatively titled Empyrean. This book takes up the story not long after Recusant ends and we learn the Skae, the alien beings who played a large role in Hegira, may not be who they claim to be after all. The Brin have reason to believe they may be on the wrong side of an interplanetary war and need to learn the truth of what is going on. To do this, they will be time traveling and secretly spying on both alien races involved in the galactic war to see which side is at fault. I hope to release this novel sometime next summer.
Author Links: GoodReads
His home world is dead; the victim of a supernova, but this does not stop Karm from attempting to save the Brin, his extinct species. Rescued by an alien race from a derelict spacecraft as a vial of DNA, then cloned, Karm must travel back in time, convince a small team of co-conspirators to join him in his quest, and outmaneuver a power hungry monarch and his fanatic brother, leader of The Faith, both absolutely committed to opposing him. All of Karm's plans rest on the untested and controversial cloning theories of the young geneticist Dr. Jontar Rocker, and the abilities of his bodyguard, personal assistant, and surrogate niece, Maripa. Will their combined efforts be enough to overcome the power of the monarchy and the planet's most influential religion? Will Karm's secrets destroy the trust of his companions and ruin his campaign to save the Brin?
Posted in Interviews
Tags: action, adventure, alien, amazon, amazon books, author, author interview, book, book award, book review, books, cryogenic, dystopian, ebook, ebooks, fantasy, fantasy book review, fiction, fighting, genetic, goodreads, hegira, interview, jim cronin, kindle, literature, mystery, novel, publishing, readers favorite, reading, review, reviews, sci fi, science ficiton, science fiction, science fiction book review, stories, student, teacher, thriller, time travel, war, writing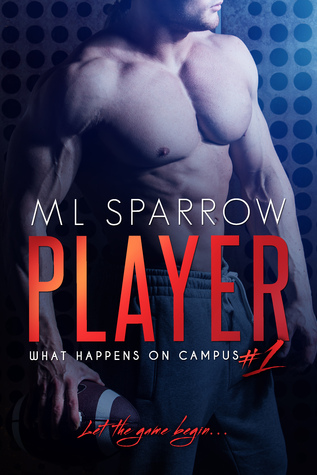 When twenty-year-old Chloe gets a scholarship to a university in South Texas, she's more than happy to leave behind memories of a horrendous car accident that occurred two years earlier in her homeland of England. A fish out of water in the small, Texan town, Chloe immediately finds a friend in her roommate. Parker is an All-American football star at St. Joseph's University in Texas. Known throughout campus as the ultimate ladies man, he's just as surprised as his friends when he meets Chloe and can't seem to shake her from his mind. While Parker's interest in Chloe grows, she makes it known that she is a relationship girl only. Will he be able to change his ways? And can she finally outrun the ghosts that chase after her?
M.L. Sparrow's Player: What Happens on Campus #1, appears to be a thoroughly entertaining attempt in kick-starting a series about these college students from a small university in Texas. Two worlds collide as British born Chloe and American raised Parker navigate separate sides of this story to bring it together as a whole.
The author does do a thorough job in keeping the story moving and keeping the reader on seat's edge. Sparrow does not skimp on the drama, throwing plot twists and new characters into the mix to keep the story moving along at a speedy pace. The many plot twists and heightened drama alone make this story a worthwhile read for anyone looking to enjoy some easy entertainment.
Pages: 235 | ASIN: B01HH8GEF2
Posted in Book Reviews, Three Stars
Tags: amazon, amazon books, american, author, book, book review, british, college, ebooks, fantasy, fantasy book review, fiction, football, kindle, literature, love, ML Sparrow, new adult, novel, player, publishing, reading, review, reviews, romance, stories, student, texas, university, urban fantasy, writing, YA, young adult