Blog Archives
Songs from Richmond Avenue is a novel about characters that could be found in any town. The main character is a journalist that knows all the questionable characters that hang out on Richmond Avenue in Houston. Why was this an important book for you to write? 
I felt like it was important that if I was going to write a book at some point in my life, I get on with it. Since the age of about 20 years old, back when I was a journalism student, I had always just assumed I'd get around to writing a book. I guess the older I got the more not writing a book bothered me.
Fortunately, a few years ago, I became unemployed for about eight months. I say fortunately because that's when the book started taking shape. I was drawing unemployment after a publication I worked for went belly up. I looked for work online in the morning and when that got boring, which happened pretty quickly most days, I started writing a couple of short stories based loosely on some funny things I'd witnessed riding metro buses or walking through my neighborhood. One morning I stuck a couple of these short stories together and decided to have them come from the voice of a single, first-person narrator. Then I decided to have the narrator go to a bar. That is the essence of the book. While it didn't take a long time to actually write, there was fairly long span of time between when I started and completed it, because I set it aside when I got another job. Maybe there's a lesson in that, but I hope not.
What were the morals you were trying to capture while creating your characters?
That's a tough one since I really didn't approach Songs From Richmond Avenue with any thoughts of trying to espouse any particular point of view. This isn't really a moralizing kind of book that takes sides among its characters or proclaims one vantage point in a conflict is right and the other one is wrong. I think the moral perspective might be not to be judgmental of others. There are no heroes or villains in the book, just people with strengths and weaknesses having good and bad moments. I think the book may share its basic moral underpinning with film noir. These characters live by their own loose moral codes and the protagonist, despite his many trials and close calls, doesn't come away having learned much of anything from his ordeal.
How did you decide on the title of this novel?
Initially, I thought the book would be more a series of individual character vignettes, loosely held together by the fact that they all frequented a fictional dive bar called the Relix Club on Houston's Richmond Avenue.
There was originally going to be more of a secondary plot involving a down-and-out musician who occasionally hung out at the bar. There were also bands and singers who appeared there, so I came up with Songs From Richmond Avenue, using "song" as a metaphor for each of the character's lives. When I changed courses a bit, the book remained Songs From Richmond Avenue, primarily because I liked how it sounded and couldn't come up with anything better.
What is the next story that you are writing and when will it be available?
It's a book that, hopefully, will be available in about year. This will be largely dependent upon whether I write a little more frequently once baseball season is over. I'm about halfway through a story that bears some similarities to Songs From Richmond Avenue – hapless characters, drunken debauchery, bad company, worse decisions. The setting will be far less urban, but what isn't less urban than Houston? There won't be a first-person narration this time either. It's had a couple of working titles, both of which are terrible, so I won't mention them.
Author Links: GoodReads | Twitter | Facebook | Website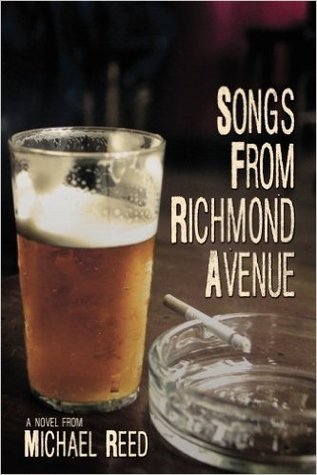 If the adage "nothing civilized ever resulted from the drinking of beer" requires further proof, one needs look no farther than down Houston's pothole-infested Richmond Avenue. There, the blurry-eyed denizens of the Relix Club wile away the hours engaged in their two favorite activities – drinking and betting.
Until recently that was good enough for our storyteller, a journalist of questionable work ethic, who undergoes an epiphany following a bus stop meeting with pretty Michelle, a woman he declares has "skin so perfect I doubted she even had pores."
Could she be his redemption? Maybe, but first he'd better contend with her baseball bat-wielding former beau, her nihilistic stripper roommate and the suspicious death of a friend, who fancies himself the father of Brute Generation poetry.
Mostly satire, often wildly unpredictable, the only real long shot in Songs From Richmond Avenue would be for its protagonist to put down his beer long enough to learn anything of true value.