Blog Archives
Songs from Richmond Avenue is a novel about characters that could be found in any town. The main character is a journalist that knows all the questionable characters that hang out on Richmond Avenue in Houston. Why was this an important book for you to write? 
I felt like it was important that if I was going to write a book at some point in my life, I get on with it. Since the age of about 20 years old, back when I was a journalism student, I had always just assumed I'd get around to writing a book. I guess the older I got the more not writing a book bothered me.
Fortunately, a few years ago, I became unemployed for about eight months. I say fortunately because that's when the book started taking shape. I was drawing unemployment after a publication I worked for went belly up. I looked for work online in the morning and when that got boring, which happened pretty quickly most days, I started writing a couple of short stories based loosely on some funny things I'd witnessed riding metro buses or walking through my neighborhood. One morning I stuck a couple of these short stories together and decided to have them come from the voice of a single, first-person narrator. Then I decided to have the narrator go to a bar. That is the essence of the book. While it didn't take a long time to actually write, there was fairly long span of time between when I started and completed it, because I set it aside when I got another job. Maybe there's a lesson in that, but I hope not.
What were the morals you were trying to capture while creating your characters?
That's a tough one since I really didn't approach Songs From Richmond Avenue with any thoughts of trying to espouse any particular point of view. This isn't really a moralizing kind of book that takes sides among its characters or proclaims one vantage point in a conflict is right and the other one is wrong. I think the moral perspective might be not to be judgmental of others. There are no heroes or villains in the book, just people with strengths and weaknesses having good and bad moments. I think the book may share its basic moral underpinning with film noir. These characters live by their own loose moral codes and the protagonist, despite his many trials and close calls, doesn't come away having learned much of anything from his ordeal.
How did you decide on the title of this novel?
Initially, I thought the book would be more a series of individual character vignettes, loosely held together by the fact that they all frequented a fictional dive bar called the Relix Club on Houston's Richmond Avenue.
There was originally going to be more of a secondary plot involving a down-and-out musician who occasionally hung out at the bar. There were also bands and singers who appeared there, so I came up with Songs From Richmond Avenue, using "song" as a metaphor for each of the character's lives. When I changed courses a bit, the book remained Songs From Richmond Avenue, primarily because I liked how it sounded and couldn't come up with anything better.
What is the next story that you are writing and when will it be available?
It's a book that, hopefully, will be available in about year. This will be largely dependent upon whether I write a little more frequently once baseball season is over. I'm about halfway through a story that bears some similarities to Songs From Richmond Avenue – hapless characters, drunken debauchery, bad company, worse decisions. The setting will be far less urban, but what isn't less urban than Houston? There won't be a first-person narration this time either. It's had a couple of working titles, both of which are terrible, so I won't mention them.
Author Links: GoodReads | Twitter | Facebook | Website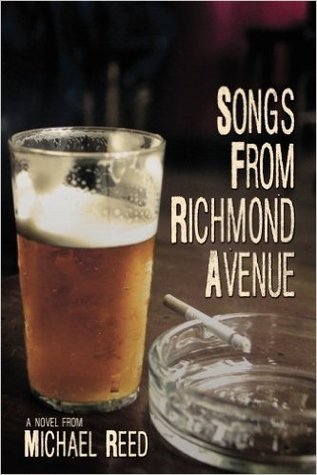 If the adage "nothing civilized ever resulted from the drinking of beer" requires further proof, one needs look no farther than down Houston's pothole-infested Richmond Avenue. There, the blurry-eyed denizens of the Relix Club wile away the hours engaged in their two favorite activities – drinking and betting.
Until recently that was good enough for our storyteller, a journalist of questionable work ethic, who undergoes an epiphany following a bus stop meeting with pretty Michelle, a woman he declares has "skin so perfect I doubted she even had pores."
Could she be his redemption? Maybe, but first he'd better contend with her baseball bat-wielding former beau, her nihilistic stripper roommate and the suspicious death of a friend, who fancies himself the father of Brute Generation poetry.
Mostly satire, often wildly unpredictable, the only real long shot in Songs From Richmond Avenue would be for its protagonist to put down his beer long enough to learn anything of true value.
Bar Nights is a chronicle of the life of Arlo Smith who walks away from his life after finding his wife in bed with another man. Arlo's finds his life in a troublesome spot in the beginning of the novel. What was your inspiration for his family situation and how he removes himself from it?
The inspiration never really came from anything first hand. One day I just started writing the book because I had nothing else to do, and I had already scrapped several ideas for other books, some of which became short stories. I think mostly though, that feeling of desperation that comes with having had enough of a certain situation that's been going on for far too long, was something I've been through before. How Arlo feels, that sense of apathy, but also pleasure, with starting over, was my biggest takeaway from my own personal life that applied to the birth of the character "Arlo Smith".
The plot to Bar Nights seems simple, a man tries to bury his pain with alcohol, but there's complexity in Arlo's pain and the people he meets. What was your writing strategy in terms of plot design when writing this story?
Thoughts and thought processes. A lot of the time we don't actually think about the process of "thinking", and sometimes the point in which we change direction in our thoughts is lost completely. The way I employed the use of "chapters" in Bar Nights and the rest of The Mire Man Trilogy reflects that. The plot design really had no design, at least while writing Bar Nights. I just started writing it one day and kept going with it. There wasn't really a story, in a literal sense, I was aiming for. Bar Nights was originally intended to be just a short book about a guy living in a bar and all of the people he met there, nothing more.
Arlo is locked in a vicious cycle of self-hate, addiction, and depression that is reflected in the people he meets. Did we get to meet everyone you planned to write or did you take out any characters?
I did take out a few, but at the time that they would have existed in the story of Bar Nights, they were very minuscule. Once I decided to make Bar Nights the first book in a trilogy, I placed those characters in the following books in the trilogy as supporting characters that would hopefully help Arlo more on his journey.
I feel like Bar Nights is an examination of addiction and desperation. How do you feel Arlo deals with these things that's different from other people?
Different? I think that his methods of madness are only different because at first, he really doesn't have much to lose. Once he finds his way to the bar "Purgatory", that's it for him. He really doesn't have anyone who cares enough to tell him to stop. And if he never met Constance, for all we know, he would have died there. So in a sense, all he really uses to deal with his addictions, is apathy. Complete, pure, remorseless apathy. He knows he has problems, and he reflects upon them constantly, but he really doesn't care enough to examine them on a level that may or may not lead to his redemption. Not yet anyway.
Bar Nights is the first book in the Mire Man Trilogy with Madlands being the third book. How do you feel Arlo has developed over the series?
Well, in Bar Nights, even though it's the first book, we sort of meet Arlo at his middle. In the second book, Paradise City, we're taken back to "where it all began", so he's still a child in those days, and definitely hasn't reached that purified level of "sheer apathetic asshole". By the third book, Return to the Madlands, Arlo is pushed passed his "breaking point" in the first book, and beyond to a point in which he is literally faced with the choice of "live your life like this and die like this" or "live your life like THIS, but still… die like this". The difference being in the choice of the latter, he'd be taking a chance, forsaking what he "set out for" from the very beginning altogether. His story arc definitely reaches a point he never expected (and I never expected while writing it).
"Bar Nights", the first volume of the "The Mire Man Trilogy", is a story revolving around Arlo, a man who's just turned 39. Fed up with the way his life has turned out thus far, he leaves his cheating wife, out of control preteen slut daughter and her "fiance", his unbearably demeaning job, and hits the highway.

It isn't long before his car dies on him, and he's forced to take shelter in the only place available at the time: the for-rent room above a dive bar, named "Purgatory", positioned seemingly in the middle of nowhere.

Convincing the owner to let him work off his rent, he spends his days drinking and care-taking the bar, running odd jobs for his boss, and spends his nights tucked away in his room drunkenly passing out to the sounds of whoever is playing the music downstairs…until one night he ventures out into the storm eternally encapsulating his world. And their paths unexpectedly converge.

The meeting sets in motion a relentless and remorseless onslaught of emotions, bringing Arlo to the absolute breaking point of insanity and introducing him to a realization that redefines why he ended up at "Purgatory" to begin with.
Posted in Interviews
Tags: addiction, alchohol, amazon books, apathy, author, author interview, bar, bar nights, book, book review, books, dave matthes, drugs, ebook, ebooks, fantasy, fantasy book review, fiction, novel, people, publishing, purgatory, reading, redemption, review, reviews, stories, urban fantasy, writing