Blog Archives
When teenage fraternal twins Daniel and Dustin lose their mother during their senior year of high school, their life journeys split apart. Daniel moves off to a distant city full of romance and history, seeking a new start and finding unusual allies, including his challenging and highly accomplished new boss. He also meets a young viola player, who helps him explore the world around him, and with each new adventure captures another piece of his heart.
Meanwhile, his brother Dustin is lured into drugs and criminality by the town's most seedy individuals and has to be forced back on track by his brother with the help of an intelligent, well-traveled older woman.
Jagdlied is a genre-crossing novel with elements of a satire, drama, and erotica as well. Did you start writing with this in mind, or did this happen organically as you were writing?
I began this project in 1991 with no intention other than to sketch out a salacious five- or six-page short story as a brief diversion from other more ambitious musical projects I was engaged in at the time. It grew into a twenty-page story, at which point I decided to set it aside as a "completed" work, even going so far as to affix an opus number to it in my otherwise (mostly) musical oeuvre. I moved on to other projects. When I returned to the story about eleven years later, I was dissatisfied with what I had written. I felt the characterizations were flat and the use of language too bland and conventional to suit my tastes, so I performed some deeper edits and revisions until the piece transmogrified into a novella of approximately 60 pages. Vaguely satisfied with what I had done, I set the text aside for another eight years or so and when I returned to it I thought it might need a few additional minor edits. Little did I know then that I would be embarking upon the creation of a 230,000-word magnum opus containing 290 graphic scores, an elaborate system by which musicians could extemporize against the text while it's being narrated, as well as 108 Youtube links to performances of my musical compositions to enrich the piece even more. To answer your question: I never know in advance exactly how a work (whether literary or musical) will turn out. It happens, as you say, organically while it's being created. I learn more and more about the characters of a novel as the situations and dialogues are interpolated into its structure. My own life experiences inform the transformation of a work's gestalt to a certain degree. There are many creative people who plan their pieces meticulously in advance of writing anything down. Such an approach has seldom (if ever) been my mode of operation.
The characters in this novel, I felt, were intriguing and well developed. Who was your favorite character to write for?
Thank you. My favorite, perhaps, is one of the more unmitigatedly evil characters in the novel: Chief Justice Dizzy O'Nance. He oversees a kangaroo court in the "Hall of Injustice," where the questionable protagonist Melody is put on trial without any form of due process. He is a veritable Dr. Crucifer, Judge Holden, and Iago compounded into one.
This book was a collective effort between you, Dolly Gray Landon, and Lon Gaylord Dylan. What was the collaboration process like?
Were we actually three separate entities, the collaboration would have been a much happier one. I think your question tongue-in-cheekly references the anagrams I devised as the two separate pen names I employ for the author and illustrator (I go my own name as the composer). It is difficult to compartmentalize writing text, composing and performing music, drawing graphic scores, and even making original films of one-man performances of this piece. I am now very much in a temper to collaborate with other performers (perhaps a narrator other than yours truly) and a variety of instrumentalists. I enjoy participating as both narrator and pianist simultaneously but I don't mind engaging (read: luxuriating) in only one of these roles. Pantomimists, dancers, and culinary artists are an extravagance that would require a massive budget. Intimate chamber groups of, say, three or four musicians, are far more practical.
What is the next book that you are working on and when will it be published?
I have another magnum opus that has been on and off the burners for upwards of 24 years. It is entitled Venge Art, and is, in certain respects, even more megalomaniacal than Jagdlied insomuch as the improvisational cues are interpolated within—as opposed to being separated from—the text, as are the conventionally notated scores, some of which require super-virtuosic skill on the part of their executants. I am hoping to return to Venge Art to revise and round it off some more. It is a text piece of approximately 300,000 words and 500 pages of notated music (including a 2-hour long string quartet that was my Harvard dissertation back in 1989). A book on my idiosyncratic harmonic method is also in the works. At this point in time, however, I am more interested in tying up some loose ends: various chamber works awaiting completion, a couple of plays in verse, and numerous other projects. It is, unfortunately, impossible for me to give you a precise timeline.
Jagdlied officially goes on sale August 30th, 2018 and will become available in several printed versions. One should be able to pre-order it by August 15th, if not sooner.
Author Links: Twitter | YouTube | Facebook | Website
This musically and graphically enriched chamber novel is an over-the-top black and blue comic extravaganza about the conspiratorial undoing of a teenage entitlement princess. The story throbs throughout with an undercurrent of apocalyptic motifs related to the extinction of art, fall of empire, and coming of the Antichrist. It is an epic farce that reads like an erotically supercharged psychological suspense thriller. The narrative takes the reader/audient on a veritable boomerang roller-coaster ride (with multiple inversions) through a reputational strip-and-whiptease of the novel's malignantly artful (albeit ingenuously doe-eyed) protagonist: a wealthy young heiress and socialite who boasts an exclusive claim to her progenitors' munificent estate. Her inheritance comprises an immense fortune amassed through shareholder investments in the world's largest employment recruiter: the multi-national temp agency behemoth known as the Pleasant Peasant Corporation.
The character-driven narrative of Jagdlied explores themes of jilted love, misinterpreted motives, paranoid ideations, bombastic egos, ghoulish envy, smoldering jealousy, unconscionable revenge ploys, extravagant public humiliations, ruthless power games, insatiable greed, pernicious corruption, feigned moral outrage from all sides, and even (Heaven forfend!) coldblooded murder—all the type of stuff pre-calculated to magnetize your run-of-the-thrill-seeking bookworms and bibliophiles.
A rich repository of tongue-in-cheek nonce words, malapropisms, neologisms, archaisms, spoonerisms, slanguage, and whole swaths of unintelligible nonsense, the text of Jagdlied is also replete with irreverently lurid, salacious, and scatologic elements, which serve to set it in motion as a formidable contender for the distinctive cachet of being regarded (by cultivated aesthetes of omnifarious persuasions) as a momentously serious dirty book. It is targeted towards percipient readers and audients in possession of a well-seasoned sick and—dare it be said—cruel batch of funny bones inflected with a gallows-cum-smoking-room bent.
Whilst the plot of this story (grotesquely absurd as it will undoubtedly be esteemed) embraces reflexively cringeworthy sadomasochistic motifs, its author would hesitate to instyle it as porn, yet he would not be wholly disinclined to characterize it as a farcical parody thereof. And whilst at the same time its author is admittedly predisposed to eschew ascribing labels of any kind to this opus (especially seeing as what he has concocted is so rarefied in its formal structure that it cannot be facilely pigeonholed), it may not be altogether off the mark to view it as a form of literary neurotica (if, indeed, there is such a genre) as opposed to the more boilerplate literotica—or what in sex nazi circles is dysphemistically adverted to (in no uncertain squirms) as "filth."
Whilst the text of Jagdlied may be read in silence as a novel in the traditional sense, it is ultimately written for the purpose of being recited by a skilled elocutionist to the accompaniment of extemporized music by ad hoc variable ensembles in relatively brief, self-contained or—depending on how one looks at it—semi self-contained episodes with the aid of a do-it-yourself improvisation kit provided in its appendix. This "kit" is likenable to a Baroque-style table of ornaments, albeit comprehending specific sets of chance operations for each and every participant involved in renditions of individual fascicles of this work. Aside from entailing a professional narrator and musical extemporizers, the score discretionarily calls for pantomime actors, dancers (hence choreographers), set designers, culinary artists, and even members of the audience itself.
Posted in Interviews
Tags: a chamber novel, alibris, Antichrist, artist, author, author life, authors, barnes and noble, bibliophiles, book, book club, book geek, book lover, bookaholic, bookbaby, bookblogger, bookbub, bookhaul, bookhub, bookish, bookreads, books of instagram, booksbooksbooks, bookshelf, bookstagram, bookstagramer, bookwitty, bookworks, bookworm, culinary, dancer, ebook, erotica, fantasy, fiction, Gary Noland, goodreads, humor, ilovebooks, indiebooks, injustice, Jagdlied, kindle, kobo, literature, megalomaniacal, music, musician, narrator, nook, novel, psychological, publishing, read, reader, reading, sadomasochistic, satire, sex, shelfari, smashwords, story, suspense, thriller, writer, writer community, writing, youtube
Songs from Richmond Avenue is a novel about characters that could be found in any town. The main character is a journalist that knows all the questionable characters that hang out on Richmond Avenue in Houston. Why was this an important book for you to write? 
I felt like it was important that if I was going to write a book at some point in my life, I get on with it. Since the age of about 20 years old, back when I was a journalism student, I had always just assumed I'd get around to writing a book. I guess the older I got the more not writing a book bothered me.
Fortunately, a few years ago, I became unemployed for about eight months. I say fortunately because that's when the book started taking shape. I was drawing unemployment after a publication I worked for went belly up. I looked for work online in the morning and when that got boring, which happened pretty quickly most days, I started writing a couple of short stories based loosely on some funny things I'd witnessed riding metro buses or walking through my neighborhood. One morning I stuck a couple of these short stories together and decided to have them come from the voice of a single, first-person narrator. Then I decided to have the narrator go to a bar. That is the essence of the book. While it didn't take a long time to actually write, there was fairly long span of time between when I started and completed it, because I set it aside when I got another job. Maybe there's a lesson in that, but I hope not.
What were the morals you were trying to capture while creating your characters?
That's a tough one since I really didn't approach Songs From Richmond Avenue with any thoughts of trying to espouse any particular point of view. This isn't really a moralizing kind of book that takes sides among its characters or proclaims one vantage point in a conflict is right and the other one is wrong. I think the moral perspective might be not to be judgmental of others. There are no heroes or villains in the book, just people with strengths and weaknesses having good and bad moments. I think the book may share its basic moral underpinning with film noir. These characters live by their own loose moral codes and the protagonist, despite his many trials and close calls, doesn't come away having learned much of anything from his ordeal.
How did you decide on the title of this novel?
Initially, I thought the book would be more a series of individual character vignettes, loosely held together by the fact that they all frequented a fictional dive bar called the Relix Club on Houston's Richmond Avenue.
There was originally going to be more of a secondary plot involving a down-and-out musician who occasionally hung out at the bar. There were also bands and singers who appeared there, so I came up with Songs From Richmond Avenue, using "song" as a metaphor for each of the character's lives. When I changed courses a bit, the book remained Songs From Richmond Avenue, primarily because I liked how it sounded and couldn't come up with anything better.
What is the next story that you are writing and when will it be available?
It's a book that, hopefully, will be available in about year. This will be largely dependent upon whether I write a little more frequently once baseball season is over. I'm about halfway through a story that bears some similarities to Songs From Richmond Avenue – hapless characters, drunken debauchery, bad company, worse decisions. The setting will be far less urban, but what isn't less urban than Houston? There won't be a first-person narration this time either. It's had a couple of working titles, both of which are terrible, so I won't mention them.
Author Links: GoodReads | Twitter | Facebook | Website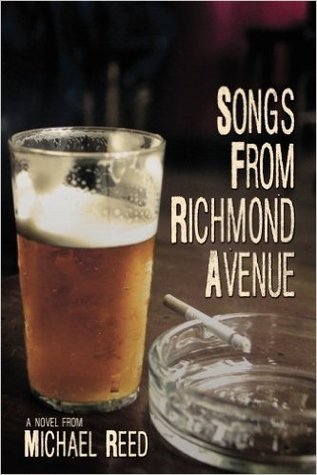 If the adage "nothing civilized ever resulted from the drinking of beer" requires further proof, one needs look no farther than down Houston's pothole-infested Richmond Avenue. There, the blurry-eyed denizens of the Relix Club wile away the hours engaged in their two favorite activities – drinking and betting.
Until recently that was good enough for our storyteller, a journalist of questionable work ethic, who undergoes an epiphany following a bus stop meeting with pretty Michelle, a woman he declares has "skin so perfect I doubted she even had pores."
Could she be his redemption? Maybe, but first he'd better contend with her baseball bat-wielding former beau, her nihilistic stripper roommate and the suspicious death of a friend, who fancies himself the father of Brute Generation poetry.
Mostly satire, often wildly unpredictable, the only real long shot in Songs From Richmond Avenue would be for its protagonist to put down his beer long enough to learn anything of true value.
Posted in Interviews
Tags: alcohol, amazon, amazon books, amazon ebook, author, author interview, bar, baseball, beer, book, book review, books, bus, club, drinking, drunk, ebook, ebooks, facebook, fantasy, fantasy book review, fiction, goodreads, houston, humor, interview, journalist, kindle, kindle book, kobo, literature, metro, michael reed, moral, muic, musician, noir, nook, novel, publishing, read, reader, reading, redemption, review, reviews, richmond, satire, short stories, songs from richmond avenue, stories, twitter, urban fantasy, urban life, write, writer, writing