Blog Archives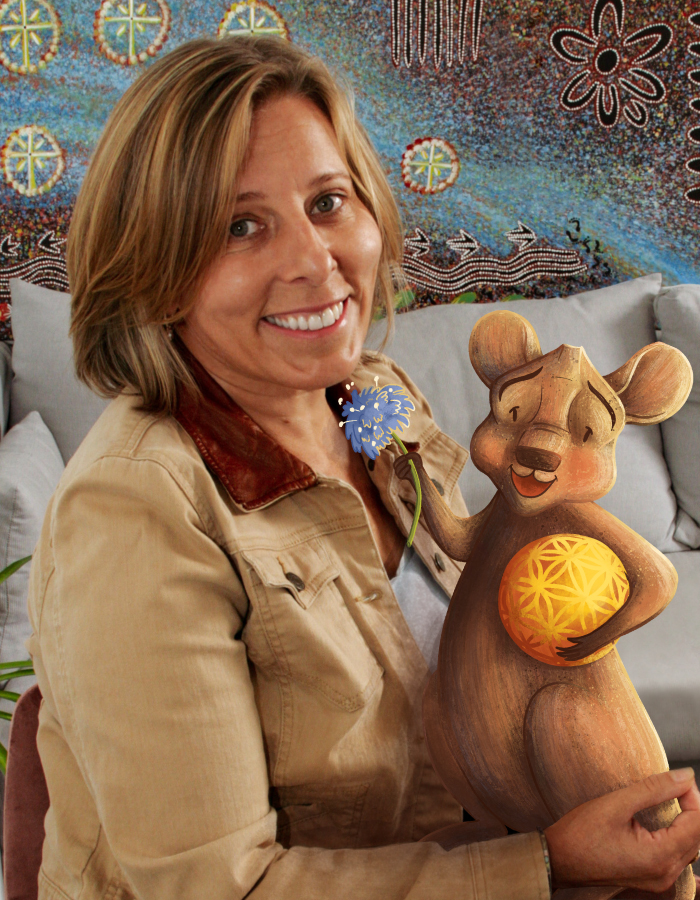 Where's My Joey? is a heartwarming story following a mother Kangaroo searching for her lost joey. What was the inspiration for the setup to your story?
My inspiration to write this book came while teaching in Perth, Australia in 2007. Photos with the first draft of this story were sent to my young nieces in America a furry kangaroo photo album and they loved it.
The art in this book is beautiful and detailed. What was the art collaboration process like with illustrator Roxana Antochi?
It is wonderful to work with Roxana. She far exceeded my expectations with the detailed research she put into every aspect of her gorgeous illustrations.
What were some themes that were important for you to explore in this book?
The main theme (spoiler alert) is for me the profound wisdom that what we are truly looking for can only be found within ourselves.
What is the next book that you are working on and when will it be available?
I have written the first draft of my second book. It will be a picture book about the nature of light and dark. Roxana and I are not pursuing it yet because we still have many plans for Where's My Joey?. The coloring book was recently released. We are currently working on a hardcover version as well publishing the book in other languages.
Author Links: GoodReads | Twitter | Facebook | Website | Instagram
Where's My Joey? by Wendy Winter is a heartfelt children's story of a mother kangaroo that's lost her Joey! She travels all over Australia looking for him. She talks to everyone, Mr. Echidna, the Kookaburra Family, even friends in Canada! As her Joey's dinner grows cold, she worries that she may not find him.
Author Wendy Winter's story is filled with adorable characters that were very emotive throughout the story, which is important to help children learn to recognize emotions. Each page is covered top to bottom illustrations that have a soft color pallet that compliments that overall soothing feel of the story. The pictures are beautiful, detailed, and some of them are ready to frame and hang up on the wall as art. I'm thinking of two scenes specifically; the one where the mother and her joey are sitting and reading together, and the map of Australia. These are amazing art pieces all on their own and the map of Australia helps the reader learn where certain animals live, and the geography.
The plot of the story sends the mother kangaroo on a hunt that serves as a great opportunity to introduce children to different types of interesting animals. It reminds me of the P. D. Eastman book 'Are You My Mother'.
Where's My Joey? is a cute and entertaining story packed with loveable characters and vibrant scenes. Where's My Joey? is the most heartwarming and educational picture book I have read all year.
Pages: 31 | ASIN: B08L27P6NZ
Posted in Book Reviews, Five Stars
Tags: adventure, australia, author, book, book recommendations, book review, book reviews, book shelf, bookblogger, books, books to read, children, childrens book, ebook, education, fantasy, fiction, goodreads, kangaroo, kids, kids book, kindle, kobo, learning to read, literature, nook, novel, parent, picture book, read, reader, reading, story, teacher, Wendy Monica Winter, Where's My Joey?, writer, writing
Oliver and Jumpy: Stories 10 – 12 is a collection of children's stories featuring Oliver the cat and Jumpy and Joey, the kangaroos. Written by Werner Stejskal and illustrated by Maycee Ann Reyes and Marvin Alonso, the stories are geared toward young children and early readers. There are three stories in this collection: "Unhappy Dog," "Kite High," and "Butterfly Trouble."
In "Unhappy Dog," Oliver meets a dog who barks all the time. Instead of being angry, Oliver strikes up a conversation and learns that Barky is lonely and bored, and he can't get out of his yard to play. Oliver enlists Jumpy and her son Joey to help Barky get over the fence, and they play games to help Barky feel less lonely.
"Kite High" is another adventure where the three friends get swept up into the sky while riding a cart with a parasail attached. They talk to seagulls, and meet some pelicans, too. There's danger ahead for Joey, but the friendly pelicans help them land their craft.
"Butterfly Trouble" starts when Oliver meets a butterfly named Bluey. Bluey needs Oliver's help because a boy with a butterfly net is trying to catch him. Jumpy and Oliver stop the butterfly hunt, save the day, and free Bluey's friends from captivity.
I shared these stories with a three-year-old girl, and she declared that her favorite story was "Butterfly Trouble." The illustrations are vibrant and full of expression, inspiring her to take the time to point out the little details as we read. The book looked wonderful on the tablet computer – the colors and images were perfect, and it was easy to read.
All the stories emphasize friendship, helping others, and they include a bit of mischief. There is one potentially scary scene in "Kite High" prompting my young friend to exclaim, "Uh oh!" she also pointed at the pelicans helping our heroes. Every story ends happily, and no one is hurt.
One thing I noticed is that the author is clearly aiming for a global audience. Readers in the U.S. may notice a difference in words or usage, but they aren't incorrect. It's just the subtle difference between US and European English.
If you're a parent, you can't go wrong with this delightful book. It's perfect for reading aloud to toddlers or a fun addition to your early reader's digital library. All the Oliver and Jumpy stories are available on Amazon and several are on YouTube, narrated by the author.
Pages: 25 | ISBN: 9781625174079
Posted in Book Reviews, Five Stars
Tags: adventure, amazon, amazon books, animal, art, author, bedtime, book, book review, books, butterfly trouble, cat, children, childrens story, collection, digital library, dreaming, early reader, ebook, ebooks, fantasy, fantasy book review, fiction, friendship, goodreads, helping, kangaroo, kindle, kite high, literature, love, mischief, oliver and jumpy, parent, publishing, reading, review, reviews, short stories, stories, unhappy dog, werner stejskal, writing, youtube