Blog Archives
Clementine Johanssen is Deadwood's slayer and also doubles as the town's undertaker. She's responsible for burying the dead and protecting the region from paranormal creatures. When dead bodies start disappearing from graveyards, Clementine understands what she must do next. Her instinctive reaction is to attempt to get to the root of the matter and stop whoever is behind the strange events. However, another problem arises when a massive infestation of flesh-eating beasts looms in other parts of the region. Now she must decide which problem she must tackle first. Which would it be? Dead men walking or murderous mad dogs? Whatever decision she makes, she can enlist the help of the dependable trio of Hank, Jack "Rabbit" and Boone to bring an end to at least one of the evils. Or at least try to.
Can't Ride Around It is the third part of a series that cuts across several genres, including horror and mystery. Penned by talented couple Ann Charles and Sam Lucky, it's one of those captivating wild western tales. But this one packs an extra element of intrigue in the form of a splash of the supernatural.
Ann and Sam take us on a fast-paced, nail-biting journey of camaraderie and bravery punctuated by checkpoints of light romance. Throw these themes in alongside the breathtaking battles with scary beasts, and you have a real page-turner on your hands.
Set in the town of Deadwood, Dakota, this book has all the elements of the 19th-century Western fiction it is. From the language to the scenery described by the authors, you get a good feel of the old Wild West. Plus the authors include in tales of the Black Hill gold rush that add figments of authenticity to the book. Historical tidbits never hurt anyone.
The authors deliver the story with a sustained flurry of infectious verve that keeps you engaged all through. There are hardly any dull moments, and that's not because the characters hack down otherworldly beasts from start to finish. It's mostly down to the authors' adeptness at using vivid language and riveting conversations to keep you interested.
And speaking of conversations, there's no end to the characters' exchange of humorous banter. You have witty remarks, cheeky comebacks and a lot of hilarious moments too. You can tell both writers would be fun people to have around from the way they write.
I also loved how the characters' personalities didn't get lost amidst all the freaky stuff. Rabbit's childish playfulness jumps out, and Clementine's tethered tenderness doesn't go unnoticed either.
With the way 2020 has been, we all need some sort of escapism to keep on keeping on. And if you prefer to get lost in another good book, I'll recommend this one. It's so good that I'm giving it 5 solid stars.
Pages: 308 | ASIN: B08K5XJYCT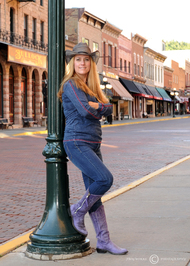 Devil Days in Deadwood follows Violet, mother/demon executioner, who must risk her life to save her aunt. What was the inspiration for the setup to this entertaining novel?
Throughout the first 10 books in the Deadwood Mystery series, we travel along with Violet Parker as she grows from being a newcomer, both in town and as a real estate agent, who knows nothing about her family history as "Executioners," to her finding out she comes from a long line of killers. Eventually she realizes there is no escape from doing what she was born to do—kill supernatural troublemakers. Until now, through books one through ten, Violet has fumbled and stumbled with her duties, both as a real estate agent and as an executioner. But, at this point in the series, she has accepted her role and is now going forth with help from those around her. Inspiration wise, I've had a fun time building Violet's character and skills through the first part of the series. Readers came along for the ride, cheering Violet on as she faltered, fell, got up again and began to see more and more successes. Now that we've rounded the first bend in the series along with Violet, we are able to watch her face foes that would have been the death of her back in the beginning. For those readers who have read the previous ten books, this eleventh in the series is doubly exciting.
Violet is a riveting character that I had fun following. What were some driving ideals behind her character motivations?
I have always enjoyed reading about heroes and heroines that I can relate to on different levels. Violet is a mother trying to protect her two kids. At the start of the series, she is like many single moms I've known—struggling financially, trying to raise her kids without a strong father figure, and wishing she had someone in her life to offer companionship, emotional support, and love. From the beginning, I wanted to create a heroine who was not only relatable, but funny, too. Violet handles her fears, frustrations, and worries with humor. I've always turned to humor in tough times, so it felt natural to write about a heroine who does the same. My goal with Violet was to give readers someone with whom they could laugh and cringe. Someone they could identify with on some level. A heroine who would refuse to give up, keep pushing onward and upward. In the end, I think Violet is a fun character because she doesn't quit when the going gets tough, even though she sometimes would rather hide under her bed than go forth and conquer.
I enjoyed the dynamic between Executioner and devils throughout the story. How has this changed as your series progressed?
Initially, Violet's reaction to supernatural beings included a lot of fear and fumbling. While many of her skills as an Executioner are innate, she is always learning about what else she is able to do both physically and mentally. Of course in the beginning, she struggled to accept what she was becoming and wanted more than anything to go back to her everyday life struggles rather than deal with the frightening creatures and adventures in front of her. By this eleventh book, though, she has more confidence in her abilities and a better understanding of what she can accomplish on her own, as well as with the help of her crew of friends and family. I've enjoyed watching Violet's confidence and skills grow through the series. There have been a lot of laughs in the process that have made her journey even more fun.
This is book eleven in your Deadwood Humorous Mystery Book series. What can readers expect in book twelve?
There will be more laughs, more chills, and more fast-action page-turning fun. Violet has accepted what she is and what she needs to do to fulfill her role in her family line and protect those she loves. I have book 12 plotted and the first chapter written. I'm putting it aside to work with my husband, Sam Lucky, on book 3 of our Deadwood Undertaker series (which is the prequel series to the Deadwood Mystery series), but I will return to finish book 12 this fall for release in late 2020 or early 2021.
Author Links: GoodReads | Twitter |Facebook | Website
Posted in Interviews
Tags: Ann Charles, author, author interview, book, book review, bookblogger, Devil Days in Deadwood, ebook, fantasy, fiction, ghost story, goodreads, kindle, kobo, literature, mystery, nook, novel, paranormal, read, reader, reading, story, supernatural, suspense, thriller, writer, writing
Devil's Days in Deadwood by Ann Charles is a fun supernatural thriller. The story delves into the life of Violet Lynn Parker a seemingly normal human being who works as a real estate agent but is involved in the supernatural as a ghost hunter. The protagonist is part of an agency that is tasked with defending Earth from the evils unseen by normal human beings. The compelling heroine of the story faces a formidable foe but she requires help from and engaging cast of characters in order to overcome the exact definition of evil incarnate. The story is set in the alluring town of Deadwood, a town plagued by mysterious happenings since time in memorial ranging from ghosts to haunted houses.
Ann Charles has invoked various stylistic devices that highlight her writing skill and made this novel stand out in the paranormal genre. Although this is book eleven in Ann Charles's Deadwood Humorous Mystery series, I think new readers will be able to jump right in as I have. What I particularly liked about this novel, and Ann Charles's view of the supernatural, is the satirical lens that it is all viewed through. It's a stimulating blend of humor, mystery, and paranormal that all come together to make the reader alternate between gasps, laughter and furiously flipping pages. It reminded me of the writing style of Douglas Adams or A. Lee Martinez.
Violet is an exceptionally well defined character, someone we can relate to as a mother who works hard to provide for, and protect, her children. But in the same vein of Buffy the Vampire Slayer, she's a demon executioner who risks her life to defeat some truly vile, other worldly, beings. While I understood Violet's motivations, and her emotions, I did want a little more backstory. The world created here is interesting and I wanted to explore it more, though I suppose I could by reading the other novels in the series.
I was excited about this novel from the very beginning, based on the short synopsis of the book. I was thoroughly entertained and may have found a new series to while away the time in quarantine. Fans of supernatural thrillers will find an exceptional piece of literature that offers a unique voice to this genre.
Pages: 393 | ASIN: B0884DJ4MP
Posted in Book Reviews, Four Stars
Tags: Ann Charles, author, book, book review, bookblogger, buffy the vampire slayer, Devil Days in Deadwood, ebook, fantasy, fiction, ghost, ghost story, goodreads, horror, humor, kindle, kobo, literature, mystery, nook, novel, paranormal, read, reader, reading, romance, satire, story, supernatural, suspense, thriller, writer, writing