Blog Archives
The Nosferatu Chronicles: Origins is a science fiction novel detailing the origins of vampires with a mix of aliens and Vlad the Impaler. What was the initial idea behind this story and how did that transform as you were writing the novel?
As a kid, I loved science fiction movies about alien invaders and the Dracula films that starred Christopher Lee and Jack Palance. I kept waiting for a film to come out that would combine my two favorite genres, but it never happened. I finally decided to write down my own story that had been in my head for decades.
The alien VAMBIR were fascinating and I felt like you spent a lot of time thinking about these creatures to truly bring them to life. How do you capture the thoughts and emotions of an alien species?
I loved the movie ENEMY MINE and Louis Gossett Jr's portrayal of the Drac alien was incredibly moving. In the beginning, it was easy to think of him as evil because of the hideous exterior, but you quickly see that the Drac had a parallel code of ethics to humans. I thought of the Vambir in the same way — a humanoid species that evolved separately with the same hopes and dreams and everyday struggles.
The story takes place on Earth during the 15th century. Why did you choose this as the backdrop to your story?
The character of Prince Vlad Dracula was essential to the story, and he lived in the 15th Century. Since the vampire legend began with Vlad the Impaler, it was a good place to start with an alien crash-landing that 'explained' just how the legend began.
I find a problem in well written stories, in that I always want there to be another book to keep the story going. Where does book two, The Aztec God, take readers?
The Aztec God will take readers from where Origins left off in the 15th Century to the present day. Kevak and his network of transformed humans have been secretly protecting mankind from the Vambir, but just when they think the threat has been obliterated, historical clues point to a Vambir presence among the Aztecs that is linked to a present day cult.
Author Links: GoodReads | Twitter | Facebook | Website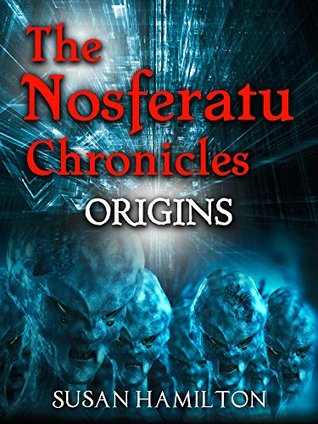 Book 1 of the series reveals how the vampire legend is the result of a secret alien invasion that began with a crash landing in Transylvania in the 15th Century.
The Vambir discover human blood is a nutrient, but it is also highly addictive. Ingesting blood brings about a physical transformation that enables them to pass as humans.
Impressed with their superior strength and vicious fighting skills, Prince Vlad Dracula welcomes them into his inner circle, where they attain power through him.
Stirring is a thrilling supernatural novel that sets a towns families against nightmares and tortured souls of evil that will pull them into the depths of their darkest days. What was the inspiration for the setup to this suspenseful novel?
I grew up watching monster movies – vampire movies in particular – with my mom. We especially liked the Hammer film series, starring Christopher Lee and Peter Cushing, and The Night Stalker films and TV series, starring Darren McGavin. Also highly influential on me was the Salem's Lot miniseries that aired in 1979, starring David Soul and James Mason. Dark Shadows and other such films and television series also played a role in developing my take on the genre.
I started writing stories in earnest when I was a young teenager, and that's really when Descendent Darkness was born. It was one of the first ideas that I began developing, and was partially born out of a weird experience I had. I got up early one summer morning, well before sunrise, and went out for a walk near a wooded area of our neighborhood. From a distance, I saw a man walking under a street light, and not far behind him, coming up quickly, was a woman with a very creepy expression on her face. Being the imaginative sort, I thought: What if she were a vampire? What if she was stalking the guy and about to jump him and drag him off into the woods? From there, I started down the Night Stalker/Salem's Lot path, thinking on the subject of how vampires would operate in the modern world.
As for the setting, my family is from the Shenandoah Valley. It's such an old area, and so full of history, that it seemed a natural location for a story of this type. The mountains have a mysterious quality to them that isn't easy to put into words.
Stirrings is a genre-crossing novel with elements of a mystery, crime, and drama as well. Did you start writing with this in mind, or did this happen organically as you were writing?
It was definitely an organic thing. I had a basic story outline formed in my mind, but it changed many times after I started writing and getting to "know" my characters. I had to figure out how to bring vampires into the real world, and that meant dealing with real world issues in an unreal situation: How would the murders be explained? How would law enforcement deal with the situation, given that outsiders would never believe the truth? How would real people react to genuinely encountering the supernatural? What effect would keeping secrets about these things have on people over time? How would relationships change? How would a real vampire seek to protect itself and take victims in the modern world?
All of these considerations caused the story to branch out in many directions and develop a number of layers.
The relationship between the siblings Holly and Mike is intricate and relateable as they battle together, sacrificing their souls to save their family. What were the driving ideals that drove the characters development throughout the story?
Their parents raised them with a strong sense of family loyalty, but the tragic loss of their mother drove them together in a particularly strong way. They share a bond, not only as siblings but also as survivors. Books two and three reveal more of their background and illustrate why they have the relationship they do. This is a key aspect of the story as it moves forward.
Stirrings is book one in the Descendent Darkness series. Where does book two, Legacy, take readers?
Legacy picks up immediately where Stirrings leaves off. The curse the men of the town hoped they had buried forever has finally been set free, and the number one item on its agenda is vengeance. A game of cat-and-mouse is set into motion, with the mice unaware of the game until they're already caught up in it. We learn something of the true extent of a vampire's powers and even delve into their origins.
Legacy contains more action and further develops the main characters. The reader also meets some new characters who will factor heavily into the events of the final book. It's here that everything blows up and the secrets come out, setting up the end game.
Author Links: GoodReads | Amazon | Blog
In 1982, three men in rural Clarke's Summit, Virginia, faced an ancient terror, a curse that reached for them from out of the distant past, threatening to destroy them and to draw everyone they loved into everlasting darkness. Together, they paid the ultimate price and drove the shadows back, burying the secret of Clarke's Summit for what they hoped would be all time.
Now, twenty-one years later, Richard Gaston, deputy sheriff Tom Campbell, and Father Ryan Bennett fear that the power they once defeated may be growing strong once again, ready to break free of its prison. For another amongst them – a tortured soul who was once the bondservant of evil – there can be no doubt. A familiar voice is taunting him, calling him back into the service of darkness.
And for Richard's son and daughter, Mike and Holly Gaston, the nightmares they've had all their lives are about to take shape in the real world.
Posted in Interviews
Tags: action, adventure, amazon, amazon books, amazon ebook, author, author interview, book, book review, books, christopher lee, crime, dark shadows, darren mcgavin, david soul, descendent darkness, drama, ebook, ebooks, family, fantasy, fantasy book review, fiction, goodreads, hammer film, horror, interview, kindle, kindle book, kindle ebook, literature, monster, monster movies, mystery, night stalker, novel, paranormal, peter cushing, publishing, reading, relationship, review, reviews, romance, salems lot, sci fi, science ficiton, science fiction, science fiction book review, shenandoah, stirrings, stories, supernatural, suspense, television, thriller, tv, urban fantasy, vampire, writing