Blog Archives
The Nosferatu Chronicles: Origins is a science fiction novel detailing the origins of vampires with a mix of aliens and Vlad the Impaler. What was the initial idea behind this story and how did that transform as you were writing the novel?
As a kid, I loved science fiction movies about alien invaders and the Dracula films that starred Christopher Lee and Jack Palance. I kept waiting for a film to come out that would combine my two favorite genres, but it never happened. I finally decided to write down my own story that had been in my head for decades.
The alien VAMBIR were fascinating and I felt like you spent a lot of time thinking about these creatures to truly bring them to life. How do you capture the thoughts and emotions of an alien species?
I loved the movie ENEMY MINE and Louis Gossett Jr's portrayal of the Drac alien was incredibly moving. In the beginning, it was easy to think of him as evil because of the hideous exterior, but you quickly see that the Drac had a parallel code of ethics to humans. I thought of the Vambir in the same way — a humanoid species that evolved separately with the same hopes and dreams and everyday struggles.
The story takes place on Earth during the 15th century. Why did you choose this as the backdrop to your story?
The character of Prince Vlad Dracula was essential to the story, and he lived in the 15th Century. Since the vampire legend began with Vlad the Impaler, it was a good place to start with an alien crash-landing that 'explained' just how the legend began.
I find a problem in well written stories, in that I always want there to be another book to keep the story going. Where does book two, The Aztec God, take readers?
The Aztec God will take readers from where Origins left off in the 15th Century to the present day. Kevak and his network of transformed humans have been secretly protecting mankind from the Vambir, but just when they think the threat has been obliterated, historical clues point to a Vambir presence among the Aztecs that is linked to a present day cult.
Author Links: GoodReads | Twitter | Facebook | Website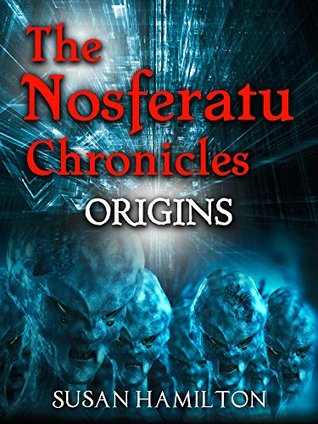 Book 1 of the series reveals how the vampire legend is the result of a secret alien invasion that began with a crash landing in Transylvania in the 15th Century.
The Vambir discover human blood is a nutrient, but it is also highly addictive. Ingesting blood brings about a physical transformation that enables them to pass as humans.
Impressed with their superior strength and vicious fighting skills, Prince Vlad Dracula welcomes them into his inner circle, where they attain power through him.
The Perfect Teresa follows a 43 year old woman that has hit rock bottom and is given a 2nd chance at high school by an ancient Aztec deity. What was the inspiration for the setup to this imaginative story?
I think we all have those moments we wish we could go back and re-do for whatever reason, whether it be an embarrassing childhood experience or something you wish you'd done differently as an adult. Of course, none of us can go back and do anything over, at least not without something completely absurd and fantastical happening. That's really how this story came about. The "what if" question was, "What if there was some way, some kind of cosmic intervention that would allow someone to go back in time and re-do an experience?" And, yes, I've thought of what I'd do in a situation like that! So little by little, the pieces began to fall into place, and authors like Christopher Moore and Jenny Lawson really helped me to see that sometimes the most absurd things made the most sense. So, yes, an unemployed Aztec deity sending a woman back in time to do a talent show over again? Makes perfect sense to me!
Authors can often fudge the details in time traveling stories, but I felt that the 80's was captured perfectly in The Perfect Teresa. What kind of research did you do to get it right or did you pull from experience?
So I guess I'll date myself and say that a lot of the stuff in this novel is from experience and memory because I did attend high school in the late 80s! It was a fun process to re-discover 1988 New York City, and it involved everything from getting back in touch with childhood friends through Facebook, to doing lots of searches on Google Images and Google Maps. My old buddies really helped me piece together our old neighborhood (like remembering the Susan Terry store on the corner of Ditmars and 31st Street), while Google Maps helped me walk through some old haunts and rediscover old landmarks. The other big part of this process was music. I love music, and in 1988 I was really big into the underground metal scene. So just being able to put these playlists together and listen to these old metal and 80s pop songs really helped me situate the story. You can find a YouTube link to this unofficial soundtrack for the story on my website!
Teresa's character is intriguing and well developed. She can't move forward and is trapped in this sad, drunken life where happiness eludes her. What was your inspiration for her character?
Thank you! In some ways, Teresa embodies a lot of the self doubt and self sabotage that I've had to overcome throughout my life. But in many ways, her character was inspired by Bill Murray's character in Groundhog Day, which I think is the one of the great stories about personal redemption through service to others. Like his character, Teresa starts off very unlikeable, very self-centered, and, as you said in your review, unwilling to take accountability for her actions. She's got a long history of dumb, self-destructive tendencies, and she never wants to acknowledge that this is why her life is in ruins. But I wanted her story to be about self-discovery, and about realizing that her selfish actions have real consequences for others. So like Murray's character, she has to learn through this new experience that there are things more important than a silly talent show, and that there's real happiness in providing help and happiness to others. I hope that by the story's end, we find her journey plausible and redeeming.
What is the next book that you are working on and when will it be available?
I'm working on two projects. One is a new time-travel sci-fi series tentatively called Quality Jones and the Time Keepers. But I've also started work on the sequel to The Perfect Teresa, titled The Perfect Vicente. I'm hoping to publish one of the other by the end of the year!
Author Links: GoodReads | Twitter | Facebook | Website
Teresa's gotten over the embarrassment of a humiliating high school talent show performance. After all, she's now 43 and only thinks about the experience once or twice a day.
Lucky for her, an unemployed Aztec deity applying for Quetzalcoatl's Trickster Department offers to grant Teresa her wish. He'll send her back to 1988 to re-do the talent show! Catch? There's no catch! After all, he's a fully licensed deity with a Masters in Temporal Displacement Theory and a bachelors in Trickster Sciences and Cosmic Mischief. Besides, a talking coyote can be trusted, right?
For Teresa, it seems like the chance of a lifetime. But she soon finds that changing the past won't be as easy as she thought, especially without Wikipedia. And that in a desperate effort to make her life better, she might end up making things much, much worse.
Posted in Interviews
Tags: 1980, adventure, amazon, amazon books, amazon ebook, animal, author, author interview, aztec, bill murray, book, book review, books, christopher moore, deity, ebook, ebooks, fantasy, fantasy book review, fiction, goodreads, google images, google maps, groundhog day, guacamole, happiness, high school, interview, jenny lawson, kindle, kindle book, kindle ebook, literature, love, mischief, music, mystery, new york city, novel, publishing, reading, reviews, romance, sci fi, science ficiton, science fiction, science fiction book review, self discovery, selfish, stories, the perfect teresa, time travel, ulises silva, urban fantasy, women, womens fiction, writing, youtube
Take a moment and remember what happened to you in high school. For some people, this was a den of depression, oppression and pain. As teenagers, we're severely lacking in skill and experience, yet we need to navigate a world that expects us to act like grown ups. Many a poor decision has been made in high school that can go on to affect our lives for decades afterwards. In The Perfect Teresa by Ulises Silva we have an example of just that. Our protagonist is a jaded 43-year old woman working in corporate America. She surely hasn't had it easy and while not everything can be blamed on her high school experience, what she clings to from that time is definitely ruling her life. Teresa can't move forward and she's trapped in this sad, drunken life where happiness eludes her. It's not until she crashes hard into rock bottom that she is given a chance for a do-over, thanks to a talking coyote.
Our protagonist isn't all quite there. It's clear that she's broken and she'd rather blame everyone else than accept any sort of responsibility for it. This tale is told in the first person and is showcased in such a way that it feels like the reader is Teresa herself. We're privy to her thoughts, her neurosis and her desperate attempt at avoiding herself. She's miserable and her life sucks. There is no denying that. Silva does an excellent job with the imagery and how the story jumps around Teresa's mind. It's hard to do that and keep the story on track. Silva is clearly talented in this realm.
Even the time skip is well done. It's hard to shift from present day to the past and keep in mind how things have changed: technology, manner of speech, what is and isn't popular with teenagers. Silva either did some great research or potentially tapped into their own past in order to recreate what it was like in the late '80's for teenagers. This isn't easily done, and the book is better for it.
Using deities from various mythologies can be a bit messy, but Silva focuses on what would suit our protagonist. She is of Latin-American descent and the use of Quetzalcoatl and our friendly talking-coyote Piltzintecuhtli, or Pill for short, makes sense. For an Aztec deity, Pill dislikes the use of profanity and seems to have an attachment to Teresa. It is well known that the gods will favour a mortal here and there for their own amusement. Is Pill the same?
Combining a slice-of-life with a timeslip can bring about a unique experience. Instead of the washed-up twenty-something that usually happens in stories like this we have a woman who has really lived her life and come to regret it. The Perfect Teresa by Ulises Silva is a story about self-search, self-love and acceptance. What Teresa accomplishes through her foray through time is a lesson to be learned by all. This is a must read for anyone looking for excitement, adventure and even just that gentle reminder that things will be okay.
Pages: 421 | ASIN: B06XG2GT22
Posted in Book Reviews, Five Stars
Tags: 80s, adulthood, adventure, amazon, amazon books, amazon ebook, american, author, aztec, book, book review, books, ebook, ebooks, fantasy book review, fun, funny, goodreads, high school, kindle, kindle book, kindle ebook, latin, literature, love, magic, mystery, novel, publishing, reading, review, reviews, romance, satire, stories, teen fiction, the perfect teresa, time travel, ulises silva, urban fantasy, womans fiction, womens fiction, writing, YA, young adult