Blog Archives
Shunt follows a woman who receives an implant to remove her grief, but when things get unreal she tries to track down her Pain Surrogate and unlocks a conspiracy. What was the inspiration for the setup to your story?
The first criteria I usually have for starting a novel is that I've never read anything like this before. The idea that two people, cut from different social cloths, could become each other's mental-health support, in the physical sense, was interesting and satirical to me. It also made for very entertaining reading (and writing) as emotional context would "bleed" into different character perspectives. I also wanted to write a near-future cyberpunk with loads of action and intrigue, so I wove those concepts together and let that evolve into what we have here.
Jade is an intriguing and well developed character. What were some driving ideals behind your character's development?
Thanks, I've soul searched a great deal to bring her out right (despite the emotional handicap implied by the brain implant and my own biases). In the case of Jade, I needed a character that felt the loss of something entirely unendurable and, to me, one of the most horrible things I could think of would be to lose someone of close kin that I love deeply. Like many among us through her efforts she simply wishes to return to a normal life.
What were some themes that were important for you to explore in this book?
Perhaps "personal responsibility" or that I see that we are losing the precious adversity that hones us to become better people. In the medical sense, it is much easier for a doctor to prescribe, e.g. benzodiazepines, than to arduously tease out the factors (both environment and neurological) that contribute to that person's malaise. If your boss is the cause of your despair, find a new boss, same for a partner that puts you down, et cetera. There are people who do indeed require medical intervention, and as a published biomedical scientist I can attest to that. But our society is overmedicated, overstimulated, (for some overprivileged), and overpampered; it is overrun by spoilt brats. Wouldn't it preferable for us to eat healthy and exercise than to try to fight the consequences of our vices when we are 65 (if we even get there). Our brains work the same way, we each have to tend to our gardens. This story is about getting what we want too easily and the consequences that that entails to ourselves and the world around us.
What is the next book that you are working on and when will it be available?
As I wish to go through traditional publishers, I would say about when Saturn, Mercury, and Jupiter align during a solar eclipse, in both hemispheres. Perhaps sometime before the next millennia, if I am lucky. I have three other novels that are ready for submission, but I suffer from a full-time career that occludes most of my post-writing efforts such as contacting agents and randomly firing novels to the wrong publishers. All faults to that effect are entirely my own. I won't stop writing though, that is a guarantee. So my work eventually will become, I hope, just too darn good to ignore.
But that said, I've recently finished a large piece about an alien structure hiding in our solar system and the human shenanigan that ensue because of it. I was quite pleased with it after the second rewrite and it is in the hands of a few test readers at the moment. It's almost ready to start collecting rejection letters.
Author Links: GoodReads | Website | Twitter
Surviving Ghosts by Tom Bridges continues the adventures of James W. "Buck" Buckler, M.D., and Detective Allyson Mancuso. The novel starts as Buck and Allyson travel to Rome for a medical conference Buck is attending. While exploring the Roman sites and shops, Allyson swears she sees a ghost – her father's ghost. When it happens again, Buck and Allyson are determined to find the meaning behind the appearances – the "ghost" is actually Allyson's father in the flesh, who had convincingly died four years earlier. The couple sets out to find answers to their questions – Why did her father fake his death? What are his ties to the mafia? And, what secrets are the government hiding?
In the beginning of the novel, Bridges describes various Roman landmarks and tourist destinations that Buck and Allyson visit. This allows Bridges to set the scene. I believe it is important for readers to visualize where a story takes place, and Bridges' descriptions allow his readers to do so. The facts and tidbits about the architecture add a level of complexity by incorporating nonfiction descriptions.
The majority of the novel is told using first person from Buck's point of view. I think choosing this point of view allows Bridges to share the emotions Buck is feeling as well as questions Buck may have. In the other chapters of the book, Bridges uses third person to give information about JB and the government situation.
In using a technique that allows him to switch point of views, Bridges allows the reader to understand the emotions and thoughts from different characters. This helps give a more thorough understanding of the novel.
Surviving Ghosts is built of great ideas! I think they just need to be developed a bit more. Bridges is very good at describing scenes, but I felt that there was often a lot of telling, not showing. There are some very high emotional scenes in the novel, the scenes are setup superbly, but the emotional intensity is muted when we're told what someone is feeling, instead of being shown.
Bridges has amazing ideas that beg to be explored and developed more. Allyson and Buck's skills of logic and reasoning are on great display as they uncover a jarring mystery. What you'll enjoy most about this novel is how well you are transported into the scenes.
Pages: 229 | ASIN: B01AH4EO1E
Posted in Book Reviews, Four Stars
Tags: action, adventure, amazon, amazon books, amazon ebook, author, book, book review, books, Conspiracy Thriller, crime, crime novel, crime thriller, detective, detective book, detective mystery, ebook, ebooks, fantasy, fantasy book review, fiction, goodreads, kindle, kindle book, kindle ebook, landmark, literature, love, mystery, novel, organized crime, publishing, reading, review, reviews, roman, romance, stories, surviving ghosts, suspense, thriller, tom bridges, urban fantasy, women, writing
Glossolalia is a thrilling ride through the mind of a woman who is seemingly normal but her life slowly unfolds to reveal something bizarre. What was the inspiration that made you want to write this book?
I have a keen interest in mind control of individuals, and the way controlling each individual can effectively affect a large number of people. All my life I've studied in depth the methods that agencies such as the CIA has historically used, and they often have manipulated people's interest in the occult. And that seems like a topic rich with dramatic fictional possibilities, especially for Psychological Suspense, in which gaslighting is such a common element.
I know I love that electric shudder I get when realize something is not what I thought it was, when I'm just starting to put the pieces together and it's first making sense, grim as the truth may be. I wanted to give readers that entertainment as well.
Nancy, is like many women at first, but she suffers from narcolepsy and has an addiction to pills that she is trying to kick. How her character unfolds and develops is fascinating. What was your plan as you wrote Nancy's character?
The only way she can explain her fugues at first is to believe she has narcolepsy, but when she discovers what she does during her periods of amnesia, she realizes her problem is something entirely different from that illness. Similarly, she thinks she's addicted to the pills to keep hallucinations and delusions at bay, but once she manages to stop taking them, she realizes her visions have been actual memories.
My plan with her was to create an anti-hero who finds a way to redeem herself while staying true to the dubious skills she's been taught all her life. And she gives readers a way to inhabit the sympathetic victim as well as to perhaps develop compassion for people who are compelled to commit violent acts. In a way, she stands for all of us, because everyone has fallen prey to disinformation at some point, and thus has been an unwilling promulgator of it. And all of us have some chance at heroically redeeming ourselves for that, though of course, I don't promote violence in any way.
There are a lot of fantastic twists in this novel along with a variety of surprises that kept me turning pages. Did you plan the novel before you wrote or did the story develop organically?
I planned it out to make sure all the plot points, pinch points, act breaks and all were in proper order. However, as I wrote it, I got new ideas for twists that were great fun to conceive of. For example, Brandon the YouTube conspiracy journalist with gigantism wasn't in the completed first draft. Just as much as I enjoy the shudder of realization, I love the feeling of coming up with new plot twists. It feels delightful.
Glossolalia is book one in the Agents of the Nevermind series. Where does book two, Remember to Recycle, take readers?
People who like Glossolalia will probably like Remember to Recycle because it falls within the same genre categories including Conspiracy Thriller and Political Thriller, and while book one focuses on how coups are created, book two focuses on how proxy wars are created. In both cases, the emphasis is on how intelligence agents deceive the public into going along with the terrible treatment of other countries for profit motive, while pretending it's for humanitarian aid.
Glossolalia referenced our society's history, particularly related to intelligence agencies, as a foundation for the series, as well as a pattern of coups that's been recurring for a very long time; Remember to Recycle specifically addresses what's happening right now. It goes into all the types of trafficking that go along with war, which is the secondary meaning of the title.
However, the first meaning of the title is more obvious, because a major character is Dave, a homeless man who survives by going through people's recycling bins and selling the stuff, like all the other guys on the street. But he comes up with a brilliant plan. As in Glossolalia, there's a darkly humorous aspect to it, and he provides a lot of that. He was really fun for me to write, especially as it's first person present tense, while he describes his life moment by moment to the "character" he affectionately calls Mr. Interrogator. He's got a hell of a personality. He likes to wear a wide variety of costumes that he keeps under the bridge, and fancies himself an actor of sorts. He idolizes the Rescuers, who are based on the White Helmets.
Author Links: GoodReads | Twitter | Facebook | Website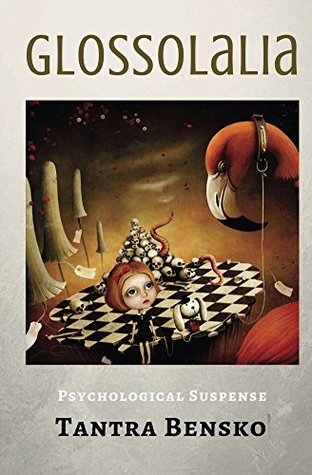 No one but her uncle would hire Nancy, considering her habit of snapping out of amnesiac fugues, wondering where she got her bruises and the scent of men's cologne. When she sees a crime of poison in progress at the company, she chases the truck carrying away the chemical legally deemed too toxic to use or to dump. Her pursuit leads to a convoluted world of political intrigue, esoteric rituals and an arcane Elizabethan spy code, and assassinations she never imagined – though her imagination is what holds that world together.
This conspiracy novel introduces a young woman with an ambiguous past involving herself in a killer organization with one layer after another of her psyche. DARK, even possibly DISTURBING ROMANCE, is key to finding elusive authenticity.
The old cartoonish formula of good CIA VS bad guys no longer is fresh and relevant. Though through a fictionalized agency, the books in this series, like Barry Eisler's spy thrillers, explore the shady side of the CIA secret psy-ops, covert experiments, illusions, coups, media theater, psychological warfare, and illicit methods of funding. The Agents of the Nevermind series dares to explore the edgiest controversies and the convoluted lives intelligence agents must endure as they create bizarre delusions for the world in order to hide the truth about their nation's financial foundation.
Posted in Interviews
Tags: addicted, addiction, amazon, amazon books, amazon ebook, amnesia, author, author interview, bizarre, book, book review, books, CIA, conspiracy, Conspiracy Thriller, coup, delusion, disorder, disturbing, disturbing romance, drama, dramatic fiction, ebooks, electric, fantasy, fantasy book review, fiction, fugue, gigantism, glossolalia, goodreads, hallucination, illness, intelligence agencies, interview, kindle book, kindle ebook, literature, magic, memory, mind control, mystery, narcolepsy, novel, occult, psy ops, psychological, Psychological Suspense, psychological thriller, publishing, reviews, romance, sci fi, science ficiton, science fiction book review, stories, suspense, tantra bensko, thriller, urban fantasy, women, writing, youtube