Blog Archives
Shipwreck Island is a fascinating treasure hunting mystery that takes readers on a deep water search for a lost ship. What were some driving ideals behind this novel?
I've been wanting to write this book for about eight to ten years. When I was younger I traveled to New Zealand and heard about this fabled shipwreck. I was always intrigued about the circumstances around its mysterious disappearance and why after a 150 years no one could find a trace of it. The story always stayed with me and I knew I just had to write about it.
Roy is a salvage and shipwreck expert and helps setup some interesting information throughout the book. What kind of research did you undertake on shipwreck salvage to get things right in this book?
I really didn't research much for this part on top of what I already knew. I'd read numerous newspaper articles and studied about the latest sonar technology, but that was about the extent of it. As always, I tried to create a relatable hero that all readers could root for and enjoy following.
The book includes a map that showed areas of different shipwrecks, which I found helpful. How much did you rely on history to tell this story, and where did you take liberties to make an interesting story?
Well the map is indeed accurate and shows real shipwrecks. Although the book is fiction, I tried to base everything on real historical facts about the island itself and the prior shipwrecks. The only thing I took liberty on was the location of the treasure, the action scenes, and the characters backgrounds.
How far have you gotten on your latest book, Treasure Fever, and how is it developing so far?
With every book I write, I always try to outdo my last and set the bar high. This one is no different. I did a lot of research prior to starting it and so far I think it's turning out to be the best one yet! I'm only on page 40 but the plot is coming along faster than expected and even surprising me at times. This one will have plenty of action so it won't be for the feint of heart. Can't wait to finish it soon and get it out to the faithful readers! Thank you Literary Titan for this interview.
Author Links: Facebook | GoodReads
In the year 1866 a ship named the General Grant lost course on its epic voyage to London and crashed upon a subantarctic island off the coast of New Zealand. Legend has it that its cargo contained one of the richest in history–gold all mined from the Victorian goldfields in Australia. After years of mishap and misfortune–even death–no one has been able to locate its exact whereabouts.
In comes Roy Berenger, one of the world's foremost experts on salvaging shipwrecks. Recruited to solve the mystery once and for all, he must use all his trademark talents and wits to uncover the historic shipwreck. The strange circumstances around its harrowing disappearance are mysterious and all-too frightening. Putting together a local crew with the latest technological resources at his disposal, Berenger ventures to this far-off island to pull off an audacious search attempt. But in order to find it–he must brave the real-life perils of hypothermia, great white sharks, high-sea squalls, and human treachery.
The Deaduction Agency follows a team of psychics, telepaths and remote viewers who investigate several cases of disappearances, murders, and missing persons. This is a thrilling paranormal mystery novel. What was the initial spark for this book and how did that develop as you were writing?
I empathize with psychics, whose skills gained credibility as I read about them in series such as Psychic Detectives. The willingness of the police and detectives to appear in the shows, often after retirement from the force, speaks volumes for their appreciation of the skills of the psychics they employed. What also emerged was the need of the program makers to pad out the stories of psychic detectives with endless repeats of the facts. This is because the crimes are resolved in such a straightforward manner that it makes regular policing look tedious – which it is.
The first case, of a complex divorce, took longer to resolve because it did not require psychic abilities. I used it to contrast the differences in time to describe regular, traditional policing and those cases that require the skills of a psychic.
To my regret, some reviewers failed to understand why this approach was taken.
The book covers several different cases which range from quick and easy to edge-of-your-seat thriller. My favorite was 'Case of the Prodigal Son'. What was your favorite case?
The same 'Prodigal Son', plus 'The Honey Trap', where Richard's possessive and devious nature is revealed to the full.
The psychics at this agency have skills and near-future technology that give them powers beyond what psychics can do now. What were the limitations you needed to keep them believable and what was something that you absolutely had to have for them to be interesting?
I accept psychic skills as they exist now, and have no patience with skeptics who try to fool around with their sensory perceptions, to prove they are frauds and have no special skills. However, in the book they had to be fully capable of reading minds, in order to be foolproof in their assessment of criminals. Even so, some reviewers failed to understand this, and judged the psychic teams to be behaving unacceptably in passing sentence on some criminals. Why, if they can read minds and know the vile nature of the people they are categorizing? It is hardly as if they are executing them! The aim is to re-incorporate them into society, with their souls purified.
This story is ripe with paranormal activity, remote viewing and the powers of the mind. Which power and character do you identify with?
Telepathy, having experimented with it in front of others, as a young teenager. I identify with Richard and Chuck and Joe, in different ways.
A final, general observation on the review itself. The opening scene is criticized for its excess of descriptive detail, That is almost a verbatim criticism made by another reviewer, Marta Cheng in 2015, who stated: In some places, such as near the beginning of the book, there is an inordinate amount of detailed explanation provided as to the set up of the agency's offices – details that detract from the momentum of the story. In response, I cut down the detail to a mere 360 words, which is hardly inordinate! It also became apparent that Marta (who got fond of changing her surname to put me off the scent) had not read the book in its entirety and was intent on having a dig at another reviewer from the same stable as herself.
To emphasize why it was done, I then suffixed the description with the following sentences:
Richard, the most senior partner in the agency, was busying himself constantly re-arranging brochures on a side table in the waiting area in reception. It was a quirky habit of his that Honey found most annoying. It also reflected his fussy preoccupation with orderliness and exact measurements.
Naturally, he was the architect of the office layout, which Honey was often tempted to rearrange, solely to unsettle him.
Love scenes soon followed as well! Some of this preoccupation is revisited later, as part of Honey's tangled love life. What more can an author do?
Author Links: Twitter | Facebook | Website | Blogspot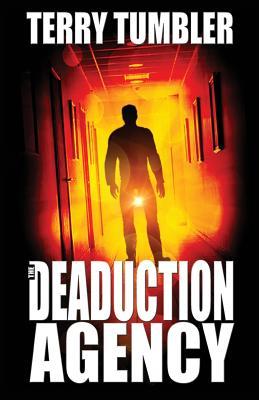 Witness at first-hand a group of specialist investigators, as they set up and run a new, innovative crime fighting agency. They are dedicated to the resolution of criminal cases using paranormal assistance. This will be a new, innovative and emerging brand of policing designed to protect the citizens of our country.

Read how they deal with the anti-social, disturbed behavior of a wayward, divorced husband, who is on the verge of destroying the lives of his ex-wife and their two young sons.

Read how they identify the members of a murderous ring of pedophiles from relatively few clues, and bring them to justice.

Read how they move from ineffectively resolving one case at a time, and onto tackling multiple cases with far more beneficial results to society.

Read thereafter how they clear the penitentiaries of criminals, starting with the most dangerous inmates, using novel means to cleanse their souls of sin, and equip them for new roles in life in special clearing centers. The objective is to reintegrate them into society, rendered capable of performing straightforward tasks and genuinely purified, via the novel process of atonement.

Read how they find one talented young man who was lost, presumed dead, and reunite him with his family. Thereafter, as agents of change, they help launch him on the path to stardom.

This is not a simple, gory, two dimensional book, but an exploration into the timely use of mediums in crime detection. It can pay dividends in assisting the fight against crime.

They use the latest techniques and technology in a future world that is not far removed from that which exists today.
Posted in Interviews
Tags: adventure, amazon, amazon books, author, author interview, blogspot, book, book review, books, crime, detective, detective fantasy, detective novel, disappearance, ebook, ebooks, facebook, fantasy, fantasy book review, fiction, goodreads, interview, investigation, kindle, literature, missing, murder, mystery, novel, psychic, Psychic Detective, publishing, reading, review, reviews, sci fi, science ficiton, science fiction, science fiction book review, stories, telepath, telepathy, terry tumbler, The Deaduction Agency, thriller, twitter, urban fantasy, writing