Blog Archives
Spinner is a refreshing addition to the science fiction and horror genres. The book gives readers a new perspective as the main characters are not your usual shiny protagonists, but rather a group of boys, all of whom have some form of disability or handicap. The main character, Alex, is both impaired mentally as well as physically, bound to a wheelchair. This is not the only thing that sets Alex apart, though. Alex is a spinner, capable of taking on others emotions, physical ailments, and pains before they disappear entirely. A trait that finds him unknowingly being watched by those with ulterior motives and a far more sinister entity as well.
Spinner definitely brings something new and refreshing to the table with its focal characters being those typically dismissed and often belittled in our society. Bring in the science -fiction/horror vibe and Michael J. Bowler definitely writes to catch your interest. The story is original and cut from a different cloth which is refreshing. Although sometimes sentences can run on or become focused on small details, almost Charles Dickens-esque. It leaves little to the imagination as each character and scene is described in detail.
The author does a wonderful job of presenting the main characters with disabilities as people, not just a subset of society to be catered to. Each character, though their disabilities are mentioned and made apparent through their interactions, are easily seen as teenagers with their own opinions, personalities, and mindsets. The fact that they're disabled rarely comes to mind throughout unless the story itself points to it, giving a refreshing and normalized perspective. Bowler uses a lot of different aspects and mannerisms stereotypical of a screen-teen. There are many dramatizations and immature reactions that detract from the characters otherwise superb development and depth.
I found this contemporary story easy to relate to and understand. Spinner has a lot of interesting and refreshing concepts that I felt kept the story thrilling and suspenseful.
Pages: 445 | ASIN: B075VCQ5F9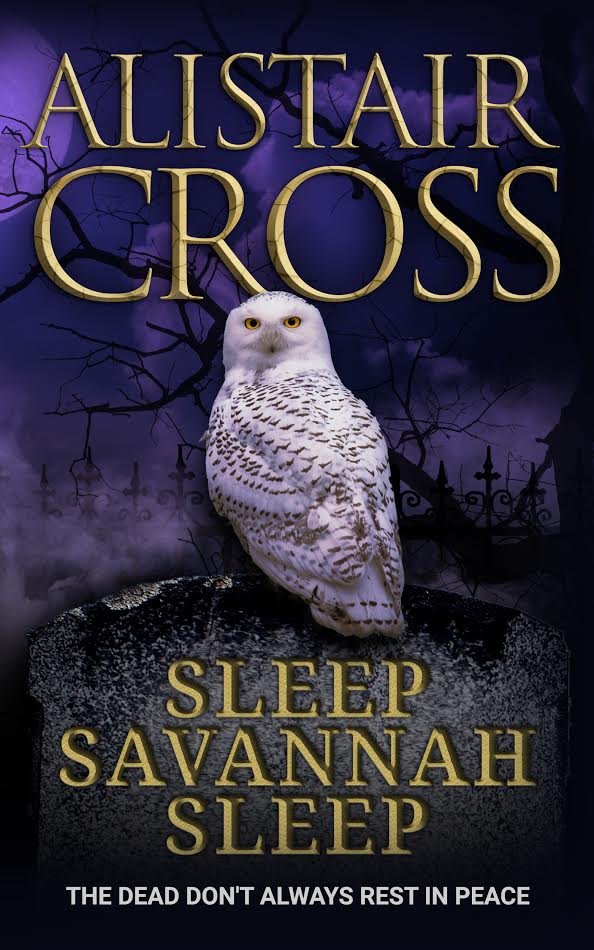 Alistair Cross
The Dead Don't Always Rest in Peace
Jason Crandall, recently widowed, is left to raise his young daughter and rebellious teenage son on his own – and the old Victorian in Shadow Springs seems like the perfect place for them to start over. But the cracks in Jason's new world begin to show when he meets Savannah Sturgess, a beautiful socialite who has half the men in town dancing on tangled strings.
When she goes missing, secrets begin to surface, and Jason becomes ensnared in a dangerous web that leads to murder. But who has the answers that will prove his innocence? The jealous husband who's hell-bent on destroying him? The local sheriff with an incriminating secret? The blind old woman in the house next door who seems to watch him from the windows? Or perhaps the answers lie in the haunting visions and dreams that have recently begun to consume him.
Or maybe, Savannah herself is trying to tell him that things aren't always as they seem – and that sometimes, the dead don't rest in peace.
Alistair's debut novel, The Crimson Corset, was an immediate bestseller, earning praise from such authors as Jay Bonansinga, author of The Walking Dead series, and vampire-lit veteran, Chelsea Quinn Yarbro. Alistair also writes with international bestseller, Tamara Thorne, and together they have released several bestsellers, including Mother, The Cliffhouse Haunting, and The Ghosts of Ravencrest. 
Together, Thorne & Cross also host the popular radio show, Thorne & Cross: Haunted Nights LIVE!, which has included such guests as Laurell K. Hamilton of the Anita Blake Vampire Hunter novels; world-wide bestseller, V.C. Andrews (Andrew Neiderman); Charlaine Harris of the Southern Vampire Mysteries and basis of the HBO series, True Blood; Jeff Lindsay, author of the Dexter novels that inspired the hit television series; #1 New York Times bestseller, Kim Harrison; Peter Atkins, screenwriter of Hellraiser: 2, 3, and 4; Mick Garris, film director of Hocus Pocus, Psycho IV: The Beginning, and Stephen King's The Stand; and New York Times bestsellers Preston & Child, Christopher Rice, Jonathan Maberry, and Christopher Moore.  
You can visit Alistair Cross' website at www.alistaircross.com
Amazon Author Page | Goodreads | Facebook | Twitter | Pinterest
About the Author
Alistair Cross' debut novel, The Crimson Corset, a vampiric tale of terror and seduction, was an immediate bestseller earning praise from veteran vampire-lit author, Chelsea Quinn Yarbro, and New York Times bestseller, Jay Bonansinga, author of The Walking Dead series. In 2012, Alistair joined forces with international bestseller, Tamara Thorne, and as Thorne & Cross, they write – among other things – the successful Gothic series, The Ravencrest Saga. Their debut collaboration, The Cliffhouse Haunting, reached the bestseller's list in its first week of release. They are currently at work on their next solo novels and a new collaborative project.
In 2014, Alistair and Tamara began the radio show, Thorne & Cross: Haunted Nights LIVE!, which has featured such guests as Charlaine Harris of the Southern Vampire Mysteries and basis of the HBO series True Blood, Jeff Lindsay, author of the Dexter novels, Jay Bonansinga of The Walking Dead series, Laurell K. Hamilton of the Anita Blake novels, Peter Atkins, screenwriter of HELLRAISER 2, 3, and 4, worldwide bestseller V.C. Andrews, and New York Times best sellers Preston & Child, Christopher Rice, and Christopher Moore.
Posted in Special Postings
Tags: action, adventure, alistair cross, amazon, amazon books, amazon ebook, author, book, book review, books, ebook, ebooks, fantasy, fantasy book review, fiction, goodreads, hbo, Hellraiser, interview, kindle, kindle book, kindle ebook, literature, magic, mystery, New York Times bestseller, novel, paranormal, publishing, reading, reviews, romance, sleep savannah sleep, stephen king, stories, supernatural, the stand, thriller, urban fantasy, vampire, writing
Limbo is a story of a man who accidentally becomes the Grim Reaper and is the most highly revered killer in Limbo. What was the inspiration for this original and fascinating idea?
I wanted to write something that Clive Barker might like. Only 50% joking. The other 50% started with a simple sentence that didn't mean much: the Grim Reaper searches for a soulmate. Everything spun out of that. The name Grim the Reaper popped into my head eventually, which made him feel like a starting point for a character and led to a bunch of meaty questions:
"Well, what if the mythical figure of Death was just one of many?"
"What if Grim used to have a life? Yes, he was John Grim. What the hell happened to him?"
"Who or What made John Grim this way, why did It create this perverse society?"
One led to the next and it all just made me really curious. I wanted to answer those questions by telling myself the story because I'd always dreamed of writing a horror novel and it seemed like the kind that wouldn't bore me into not finishing it. I wanted to write something that to me would be strange and different, poetic at times and gruesome at others, something that felt big and conceptual. The kind of story I'd want to read. So I crammed a ton of my inspirations in there. Nerds like me that have a keen eye will pick up the overt references or subtle nods to Nightmare on Elm Street, Texas Chainsaw Massacre, Candyman, Hellraiser, Preacher, Nightbreed/Cabal, Cabin in the Woods, John Dies at the End…there's a bunch more. Just little treats for horror fans inspired by the same stuff as I am.
The TL;DR version — There's a lot of autobiography in this book, and this excerpt of the still-living John Grim holding his first freshly completed manuscript sums it up:
What he recalled most vividly about that simple moment was the pride, the heft of the pages in his hands, heavy with the monster that lived and breathed inside of them. The buoyancy of seeing his insides spilled in black ink on white pages, dreaming of the story being passed lip to lip.
I felt that the tone of the novel was dark and I appreciated the grim consistency. Did you plan the tone and direction of the novel before writing or did it come out organically as you were writing?
Darkness in all its forms is just fascinating to me. It's the same reason heavy metal pleases my ear and happy major key music grates on me. Happy, clean cut endings, perfect heroes that are morally incorruptible, all that kind of stuff bores me at best, irritates me at worst. But I still believe in a form of the lighter side of things. A big part of the overall concept of Limbo before I put pen to paper was balance. I wanted the emotional moments to matter because they were born out of darkness. So I tried to push both sides as far as I could go. I know the results aren't for everyone, because there are some pretty messed up scenes in Limbo, but there's also this tragic story of two people who truly loved each other and fell into this insane situation that I think has a satisfying, unconventionally beautiful ending. So, definitely intentional, but thankfully it all came together pretty organically, while eating mostly non-organic chips. Chips were a big part of writing Limbo.
Grim is not the only character in Limbo. There are also friends, strangers, and even deities. What was your favorite character to write for?
I'll have to cheat. It's a split between the Maker of Limbo and Dora, John Grim's sarcastic and strong re-incarnated soulmate Dora. Spoiler alert, but Limbo's physical landscape and the Maker of Limbo are one and the same, cobbled together with endless miles of dead flesh and filled with an insane, vast web of consciousness made up of countless distinct personalities. I pushed myself to make the different physical forms the Maker appears in surprising, sometimes shocking, sometimes funny or sad. Writing this single, incomprehensible entity/deity with this assortment of both coherent and incoherent voices was incredibly fun. Dora I loved just as much because I wanted her to be a real badass. Though Grim the Reaper is the titular character searching for her, Dora is the real hero of Limbo. Brave, unrelentingly honest and endearingly bitter, someone who does what needs to be done, no matter the consequences. It's hard to say more about her without ruining the surprises she brings, but suffice to say I wish Dora was someone I knew in real life.
What is the next book that you are writing and when will that be published?
I'm splitting my time between two projects. One is a big collection of charcoal illustrations of monsters, demons, ghouls and oddities I wish I saw in my sleep. The other is a big collection of one sentence horror stories called Brief, Horrible Moments. Aiming for late 2016 or early 2017, but here's three stories from the collection so far that are on the 'lighter' side of the spectrum:
It laid its hands on my shoulders, still staring at me from across the lake.

Pulling the long black hair out from the drain didn't bother me until I realized it was attached to something.

My father was causing a scene as usual, slurring his words and attacking pew after pew of terrified mourners who had gathered for his funeral.
Author Links: Twitter | Instagram | GoodReads | Website
This is a story of a man who accidentally becomes Grim the Reaper, the most highly revered killer in Limbo. A place beyond time and space as we know it where psychopaths compete for perverse honour and status as they carry out their deathly duties. As Grim struggles to hold onto the memories of the life he's lost, he discovers that the insane being who shaped him (and the course of existence itself) may have sinister plans for the one thing he values most. In Limbo, the end is only the beginning.
Posted in Interviews
Tags: action, adventure, amazon, amazon books, author, author interview, book, book review, books, Cabin in the Woods, Candyman, clive barker, contemorary, death, ebook, ebooks, fantasy, fantasy book review, fiction, fighting, goodreads, grim reaper, gruesome, Hellraiser, horror, instagram, interview, John Dies at the End, kindle, limbo, literature, love, magic, marko pandza, mystery, Nightmare on Elm Street, novel, poetic, Preacher, publishing, reading, review, reviews, romance, stories, strange, supernatural, Texas Chainsaw Massacre, thriller, twitter, urban fantasy, writing