Blog Archives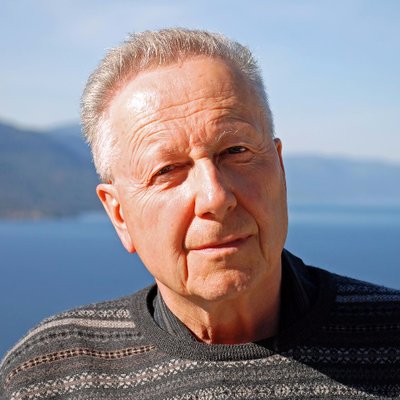 Odysseus continues the story in Homer's Odyssey and recounts the Greek hero's final quest to settle his debt with Poseidon. What inspired you to write a story that continues Odysseus's journey?
It all starts with the impetus for the trilogy which I mention in my introduction: How can one of our greatest English poets hold simultaneously in his mind the great virtues and genocide? To explore this question I finally came up with the trilogy dealing with men on journeys important to them and which can involve actions that involve questions in themselves. As well, I wanted to show the universality of these issues by covering the three thousand years in which great works have explored their periods. Odysseus was the best starting point, particularly that second voyage barely hinted at in the Odyssey. He is particularly interesting because he is not only a hero but because he not only does noble actions but shows darker traits and ambivalence as well; and the continual ambiguous actions of the gods reveals a society uncertain always of its future.
I enjoyed Odysseus's character in this book. What were some driving ideals behind the way you developed his character?
It's interesting to explore what the creative process is about. There is a very good scholarly examination of how the character has been seen over the ages: W.B. Stanford's The Ulysses Theme. I could understand why his character had initiated so many responses; but that is only the beginning. I don't write from principles, I write to describe the character living in my mind (as an actor, I actually create the character physically), and although the structure has to be there (in this case, it went through five changes in the chart), when I write I am actually describing what I'm living in my mind.
Much like in the original epic Odysseus encounters many obstacles along his path. What was the writing process like to bring these to life using your poetic style?
The first choice must be the style in which the story will be written, which involves not only the time in which it first occurred, when ancient Greek hexameters and flexibility of where words could be placed in the sentence are impossible to duplicate in English, but also this present time and this present audience with very different mores, etc. I decided to use the present form that some translators have used (although there have been some others, such as Christopher Logue's brilliant modern adaptation of the original). I also decided to let the events and characters reveal themselves, and although I still used some of the original epic's conventions, I tried to let the story reveal itself, but in a poetic fashion. In this I kept in my mind the memory of a Doctoral graduate from Greece who was examining various translations of Oedipus Rex and attended some of my seminars on theatre esthetics. She told me that when Aeschylus' plays were performed in its ancient Greek, the language was so powerful that the hair would rise on the necks of the performers. I am far more humble in what I expect my poetry to do, although it is poetry, and I "sing" the action as I imagine it.
This is book one in your On The River of Time series. What can readers expect in book two, Spenser?
It might be interesting to know that in the early drafts I wrote successively the cantos of each of the three books: Canto One of Odysseus, then Canto One of Spenser, then Canto One of Archer, and so on. I realized early on that with so many cantos to write it would take an extraordinarily long time, and so I forced myself to write a canto a month, at least thirty pages, and in the different styles necessary. As a result, the stories themselves are entirely separate (sly hint—not altogether) and roughly are structured in the same way. Odysseus was a mythical figure; Spenser is an historical figure; Archer is a fictional character. But knowledge of the historical Spenser is sparse, and although most of what I write is true to history, there is also some speculative. The book explores the last four months of Spenser's life, which was filled with tragedy and memories of his past life. It also brings to life the Elizabethan court and an Ireland filled with strife. It also suggests an answer to the question first posed that started the trilogy.
Author Links: GoodReads | Twitter | Facebook | Website
Odysseus: On the River of Time is an epic piece of literature that not only shows the importance of literature but also enables the reader to appreciate the art of story-telling. This book expands on Odysseus's adventures, told in engaging poetic verse that is much like the Homeric epics this story builds from. Carl Hare's style of narration encourages one to read more. Every line is great and the verses supremely crafted. In between the lines are rich texts and literary stylistic features that make the poem even more fascinating. Reading the book was an amazing experience. The author's expressive nature and the excellence shown in writing are some of the things that make Carl Hare an outstanding author.
Odysseus: On the River of Time is the perfect book for you if you enjoyed Homer's Odyssey. The author does not strain with words as everything flows naturally. In this book, Carl Hare writes about Odysseus' last voyage to propitiate the god Poseidon. Odysseus' journey is not to come without a challenge. It is evident that no matter what, he has to appease the god. He goes through several cities having a wooden oar with him. His journey comes with instructions. He is to travel to a land with no salt to offer the sacrifice. I enjoyed following Odysseus through his journey, going through exotic locations, meeting captivating characters, and absorbing conflicts.
One of the many great things about this book is how the author plays with his words. Reading Odysseus: On the River of Time will increase your urge to read more epic poems because of how incredible the author is. Every Canto has a unique touch. The best thing of all is the presentation of characters. I appreciate how superior characters like Apollo were presented and how Helen fit into this unique narrative. A good story has the reader pause and reflect. This is the exact feeling I had after reading every few cantos in the book.
Pages: 550 | ASIN: B0852R27DK
Posted in Book Reviews, Four Stars
Tags: adventure, author, book, book review, bookblogger, Carl Hare, ebook, epic fantasy, fantasy, fiction, goodreads, history, journey, kindle, kobo, literature, nook, novel, odysseus, poem, poetry, read, reader, reading, story, travel, writer, writing
Steel, Blood and Fire is a genre-crossing novel with elements of a fantasy, military, and history as well. Did you start writing with this in mind, or did this happen organically as you were writing?
I was, in part, inspired by Glenn Cook's Black Company series, along with the Malazan Book of the Fallen series by Steven Erikson. So much so that I wanted to try my own hand at it.
I found Vykers to be a very well written and in depth character. What was your inspiration for his emotional turmoil through the story?
Here, I think I was most inspired by Odysseus, and his long journey home from Troy. Vykers has a lot of Odysseus' arrogance — and deadly competence, as well.
The supporting characters in this novel, I felt, were intriguing and well developed. Who was your favorite character to write for?
That's a tough one! Of course Vykers is fun to write. But so is Rem, the actor. That character allowed me to poke fun at the acting profession and relive a few of my own foibles. Then there is Spirk, the idiot. I have a special place in my heart for characters who are not quite up-to-speed, for want of a better term. He also provides a lot of the story's comic relief. Finally, Aoife was enjoyable for me, because she reminds me of my sisters and wife, to some degree. I really liked looking at the story through her Earth Mother's eyes.
I understand that you're also an actor and stand-up comedian. How have those experiences helped you write your stories?
I think those things definitely shape my voice as a writer, the way I hear dialogue, and indulge in opportunities to shameless nonsense. But being an actor has also given me a fair amount of experience wielding a long sword, which comes in handy when writing fight scenes.
What is the next book that you are working on and when will it be published?
Actually, you have (kindly) review the first book in an existing four-book series. Steel, Blood & Fire is followed by As Flies to Wanton Boys, Corpse Cold, and, most recently, The Abject God. I am currently working on the series finale, The End of All Things, which I expect will to release in late 2018.
Author Links: GoodReads | Twitter | Facebook | Website
On the march, around the campfire, and in the taverns, they tell incredible stories about Tarmun Vykers, the Reaper – how he's never been cut in battle, how he once defeated hundreds of men by himself, how he exterminated an entire people over an insult. These stories make Vykers seem like a god, but he is a man, an arrogant, ruthless and bloodthirsty man. For all that, he may be the only thing standing between the human race and utter annihilation at the hands of the mad wizard who calls himself the End-of-All-Things. Against this backdrop, smaller, lesser folks struggle to fulfill their own destinies, folks like Aoife, burdened with a secret so dark she is driven to do the unimaginable and seek an alliance with fey powers no mortal has ever encountered. 
Posted in Interviews
Tags: action, actor, adventure, allan batchelder, amazon, amazon books, amazon ebook, author, author interview, black company, book, book review, books, castle, comedia, ebook, ebooks, fallen, fantasy, fantasy book review, fiction, fighting, game of thrones, glenn cook, goodreads, greek, interview, kindle, kindle book, kindle ebook, knight, literature, love, magic, medieval, middle ages, mystery, mythology, novel, odysseus, publishing, read, reading, review, reviews, roman, run, Sorcery, steel blood and fire, steven erikson, stories, sword, thriller, troy, war, writing