Blog Archives
Einstein's Fiddle begins with a man abandoning his child on a doorstep of a stranger's home; the rest of the novel seeks to reveal and understand this man. What was the inspiration for the setup to this emotional novel?
Like my first novel (A History of the World), Einstein's Fiddle began as a short story. The story form was abandoned quickly – perforce, as soon as Davy abandoned Mitchell. The inspiration for the setup was a simple disturbing question that presented itself: What if someone – no, not just someone – a dad – left his baby boy on a doorstep? The image that first came to mind was of the proverbial unwed mother from earlier decades in this country – desperate, ashamed, alone, afraid, and apparently out of options. The obvious second question followed hard upon the first: why would any person – at least any loving father – do such a thing? And these were questions that led quickly to others – questions of personality, motivation and experience – and my poor powers certainly could not answer them, or sufficiently illuminate the depths of such a father (Davy Calhoun), in a short story.
Davy Calhoun is a multilayered character that is deftly developed. What were the driving ideals behind the characters development throughout the story?
The relationship between fathers and sons has been at the heart of my writing from the beginning. It was there in my early stories and my first novel, and it is at the center of Einstein's Fiddle. The desire for his (or her) father's love, approval, guidance and acceptance is deep in every child's heart from the first breath. It is a 'natural' yearning and part of each one of us because God put it there. I wanted Davy Calhoun to be a character with whom we all (if we are honest about it) share common ground; and of course – like each of us – he has his own story, his own unique experience and narrative, which I hope makes the book singular and engaging. There are a number of fathers in the novel, all of them flawed and fallen in his own ways – and one particularly outstanding in his degree of fallenness; but my 'ideal' father in Davy's story is the dad in Jesus' story about The Prodigal Son, a parable which one of the characters in the book's third section relates to Davy. Perhaps the one 'driving ideal' behind Davy's development is best summed up by something a friend of mine has said more than once: "Love is the most powerful force in the universe – just largely untried."
It's hard to not get emotional when reading Einstein's Fiddle. Did you pull anything from real life or personal experience to use in this novel?
I spent time in all the places where the narrative unfolds – Charlottesville, Washington, D.C., Chicago and San Francisco – and I used a lot of my experiences of those places (and the places within those places) in the book. As I imagine any author does, I created whole characters with pieces of people I know or have known. Whenever it worked well in the narrative, I used – call it stole, if you like – real-life stories that friends have shared with me over the years. In the last section, when Davy is in San Francisco, there is a scene near Pier 39, which completely replicates something that happened to a good friend of mine in New Jersey. It was a wonderful gift to me, and I gave it joyfully to everyone who reads Einstein's Fiddle.
What is the next book that you are working on and when will it be available?
The working title is Thomas, but that could change in an instant. I expect it to be much shorter than Fiddle…but that could change too. I don't want to say much about it right now, except that it is about a life-changing relationship between a white doctor in Charleston, South Carolina, and the black man he hires to build a stable for his horses. You can safely bet that there will be fathers and sons in this book too…. I hope it will be available in a year or so. I've begun to work on it in my head, but I have yet to write the first word.
Author Links: GoodReads | Amazon
What kind of man leaves the infant son he loves on a doorstep in a strange town and drives away? With its present set in the summer of 1985 and its past reaching from 1950 to 1974, Einstein's Fiddle is a dramatic examination of Davy Calhoun's journey from home to the far country and back. The language and landscape of the novel vary between the existential and familial, tragic and comic, as the non-linear narrative – by turns realistic, lyrical, magical – focuses fearlessly on Davy's fall, dishonor and redemption.
Glossolalia is a thrilling ride through the mind of a woman who is seemingly normal but her life slowly unfolds to reveal something bizarre. What was the inspiration that made you want to write this book?
I have a keen interest in mind control of individuals, and the way controlling each individual can effectively affect a large number of people. All my life I've studied in depth the methods that agencies such as the CIA has historically used, and they often have manipulated people's interest in the occult. And that seems like a topic rich with dramatic fictional possibilities, especially for Psychological Suspense, in which gaslighting is such a common element.
I know I love that electric shudder I get when realize something is not what I thought it was, when I'm just starting to put the pieces together and it's first making sense, grim as the truth may be. I wanted to give readers that entertainment as well.
Nancy, is like many women at first, but she suffers from narcolepsy and has an addiction to pills that she is trying to kick. How her character unfolds and develops is fascinating. What was your plan as you wrote Nancy's character?
The only way she can explain her fugues at first is to believe she has narcolepsy, but when she discovers what she does during her periods of amnesia, she realizes her problem is something entirely different from that illness. Similarly, she thinks she's addicted to the pills to keep hallucinations and delusions at bay, but once she manages to stop taking them, she realizes her visions have been actual memories.
My plan with her was to create an anti-hero who finds a way to redeem herself while staying true to the dubious skills she's been taught all her life. And she gives readers a way to inhabit the sympathetic victim as well as to perhaps develop compassion for people who are compelled to commit violent acts. In a way, she stands for all of us, because everyone has fallen prey to disinformation at some point, and thus has been an unwilling promulgator of it. And all of us have some chance at heroically redeeming ourselves for that, though of course, I don't promote violence in any way.
There are a lot of fantastic twists in this novel along with a variety of surprises that kept me turning pages. Did you plan the novel before you wrote or did the story develop organically?
I planned it out to make sure all the plot points, pinch points, act breaks and all were in proper order. However, as I wrote it, I got new ideas for twists that were great fun to conceive of. For example, Brandon the YouTube conspiracy journalist with gigantism wasn't in the completed first draft. Just as much as I enjoy the shudder of realization, I love the feeling of coming up with new plot twists. It feels delightful.
Glossolalia is book one in the Agents of the Nevermind series. Where does book two, Remember to Recycle, take readers?
People who like Glossolalia will probably like Remember to Recycle because it falls within the same genre categories including Conspiracy Thriller and Political Thriller, and while book one focuses on how coups are created, book two focuses on how proxy wars are created. In both cases, the emphasis is on how intelligence agents deceive the public into going along with the terrible treatment of other countries for profit motive, while pretending it's for humanitarian aid.
Glossolalia referenced our society's history, particularly related to intelligence agencies, as a foundation for the series, as well as a pattern of coups that's been recurring for a very long time; Remember to Recycle specifically addresses what's happening right now. It goes into all the types of trafficking that go along with war, which is the secondary meaning of the title.
However, the first meaning of the title is more obvious, because a major character is Dave, a homeless man who survives by going through people's recycling bins and selling the stuff, like all the other guys on the street. But he comes up with a brilliant plan. As in Glossolalia, there's a darkly humorous aspect to it, and he provides a lot of that. He was really fun for me to write, especially as it's first person present tense, while he describes his life moment by moment to the "character" he affectionately calls Mr. Interrogator. He's got a hell of a personality. He likes to wear a wide variety of costumes that he keeps under the bridge, and fancies himself an actor of sorts. He idolizes the Rescuers, who are based on the White Helmets.
Author Links: GoodReads | Twitter | Facebook | Website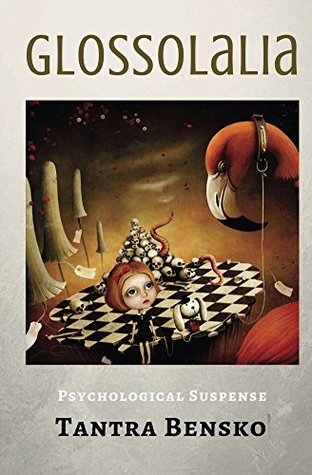 No one but her uncle would hire Nancy, considering her habit of snapping out of amnesiac fugues, wondering where she got her bruises and the scent of men's cologne. When she sees a crime of poison in progress at the company, she chases the truck carrying away the chemical legally deemed too toxic to use or to dump. Her pursuit leads to a convoluted world of political intrigue, esoteric rituals and an arcane Elizabethan spy code, and assassinations she never imagined – though her imagination is what holds that world together.
This conspiracy novel introduces a young woman with an ambiguous past involving herself in a killer organization with one layer after another of her psyche. DARK, even possibly DISTURBING ROMANCE, is key to finding elusive authenticity.
The old cartoonish formula of good CIA VS bad guys no longer is fresh and relevant. Though through a fictionalized agency, the books in this series, like Barry Eisler's spy thrillers, explore the shady side of the CIA secret psy-ops, covert experiments, illusions, coups, media theater, psychological warfare, and illicit methods of funding. The Agents of the Nevermind series dares to explore the edgiest controversies and the convoluted lives intelligence agents must endure as they create bizarre delusions for the world in order to hide the truth about their nation's financial foundation.
Posted in Interviews
Tags: addicted, addiction, amazon, amazon books, amazon ebook, amnesia, author, author interview, bizarre, book, book review, books, CIA, conspiracy, Conspiracy Thriller, coup, delusion, disorder, disturbing, disturbing romance, drama, dramatic fiction, ebooks, electric, fantasy, fantasy book review, fiction, fugue, gigantism, glossolalia, goodreads, hallucination, illness, intelligence agencies, interview, kindle book, kindle ebook, literature, magic, memory, mind control, mystery, narcolepsy, novel, occult, psy ops, psychological, Psychological Suspense, psychological thriller, publishing, reviews, romance, sci fi, science ficiton, science fiction book review, stories, suspense, tantra bensko, thriller, urban fantasy, women, writing, youtube
Eric Johnsen offers a striking, mind-bending novella in Birth to the Stilldead. If the title and cover aren't clear enough, this is a horror novel with disturbing imagery, and may not be suitable for all readers. It certainly delivers on the promise of supernatural horrors lurking just beyond the veil of life and death.
Doctor Tel Hunniset is tired. He works in the pediatric unit of a hospital, treating children with cancer. It's grueling, emotional work. His boss, Doctor Klemens, knows from experience that Tel is both exhausted and uninspired by his job, and questions his motivations for becoming a doctor in the first place. After the children in his ward become infected with a pathogen that causes convulsions and death, Tel races to save lives, but narrowly misses disaster. When a hospital volunteer offers his assistance—a decidedly non-medical cure—the children begin to stabilize just as the "volunteer" is discovered to be an imposter and escapes.
The mysterious man introduces himself as Aarne Soars, and with his help, Dr. Hunniset can save the lives of the remaining patients. In the aftermath of the outbreak, Tel is called a hero but the stress he's under is also affecting his wife, Millary. Someone has vandalized her graveyard-like memorial garden, her mother has cancer, and her husband is either asleep or at work. They both experience events that could only be described as supernatural, accompanied by eerie visions of a bloody-wraith-like woman, lead him back to Aarne. What he learns from the mysterious man forces him to rethink everything, even the nature of reality.
Birth to the Stilldead had me hooked early. Working with children suffering from cancer and other serious medical issues can be heartbreaking. It's a high-stress place, not only for the kids and their families but also the staff who care for them. Johnsen showed this through the eyes of Tel Hunniset as he watches his colleagues work in the chaos around him while he internalizes his fears. The pediatric ward is beset by worried parents and lawyers. Dr. Klemens seems to be intent on criticizing Dr. Hunniset at every opportunity. It's easy to keep turning pages because even the moments of normalcy are tinged with building tension.
Aarne is both mysterious and perplexing. He listens to the dead, knows what they want and need; knows their secrets. For the living, there's a price to pay for taking a life, but what happens in the world of spirits when you save one? Aarne is one of the rare few who can bridge the gap between the living and the dead. His pockets are full of tricks, but without them, Tel wouldn't have been able to save the lives of so many.
The last few chapters of the book kept me riveted. It's a fast-paced read, and since it's a novella, there's no point in putting it down. I recommend this for fans of supernatural horror. The secrets that Aarne reveals are thought-provoking. They may follow you around for a while, tugging at your subconscious, asking you to listen.
Pages: 58 | ASIN: B01HFS9YJ2
Posted in Book Reviews, Five Stars
Tags: amazon books, author, birth to the stilldead, book, book review, books, cancer, death, disturbing, doctor, ebook, ebooks, eric johnsen, fantasy, fantasy book review, fiction, horror, mystery, pediatric, publishing, reading, review, reviews, stories, supernatural, thriller, writing