Blog Archives
Encore superbly intertwines themes of history, myth, psychology, romance and many more. Was this a conscious effort when you started writing or did this happen organically while writing?
Tantra: Thank you very much. I wrote the original idea as a Psychological Suspense novelette intentionally claustrophobic in scope. A hypnotist programs a standby to believe she is his wife, the star of a show, and abducts her before the curtain following the encore removes the post-hypnotic suggestion. He takes her, while she still believes she is his wife, to live in an "empty" alchemist's castle.
I began with the alchemist's castle that Miriam is taken to because I know a lovely man who sometimes lives in his family castle and sells homeopathic alchemical monoatomic elixirs using gems, flowers, and such. That's the extent of my kind friend's similarity to anything in the novel, but it sparked my imagination to bring the Gothic convention of immortality elixirs up to date in a believable way.
When I saw its potential as a novel in the series, I opened it up, as I do at the end of each Nevermind book, to a widening, spooky awareness of the relationship between these individuals and the community. That glimpse of how the protagonists are being used to influence others for nefarious purposes creates a shudder, a sensation I find pleasurable and strive for in my books. I love finding out the truth, no matter how grim (or fictional – especially if it reflects real life.)
A Thriller sensation slowly creeps up in each book with the big dramatic clash of the two factions at the end, the societally controlling and the heroic exposing of that mass mind control. When studying for my hypnosis certification long ago, I learned about negative hallucinations, when someone standing in front of us disappears if the hypnotist so commands. The Agents of the Nevermind are always up to something, always getting their noses into hypnosis. Subtle hypnotic techniques used by intelligence agents/news anchors sway a country into believing the deceitful narrative. Thus, proxy wars and coups garner popular support.
The more the public's wits are softened, the more easily they can be fooled, and thus the Agents' Occult Revival throws off people's natural propensity toward logic. I explore ways that mind control has been used by the government throughout history, such as with the myths of Atlantis, Shambhala, and Camelot. The idea for legend-wars came late in the book's creation, arising from studying of mystical imperialism in England. The historical use of those legends that I describe in the book is factual and it eventually structured the narrative conflict. Intelligence agents poached those cultural legends internationally, to persuade countries to align with them militarily.
I wanted to please readers with a fulfilling, moral romantic story. So, I eventually integrated Miriam's friend Colin into the plot, who has no idea where she has vanished to, at the end of the last show of the theater season. The romance is Gothic in that Miriam is torn between the "light" and "dark" men and becomes isolated and gaslighted by the latter. Dune is dangerous, forbidden, rumored to be an Agent, the object of her sexual obsession, and in control of her subconscious. I deliberately pushed further into the "friends to lovers" to thrill the fans of that trope. Colin is the handsome, playful friend, a conscientious publisher who reliably does good things for her. But once he goes feral – watch out!
I enjoyed the Gothic underpinnings of this book. What were some Gothic sources of inspiration for you?
Tantra: I studied Gothic history in depth to understand the history underlying the conventions, including thorough material like Tyler Tichelaar's The Gothic Wanderer: From Transgression to Redemption, and Gothic Imperialism, the Gothic Imagination Podcast, Gothic Studies Journal, "The Imperial Gothic" by Suzanne Daly, "The Truth About the Winchester House," and Invisible History Blog's Mystical Imperialism.
In terms of modern imaginative works, I didn't draw from the directly, but I love the Spanish TV show, El Internado, Bates Motel, Crimson Peak, Ghost Flower by Michele Jaffe, My Sweet Audrina, Gothic Romantic Suspense by Phyllis Whitney, Mary Stewart, Daphne du Maurier, and Awakening by S.J. Bolton.
Characters that seem as if they walked out of a novel inspired the book, like John Mulholland, who of the British Magical Society, an officer who wrote the spellbook for soldiers, and went to work for the CIA and wrote their manual on deception and misdirection. Gaslighting of individuals who are used to gaslight a large population is a major interest in the book and the series.
Encore 'dramatizes mystical sensual energy manipulation techniques'. How did you come about this topic and why did you want to explore this in your book?
Tantra: I studied about energy from childhood, learning to detect it through formally studying remote viewing until I became extremely accurate at age 11. When I got older, I learned advanced Tantra Yoga and taught it. The aspects of Tantra that require belief don't convince me, but the exercises are very effective. Tantric history includes dark elements such as sexual energy vampirism and the sacrificing of the dakinis, which need to be included in the public discourse, to balance out the pastel, diluted, sexualized version of the practice that so many people believe is Tantra. The actionable techniques are also worth teaching through the novel. I still do these myself. Blissful.
Gothic novels tend to include magick grimoires, exotic mysticism and forbidden, out-of-this world sexuality. And as this novel relates to the role of the occult myths in British imperialism, particularly in the East, I wanted to delve deeply into the Tibetan sensibility and its magickal adaptations. That gave me the chance to describe a kind of love that I enjoy: circulating awareness between myself and a partner. Then, each partner should bring awareness back inside when ready to move on with the day.
This is book 3 in the The Agents of the Nevermind series. Where will book 4 take readers next?
Tantra: It's called Giant Jack, a prequel set against the background of rise of the Agency and President Planda, who has gigantism. Planda networks with the budding Agency to create the Occult Revival, which is how he wins the election. Gigantism is a factual hormonal imbalance that makes some people very tall, with big hands, foreheads and such. They don't tend to live as long, unfortunately, as average. So, Planda had to figure out a way to make the condition look positive in the eyes of the public. He called on the Agents of the Nevermind to run news stories on the Theosophical ancient superior giants and co-opted entertainment, books, documentaries, and cults. They picked Giant Jack to be the cult giant celebrity. Jack achieved gigantism artificially by taking Human Growth Hormone throughout his adolescence. It became a trend, and that's why there are giants in the series.
Author Links: GoodReads | Twitter | Facebook | Website
In this Seductive Psychological Suspense, a troupe in England braves threats by hecklers when performing the history of the rare gem, Moldavite. The meteoric stone, featured in legends of Shambhalla and Atlantis, is sought after for its supposed mystical properties. The charismatic hypnotist, Dune, made the troupe famous, especially his wife Susan, the star. Whenever actors become ill, Dune hypnotizes the standbys to believe they actually are the actors they replace on stage, to fool the discerning audience. When the curtain reaches the floor after the encore, the post-hypnotic suggestion always ends, and the standbys recall their identities.
Susan mysteriously disappears, so her standby, Miriam, takes her place. Miriam's friend Colin clutches flowers in the audience, ready to congratulate her on the life-changing evening. He just that day kissed her for the first time. Will he become more than a friend that night?
He doesn't get the chance. Before the curtain lands, with Miriam still believing she is his wife, Dune whisks her away to an alchemist's castle: Dune has plans for an equinox ritual using the Moldavite elixir made there. Rumors say he is a secret agent, in a cult intertwined with the Nevermind and the Bennu troupe. In fact, Bennu is an ancient Egyptian flamingo deity, similar to the Phoenix, associated with initiation rituals that break down the identity and rebirth a person into a loyal member of a secret society.
This contemporary Gothic Romance dramatizes mystical sensual energy manipulation techniques that have been used for both good and bad. And it also explores the dangerous historical appropriation of cultural legends for the sake of forging military alliances.
Glossolalia is a thrilling ride through the mind of a woman who is seemingly normal but her life slowly unfolds to reveal something bizarre. What was the inspiration that made you want to write this book?
I have a keen interest in mind control of individuals, and the way controlling each individual can effectively affect a large number of people. All my life I've studied in depth the methods that agencies such as the CIA has historically used, and they often have manipulated people's interest in the occult. And that seems like a topic rich with dramatic fictional possibilities, especially for Psychological Suspense, in which gaslighting is such a common element.
I know I love that electric shudder I get when realize something is not what I thought it was, when I'm just starting to put the pieces together and it's first making sense, grim as the truth may be. I wanted to give readers that entertainment as well.
Nancy, is like many women at first, but she suffers from narcolepsy and has an addiction to pills that she is trying to kick. How her character unfolds and develops is fascinating. What was your plan as you wrote Nancy's character?
The only way she can explain her fugues at first is to believe she has narcolepsy, but when she discovers what she does during her periods of amnesia, she realizes her problem is something entirely different from that illness. Similarly, she thinks she's addicted to the pills to keep hallucinations and delusions at bay, but once she manages to stop taking them, she realizes her visions have been actual memories.
My plan with her was to create an anti-hero who finds a way to redeem herself while staying true to the dubious skills she's been taught all her life. And she gives readers a way to inhabit the sympathetic victim as well as to perhaps develop compassion for people who are compelled to commit violent acts. In a way, she stands for all of us, because everyone has fallen prey to disinformation at some point, and thus has been an unwilling promulgator of it. And all of us have some chance at heroically redeeming ourselves for that, though of course, I don't promote violence in any way.
There are a lot of fantastic twists in this novel along with a variety of surprises that kept me turning pages. Did you plan the novel before you wrote or did the story develop organically?
I planned it out to make sure all the plot points, pinch points, act breaks and all were in proper order. However, as I wrote it, I got new ideas for twists that were great fun to conceive of. For example, Brandon the YouTube conspiracy journalist with gigantism wasn't in the completed first draft. Just as much as I enjoy the shudder of realization, I love the feeling of coming up with new plot twists. It feels delightful.
Glossolalia is book one in the Agents of the Nevermind series. Where does book two, Remember to Recycle, take readers?
People who like Glossolalia will probably like Remember to Recycle because it falls within the same genre categories including Conspiracy Thriller and Political Thriller, and while book one focuses on how coups are created, book two focuses on how proxy wars are created. In both cases, the emphasis is on how intelligence agents deceive the public into going along with the terrible treatment of other countries for profit motive, while pretending it's for humanitarian aid.
Glossolalia referenced our society's history, particularly related to intelligence agencies, as a foundation for the series, as well as a pattern of coups that's been recurring for a very long time; Remember to Recycle specifically addresses what's happening right now. It goes into all the types of trafficking that go along with war, which is the secondary meaning of the title.
However, the first meaning of the title is more obvious, because a major character is Dave, a homeless man who survives by going through people's recycling bins and selling the stuff, like all the other guys on the street. But he comes up with a brilliant plan. As in Glossolalia, there's a darkly humorous aspect to it, and he provides a lot of that. He was really fun for me to write, especially as it's first person present tense, while he describes his life moment by moment to the "character" he affectionately calls Mr. Interrogator. He's got a hell of a personality. He likes to wear a wide variety of costumes that he keeps under the bridge, and fancies himself an actor of sorts. He idolizes the Rescuers, who are based on the White Helmets.
Author Links: GoodReads | Twitter | Facebook | Website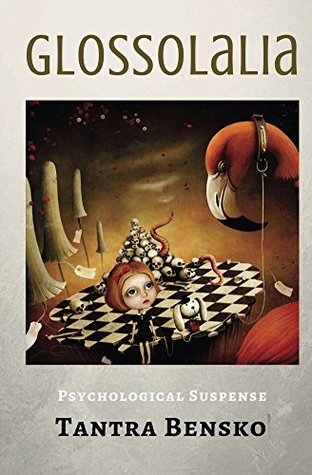 No one but her uncle would hire Nancy, considering her habit of snapping out of amnesiac fugues, wondering where she got her bruises and the scent of men's cologne. When she sees a crime of poison in progress at the company, she chases the truck carrying away the chemical legally deemed too toxic to use or to dump. Her pursuit leads to a convoluted world of political intrigue, esoteric rituals and an arcane Elizabethan spy code, and assassinations she never imagined – though her imagination is what holds that world together.
This conspiracy novel introduces a young woman with an ambiguous past involving herself in a killer organization with one layer after another of her psyche. DARK, even possibly DISTURBING ROMANCE, is key to finding elusive authenticity.
The old cartoonish formula of good CIA VS bad guys no longer is fresh and relevant. Though through a fictionalized agency, the books in this series, like Barry Eisler's spy thrillers, explore the shady side of the CIA secret psy-ops, covert experiments, illusions, coups, media theater, psychological warfare, and illicit methods of funding. The Agents of the Nevermind series dares to explore the edgiest controversies and the convoluted lives intelligence agents must endure as they create bizarre delusions for the world in order to hide the truth about their nation's financial foundation.
Posted in Interviews
Tags: addicted, addiction, amazon, amazon books, amazon ebook, amnesia, author, author interview, bizarre, book, book review, books, CIA, conspiracy, Conspiracy Thriller, coup, delusion, disorder, disturbing, disturbing romance, drama, dramatic fiction, ebooks, electric, fantasy, fantasy book review, fiction, fugue, gigantism, glossolalia, goodreads, hallucination, illness, intelligence agencies, interview, kindle book, kindle ebook, literature, magic, memory, mind control, mystery, narcolepsy, novel, occult, psy ops, psychological, Psychological Suspense, psychological thriller, publishing, reviews, romance, sci fi, science ficiton, science fiction book review, stories, suspense, tantra bensko, thriller, urban fantasy, women, writing, youtube