Blog Archives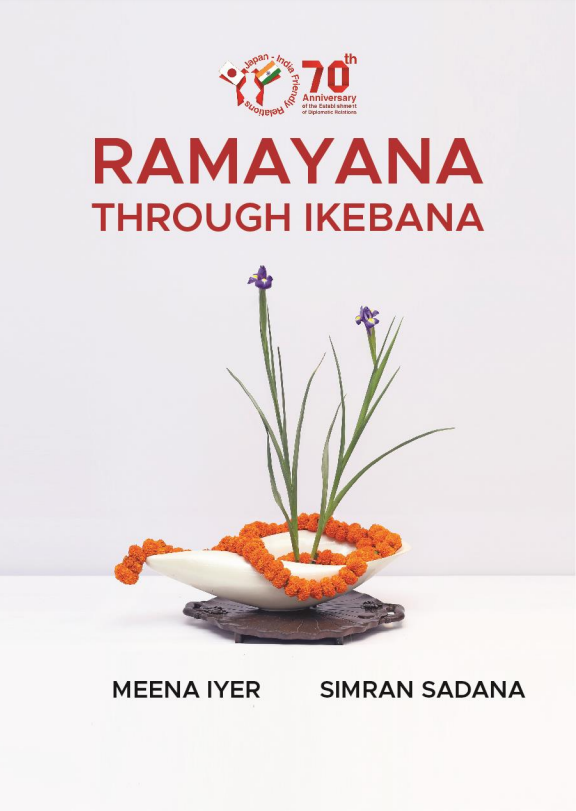 Ikebana, the ancient art of arranging flowers, is deeply rooted in Buddhism and Japanese traditions. Over the centuries, it has developed as an art form all its own, garnering popularity and leading to the development of schools dedicated to teaching this art form. A few things set Ikebana apart from traditional flower arranging. Those who practice this art know that it is based on minimalism, a focus on space, its unique materials, and asymmetry. Another amazing tradition is that of India's Ramayan, a tale describing both love and honor. When the art of Ikebana meets Ramayana, something truly beautiful emerges.
Ramayana Through Ikebana, by Meena Iyer and Simran Sadana, is a unique combination of mythology and explanations of how Ikebana has been used to depict various sequential scenes from Ramayana. With attention to color, shape, position, and texture, each arrangement in the book's photos tells the story in the most stunning fashion. The authors have taken great care to caption each photograph, listing the materials and the rationale for the arrangement for each as it relates to the storyline.
I found it amazing that I could actually picture the story's scenes when I looked at the arrangements. Iyer and Sadana have managed to pull together for readers two exceptional art forms and present them in a way they will both appreciate and at which they will marvel. Ramayana is beautifully told throughout the book and carries with it both amazing symbolism and life lessons that readers will enjoy.
I can see Iyer and Sadana's work as being beneficial in both literary arts and visual arts. The Indian story itself is a wonderful representation of both culture and tradition while the vivid descriptions of Ikebana throughout the book benefit those who are studying flower arranging. The authors have gifted readers with a true thing of beauty–on many levels.
I was pleasantly surprised at the way the two art forms meld seamlessly to convey a timeless tale. I highly recommend Ramayana Through Ikebana to anyone interested in exploring other cultures, those who are curious about the history and significance of Ikebana, and any fan of mythology. Iyer and Sadan's work is a lovely presentation of two cultures united in one work of literature.