Blog Archives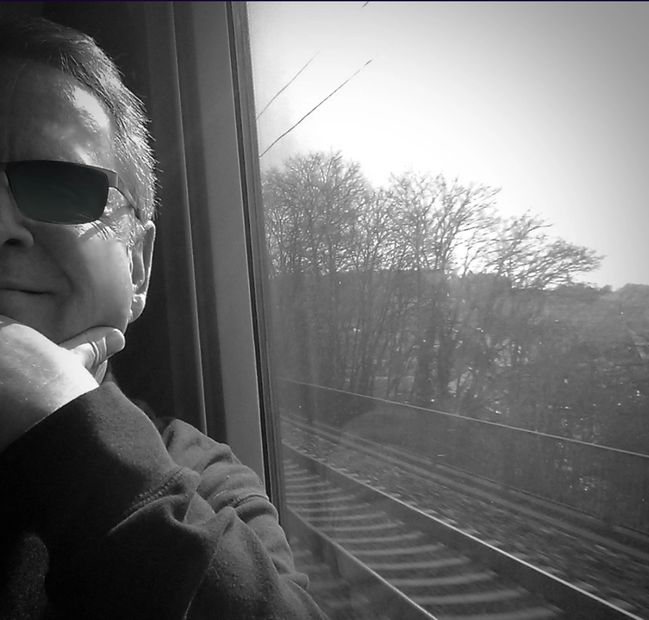 The Other Cheek follows Rich as he struggles with his increasingly abusive wife and his attempt to escape. What was the inspiration for the setup to this intriguing story?
First, I'd like to thank you for your brilliant, insightful and thoughtful review of my debut novel. It's so refreshing and encouraging to read an intelligent review written by someone who holds such passion for the written word, and who "gets" my book!
Okay, back to your question: The inspiration for the setup of my story was pretty deeply rooted in personal experience, truth be told. There's an old expression that advises writers to "Write what you know…", and that was the springboard for taking on this difficult (understatement) story. Rich, the protagonist in the story, is a freelancer in the television industry, which mirrored my previous career in the Hollywood arena. So, there's that. As for the story itself, and the harrowing predicament Rich finds himself in…well, without saying too much more about that, let's just say I have some skin in the game––literally––on that front as well. Been there, done that, got the tee-shirt…ahem. The setting, the characters, and events naturally unfolded––once I allowed them to––but that took considerable time to process. Liberating it all from a depths of my soul was the biggest challenge I faced in deciding to share the story.
Rich is an interesting and well developed character. What were some driving ideals behind his character development?
Writing the character of Rich didn't require much invention, really, as he mirrored myself in many ways––not only professionally, but physically, emotionally, spiritually, and we had lots of shared experience. Rich came from a very loving and supportive family, as did I. His good character traits were forged in his upbringing, and I like to think that mine were as well. As the story has to do with a decent man who is living a secret life of pain, being subjected to a tortuous amount of abuse––both emotional and physical––at the hands of his supposedly loving spouse, Rich's character had to plumb the depths of his soulful DNA to avoid responding in kind to the physical abuse. His childhood lessons were indelible, and the "boys don't hit girls––ever" credo was adhered to at all costs. Plus, he took his vows seriously, and perhaps he took it all too literally. The cost was huge. Irreparable, really…
The novel explores abusive relationships and domestic violence. Was this intentional or incidental to telling the story you wanted to tell?
This story takes place in the 1990s, which––as the crow flies (?)––doesn't seem like that long ago, but in terms of our lifestyles and attitudes, it was an eternity ago. By that, I mean, we didn't have smart phones, the internet was just beginning to emerge, there wasn't all of the instantaneous communication and technology at our fingertips, and along with that…awareness, it was lacking.
Domestic violence has long been a dirty little behind-closed-doors secret, really, and I wanted this story to challenge readers to reevaluate what they think they really know about domestic abuse. Rich's predicament involved being on the flip-side of the "typical" domestic violence equation, as he was in that underreported (again, understatement) demographic of a male being physically abused by a female. He thought he was the only one on the planet going through that! Besides, who would believe him? With that well-kept secret, an immeasurable burden of shame adds enough weight to assure one sinks to the deepest abyss imaginable. It's a dilemma and place I wouldn't wish on anyone, and––sadly––it's a place from where some never return.
I remember back to when I was a teenager, and my father recommended I read a book called Man's Search for Meaning, by Viktor E. Frankl. This was some deep, dark––yet enlightening––stuff, as it dealt with his experiences in a concentration camp and his internal search for the meaning of it all. That, probably subliminally, was what I was looking for as I dove into the dark places I had to go in order to write this book. What would be the meaning behind it? What purpose could possibly be served by going through horrific experiences––whether they be in concentration camps, or as a prisoner of war in your own home? I figured, if the book touches just one person, then it will all be worth it. I guess my purpose was being a conduit to help with Awareness. I guess I was deemed strong enough to live through it, and to tell it. I needed to get it right, and necessary authenticity comes from that place.
Readers will also notice that I incorporated lots of music references throughout the narrative. The choices were very deliberate in not only establishing mood in some scenes, but also at times reflecting or belying emotions of the characters. I am especially grateful to Tom Petty's estate for granting permission in the use of a song that was very important to driving the plot of certain scene (I won't give spoilers here). I wish I could've included a two-CD soundtrack with every book, but that was prohibitive. It was challenging enough to navigate the licensing of the songs I decided to use, and there were several I had to let go. In the book, Rich interacts with "The Great D.J. in the Sky", who is almost a character in his/herself. Readers have mentioned how much the songs added to the experience.
Amazingly, about a month ago, I was notified that this debut novel of mine received a Finalist Medal in its "Best First Novel" category in the 2020 Next Generation Indie Book Awards! This little naked-making project of mine, the one that I almost kept stuffed down out of fear and uncertainty, is slowly finding an audience, is being embraced critically, and being appreciated for its honesty and candor. I receive letters from readers who either know someone who's going through an abusive relationship, or have been in one themselves, and I feel for them all.
I hope my book comes up on Oprah's radar, because that would take readership and awareness to the next level! A guy can dream…
What is the next book that you are working on and when will it be available?
Well, I've been wearing many hats as I try to get this book launched and safely out of the harbor. Without a major publishing house behind you, it takes a lot of extra effort to get your book noticed, as I envision my book as a little baby sea turtle trying to navigate that Normandy Beach-like stretch of sand to find relative safety in the deep water. It truly helps to have some great reviews to help differentiate it from the millions of other books out there, and I really appreciate Literary Titan taking the time to review the book and interview the author.
That being said, I think my next book will center on a female protagonist. I'm still in the early stages of fleshing out her character and story, but I think it will be a worthy follow-up. And, not unlike my first one, it'll probably have a killer soundtrack!
Author Links: Website | GoodReads | Facebook
Posted in Interviews
Tags: abuse, author, author interview, book, book review, bookblogger, domestic violence, ebook, fantasy, fiction, goodreads, Jafe Danbury, kindle, kobo, literature, nook, novel, psychological, psychological thriller, read, reader, reading, story, suspense, THE OTHER CHEEK, thriller, writer, writing